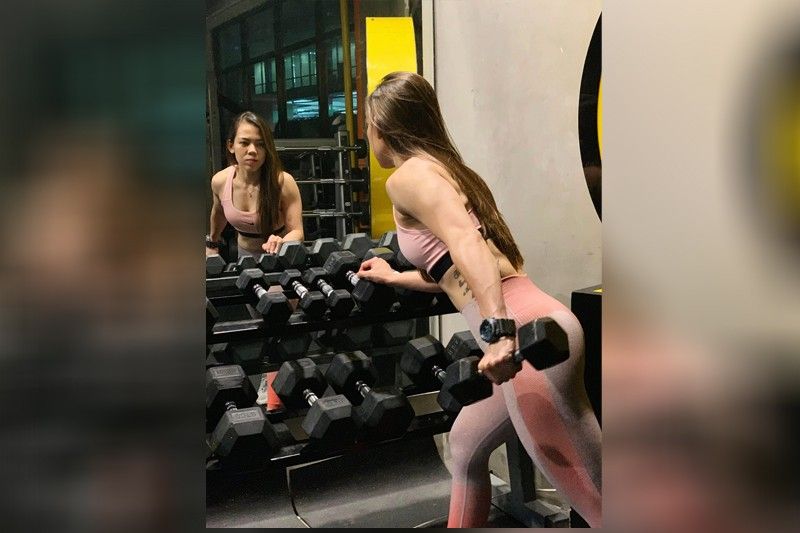 Jone Tantoco, champion of KIX's R U Tough Enough 2017
How heartbreak led Jone Tantoco to become a personal trainer
Jone Tantoco, one of the country's top female personal trainers, showcased her athleticism as the women's champion in KIX's R U Tough Enough in 2017.
Unknown to many, it was actually heartbreak that led her to shift her entire life to fitness, pursuing it as a full-time passion and career. Tantoco is living proof that the fit and strong always survive, and that sometimes pain leads us to our greatest blessings in disguise.
The Philippine Star: Were you always fit growing up?
Jone Tantoco: I was a skinny little girl. I had childhood asthma and remember having a nebulizer beside my bed. My lungs weren't so strong, I didn't eat much and I got sick a lot. My mom wanted me to overcome my asthma so she enrolled me in taekwondo class in high school. In a way it jumpstarted my liking of the sport and I made it to the varsity team.
What was your profession before you got into fitness?
I worked in the audit department of a Christian organization/foundation. I was seated at a desk the whole day — in front of a computer — reading nonstop. It was totally different from what I do now.
How did you feel about your career and relationship? Were you satisfied?
I was happy then, both with my career and my relationship. I had stable work, which enabled me to reach out to children, do community work, relief operations and that gave me a certain level of joy. On the other hand, my relationship was in its 10th year. Happy? Yes. Satisfied? Yes. Moving in the same direction? Maybe, or I thought it was.
How did your relationship end?
I felt like we weren't on the same page anymore. I had so many plans and dreams for us, but I didn't always get the response that would make me excited to be with him in the future. I had to end it four months after we celebrated our 10th anniversary. It was a week before my birthday. I still loved him at that moment, but I had to let him go. It was the hardest thing I ever had to do.
How did you feel? What was your immediate response?
I felt like my soul left me. I didn't want to go to work, I didn't want to eat or even move. I gave myself time to feel and process the emotions. It took me a while and I had to see a sleep doctor, psychiatrist and even a psychologist. After some time, I accepted the facts, knowing that I wouldn't get it back. I had to make a move — for myself and my family.
What made you turn to fitness?
When I was at that low point, I never wanted to bother anyone, even my friends or family. I just wanted to be alone most of the time. I started working out, and found myself enjoying the torture I was giving myself inside the gym. I was not even aware that I was getting stronger, only until some of the trainers in the gym would come to me and progress my workouts. I loved the challenge. At the same time, having a personal trainer was one of the best choices I made.
How did fitness help?
The gym per se became my place of therapy. I made new friends, and knew every trainer in the gym. They were supportive of me. I would ask the trainers a lot of questions, and started borrowing their books. I found a certain liking for reading anything about fitness, workout variations, nutrition and searched for female trainers that soon became my "fitspirations."
When did you decide that you wanted to pursue fitness as a career?
Though I was in the taekwondo varsity team during high school, it wasn't automatic. But since I was staying too long in the gym, I found myself observing the trainers and their clients. After a few months, I saw their progress and transformation, which made me happy to have witnessed. As I went along with my workouts, I felt that I, too, needed a trainer. It has started a fire in me. I kept on reading and took classes and certifications, then with a strong will, applied to become a personal trainer.
Looking back, what did you learn from your experience?
The experience was a blessing in disguise, and it taught me to learn how to love myself even more. At first, I was just working out as a pastime, and then it became a hobby, and later on became a passion to change as many lives as possible. It was no longer about me but how I could be of help to other people with the talents given to me.
* * *
Post me a note at mylene@goldsgym.com.ph or mylenedayrit@gmail.com.