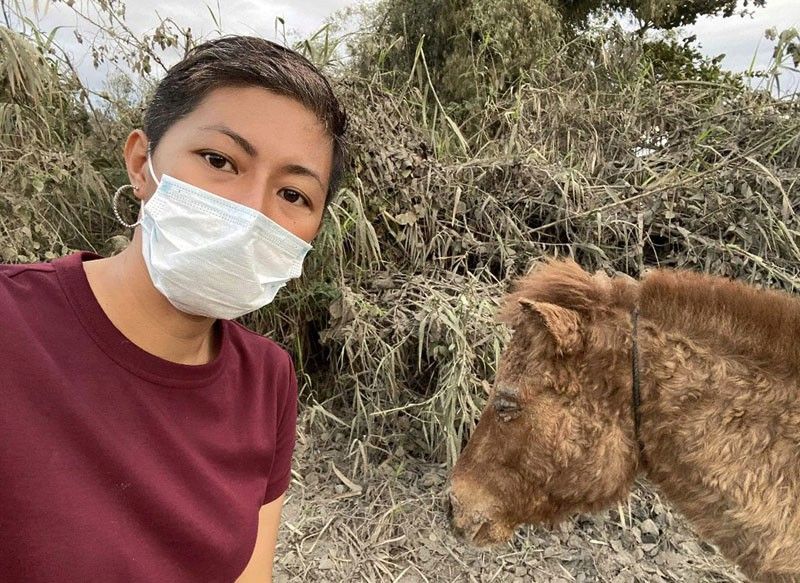 Dr. Mace Licuanan with a survivor
Animal heroes to the rescue
I got two reports from animal welfare groups this week where they shared with me what they had been doing to help the animals of Taal, who have helped their humans in their livelihood for the past many years.
We all know that when a tragedy strikes, like the recent eruption of Taal Volcano, the animals more often than not get left behind.
But what these last two weeks since the eruption have shown us is that the animals may be left behind, but not for long.
The first report is from Dr. Maricelle Licuanan-Resurreccion of the Philippine Pet Birth Control Center (PPBCC) Foundation. Doc Mace sent me lots of videos of what it was like to be in Taal island and see how some of the horses and livestock had perished. A sad plight.
Here is her report:
"It's been a week since that cataclysmic ashfall. The volcano has been placid since then, but lives have been altered. And the most hapless victims have been those without a voice, those whose mere skin was no match against the noxious ashfall, those who had the instinct to flee but could not do so because they have restrained by ropes, cages and gates.
''This is where humanity came in. The outpouring of support made it possible for us to provide needed care and attention to these animals. Earlier we delivered more livestock medicine, dog/cat food, horse feed to the DA Emergency Response Center at Lipa. Doc Jommel Lansay of the City Vet Office of Lipa and members of the Philippine Equine practitioners ably responded to the medical needs of horses and domestic animals.
''We then proceeded to Talisay, a virtual no man's land. Several famished dogs, cats and others were given much-needed food. We will continue to do so in the coming days.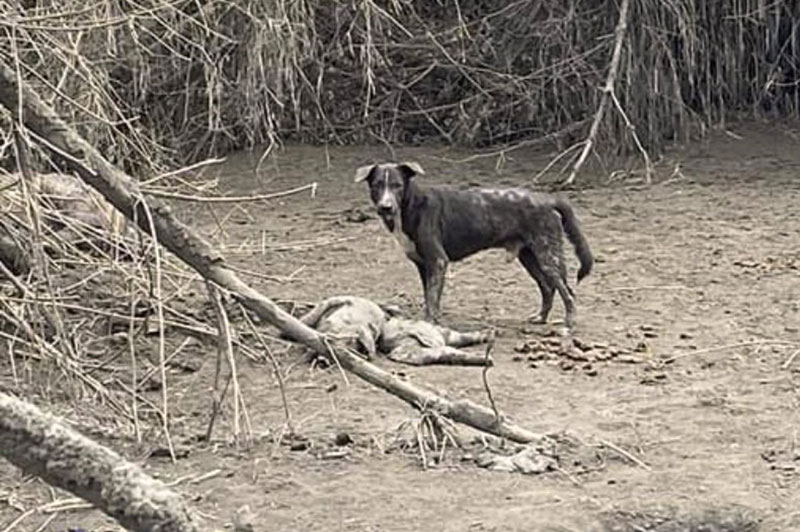 ''We have been caught in the grip of nature we can do little about. But in the things that we can do, we do our best.
''Much thanks to everyone who has been with us, who sent in help and support, whose efforts made a difference in the lives of our domestic and companion animals.
''Your concerted efforts of donating dog, catfood, horsefeed and even chicken feed have assuaged the hunger of the animals displaced by the catastrophic ashfall of Taal. We went there not just to feed, but to provide basic veterinary care to these animals.
''The volcano is seemingly at rest, but danger is still imminent. We will always be on call and on hand to provide whatever assistance is needed, despite the possibility of imminent hazard.
''It's been a long, taxing week, and we hope we can still count on your support. These animals still need us. We still need you too. Let's continue working together in these trying times."
Families Reunited
Aside from doing daily relief operations in the towns near Taal, the Philippine Animal Welfare Society (PAWS) has also been providing temporary shelter for the horses and livestock in Lipa. It warms the heart how PAWS has been able to reunite humans separated from their pets as an aftermath of the eruption.
Here is one of their recent experiences:
It started as a plea for help from Rusty Mercado in the PAWS FB page. After doing relief operations at Talisay last Saturday (Jan.18), the PAWS team headed to Bgry. Natatas to rescue the dogs left by Rusty and his family — who had left the dogs as they didn't know where to bring them at the time they were being evacuated from their home.
The PAWS team gained the dogs' trust and were able to transport them to a poblacion in Tanauan, Batangas where an emotional meeting ensued as Rusty and his family were reunited with Hatchi, Mybo, Max, Lani and their two puppies.
The PAWS team was also able to rescue Blackie and Tonton who were equally happy to be reunited with their fur mom, Victoria Mendoza.
After their trying ordeal, cousins Rusty and Victoria, their children and their eight dogs are once again a complete family.
PAWS, with financial help from donors, was able to fund their rescue and relief operations that enabled them to help reunite these families — for that they are truly grateful.
* * *
As I write this, I am sure that there are many more stories like these — reuniting of families — with humans and pets. But what is important is that these are stories of people who truly care for animals coming out in droves to help, in whatever way they can, to save the future of Taal and the animals that help the people of Taal make a living for themselves.
Yes, there is hope for the Philippines — and it starts with saving one animal at a time.