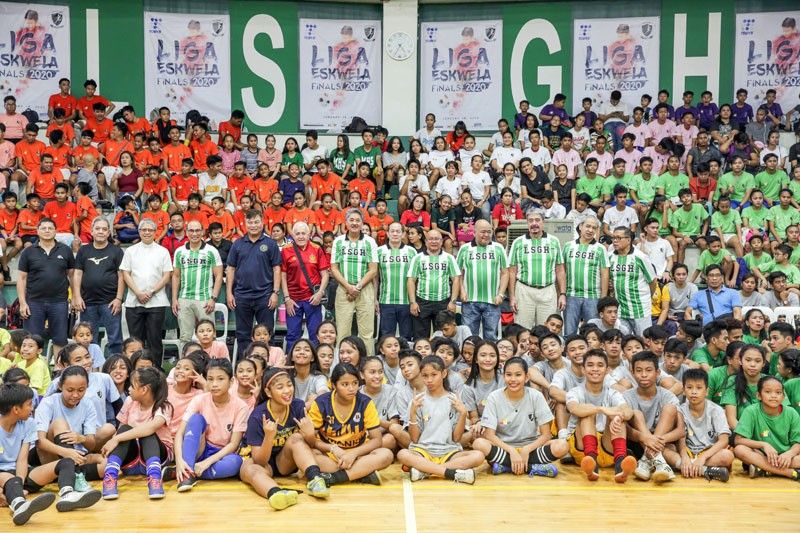 Three's the charm: Danny Moran, chair, Henry V. Moran Foundation; Mariano "Nonong" Araneta, president, Philippine Football Federation; Juan Cutillas, former Philippine football coach (4th, 5th and 6th from left) with (from left) Benjie Henares, Noel Valera, Fr. Cayo Estrada, Mac Panuncialman, Tony Nicdao, Melch Enriquez, Danny Mercado, Mike Marcos (president LSGH Alumni association), Mike Cardenas and Gil Vasquez with the school kids at the awarding ceremony of the Liga Eskwela 2019 in La Salle Greenhills.
Geremy Pintolo
Kicking your way to a better life
MANILA, Philippines — It was a hot and humid Saturday afternoon when the Liga Eskwela held its futsal tournament. But the heat did not dampen the enthusiasm of the over 100 kids who had come to play their hearts out. Several futsal games were happening at the same time as a round robin system was set in place, and the winners would be awarded by the end of the day.
Boys and girls aged 10 to 18 were ready to play their best so that they wouldn't go home empty-handed. The teachers were as excited as the kids.
"The Philippine Football Federation (PFF) is honored to be working closely with the Moran Foundation in promoting futsal to thousands of Filipino youth through the public schools," said Mariano "Nonong" Araneta, president of the PFF. "Since 2015, we have been collaborating with them in our futsal development program, which serves as a core foundation of the PFF's grassroots and youth development programs. Liga Eskwela is an excellent program because futsal is also a great development tool for football that provides more access and ease of play to thousands of Filipino children who may not have access to the sport."
The Henry V. Moran Foundation (THVMF), together with the Department of Education (DepEd), the Philippine Football Federation, La Salle Green Hills Batch '73, MVP Sports Foundation, and Toby's Sports recently held the 5th Liga Eskwela Futsal Festival. The festival is the culminating activity of the Liga Eskwela program in the National Capital Region of the Moran Foundation, which is a nationwide grassroots and youth development program for Filipino public-school children. The program focuses on futsal, a small-sided version of football that can be played on the streets, in gyms and basketball courts.
The festival gathered over 600 participants from 16 DepEd Divisions across the National Capital Region (NCR), and capped off several months of activities that included coaching-training of public school teachers and elimination rounds among participating schools that commenced in September 2019.
"It has been a great pleasure working with DepEd for the past five years in promoting a sport that is a fantastic activity for children," said Danny Moran, chairman of the Moran Foundation (THVMF). "But more importantly, we see this program as an excellent way to achieve social and educational goals for Filipino children, parents, and families. Our foundation's mission is to use sports like futsal to bring children, teachers, families, and communities together through an activity that inculcates positive virtues, values and life skills."
"I am impressed with the Liga Eskwela futsal program and how in a relatively short amount of time it was able to successfully engage different regions of the Department of Education using very minimal resources," added former Philippine National Football team coach Juan Cutillas. He coached both Araneta and Moran, who were members of the Philippine football team in the past. "The program has grown because futsal is fun to play and it is easy to set up in any community. I now truly believe futsal is the way to go for the Philippines to develop better football players for the National Team."
The event also highlighted talented Liga Eskwela players who were selected for the U14 and U16 national teams that competed in the 2019 ASEAN Football Federation and Asian Football Confederation youth competitions. It was also the first Liga Eskwela Futsal Festival that saw the graduation of players from senior high school, where match officials were evenly distributed between PFF referees and DepEd teachers. In the past, the event was heavily reliant on PFF referees who served as development mentors to the teachers.
"To see children from this program selected for youth national teams brings me great joy," added Moran. " I have seen how futsal allows children to complete their studies. This is what Liga Eskwela Futsal is all about — providing access to better opportunities and empowering people to improve their lives and communities through sports."