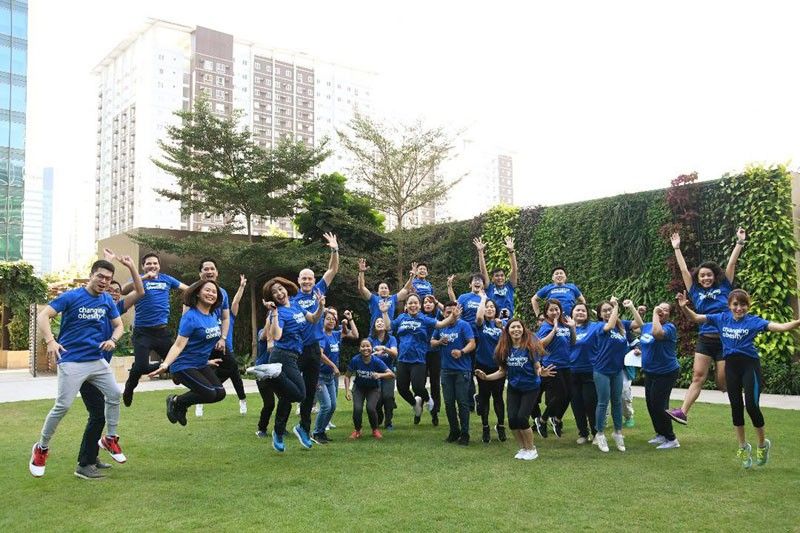 In line with its goal to raise awareness on the growing threat/risks of obesity and how to manage it, Novo Nordisk Philippines team joined celebrity fitness coach Jim Saret for a se-ries of exercises to express that obesity is preventable and manageable with proper exercise and diet.
Chubby kids may face serious health problems in the future
We tend to think of chubby kids as cute. And those round little cheeks and legs that resemble that of a sumo wrestler make them even more cuddly.
But wait! It's time to change that notion. Experts are warning that a boom in the number of obese kids is creating a catalogue of health problems.
In the Philippines alone, three out of 10 adult Filipinos are overweight or obese. And based on the recent National Nutrition Survey, it was revealed that the prevalence of obesity increased from 20.2 percent in 1998 to 37.2 percent last year. As parents, we should be alarmed, very alarmed.
"It's something we, as parents, should look into," advised Cihan Serdar Kizilcik, vice president and general manager of Novo Nordisk Philippines. "Because obesity paves the way for future diseases like cardiovascular illnesses, high-blood pressure, sleep apnea, certain cancers and diabetes."
An individual is considered obese if he/she has a Body Mass Index (BMI) or weight and height correlation of 30 and above. In Asia Pacific, obesity is defined with more scrutiny with a BMI more or equal to 25.
Founded 97 years ago in Denmark, Novo Nordisk is the global leader in producing probably the best treatment for diabetes — insulin. And now in its 20th year in the Philippines, the company once again showed its commitment to help control the disease, not only through its products but also by spreading awareness, not only about diabetes, but also obesity.
"I'm a parent myself. And as parents, we should pay attention to the kinds of food we feed our children and encourage them to have a healthy lifestyle by serving as good examples," stressed Kizilcik.
Parents know best
When he was younger, Kizilcik dreamt of becoming a pilot.
"When I was 11, my parents told me that if I really wanted to be a pilot, I should stay fit and maintain a healthy mind and body," shared Kizilcik. "And so I panicked. I started running and took charge of my health. Looking back, I realized that it was also my parents' way of encouraging me to lead a healthy lifestyle. And I'm glad I heeded their advice."
We live in a society where physical appearance is given more value, and many people who suffer from obesity don't put too much attention on the underlying health risks of being obese.
"Don't just aspire to look good physically. Aim to be healthy," said Kizilcik as he advised parents of obese kids and obese patients to develop "life-changing" habits now.
And the first step is lifestyle therapy.
"It's time to positively alter your lifestyle by being mindful of the food you eat, exercising regularly and avoiding stress," he added.
It is also vital for their family and friends to avoid blaming them for being overweight or obese.
"Instead, support them in their weight-loss journey," advised Kizilcik.
Positivity and motivation from friends and family will go a long way in the pursuit of healthy body weight.
Why obese patients are at risk of diabetes
The prevalence of obesity has substantially increased, and it is important to raise awareness on this issue now before it is too late.
Obesity is preventable and manageable, but it takes a shift in perspective, as well as empathy towards people living with obesity in order to help treat the condition.
For those with a BMI above 27 and have obesity-related complications, and 30 above with or without complications, doctors may recommend anti-obesity medication in addition to lifestyle therapy. Weight-loss surgery may also be an option for patients with a BMI of 40 and above and also have obesity-related complications.
"There are several risk factors associated when a person is overweight or obese," added Kizilcik.
And yes, one of them is diabetes. Diabetes is a chronic disease that occurs when the pancreas does not produce enough insulin or when the body cannot effectively use the insulin it produces. Insulin is a hormone that regulates blood sugar.
There are two types of diabetes: Type 1 and Type 2 diabetes.
Previously known as insulin-dependent, juvenile or childhood-onset diabetes, type 1 is characterized by deficient insulin production and requires daily administration of insulin. The cause of type 1 diabetes is not known and it is not yet preventable.
Type 2 diabetes, formerly called non-insulin dependent or adult-onset diabetes, results from the body's ineffective use of insulin. Type 2 diabetes comprises 90-percent of people with diabetes around the world, and is largely the result of excess body weight and physical inactivity.
"To this day, Novo Nordisk's focus has always been on diabetes prevention and treatment. But recently, the company realized the value of strengthening obesity awareness efforts, since non-communicable diseases — like diabetes — increase the morbidity and mortality risks linked with the disease," explained Kizilcik. "Ergo, if we can manage obesity, we can prevent diabetes."
In the recent healthcare forum spearheaded by Novo Nordisk titled, "One Against Obesity," experts from government, the private sector and medical societies gathered to discuss the burden of obesity worldwide and in the Philippines, the barriers towards a healthier lifestyle, and the steps that could be taken to fight the chronic disease.
Dr. Mia Fojas, president of the Philippine Association for the Study of Overweight and Obesity (PASOO), emphasized that people with obesity should be treated as soon as possible.
Physicians would usually advise their overweight patients to change diets and reduce their calorie intake, on top of increasing their physical activities. This prescription, however, entails radical changes in the patient's consumption pattern, removing foods that are high in saturated fat such as fried food and junk food. In this day and age, however, that is easier said than done.
Contrary to popular belief, obesity and diabetes affect not only the rich. It is also a common problem among people in lower- and middle-income classes.
"Why? Because alternative diets that result in obesity are cheap," explained DOH National Nutrition program coordinator Dr. Luz Tagunicar.
Health experts have earlier warned parents against instant noodles and processed goods.
"Because while these products provide nutrition, they may have been fortified, which causes them to contain large amounts of sodium," added Dr. Tagunicar.
While it is always advisable to consume fruits and green leafy vegetables, these products are expensive in Metro Manila and other urban areas.
For a worker earning a daily wage of P500, maintaining a healthy diet is simply beyond reach.
Fish, specifically galunggong, which is considered the cheapest source of protein, hogged the headlines recently because it now sells for P300/kg. The average price of pork in Metro Manila is P250/kg, while chicken is sold P170/kg. Among the vegetables sold in Metro Manila, the cheapest is eggplant at P50/kg. Priced at P40/kg, latundan banana is the most affordable fruit sold in Metro Manila.
In contrast, a can of luncheon meat costs only around P80, while instant noodles can be bought for P11 a pack. For other workers who earn more than the daily wage in the National Capital Region but do not have the time to cook their own food, value meals that cost less than P100 seem a viable alternative.
The government should step up its information campaign and warn people about the dangers of being overweight. This may be done in schools and in health centers. Schools — public and private — should also adopt a policy to encourage physical activities among students, given the findings of a study that millennials now spend most of their time glued to the screens of their tablets or smartphones.
"Those who are morbidly obese have to consult healthcare professionals before it's too late," Dr. Fojas said.
She added that people living with obesity can seek assistance from government agencies like the Department of Health (DOH) to help combat the condition.
"We have advocacies from different divisions of the DOH. We have exercise programs that are dedicated to different body types," enthused Dr. Fojas.
Until and unless people have access to affordable healthy foods like fruits and vegetables, obesity and diabetes in the country will remain a heavy burden to bear.
The lack of public spaces conducive for walking, jogging, cycling and other forms of exercise make it hard for Filipinos to fight these lifestyle diseases.
"It is likely that obesity and diabetes affect you or someone close to you. Being aware of this is part of the shared responsibility between doctors and patients to screen for diabetes and work towards early control of the disease to avoid complications such as blindness, amputation and renal failure," noted Kizilcik.
The brand that cares
Going beyond individual actions, Novo Nordisk is committed to work with government and other stakeholders to help control these lifestyle diseases.
"It's never too late to start making lifestyle changes. If you catch type 2 diabetes in its early stages, you can fight the disease by delaying its progression," noted Kizilcik. "Once it's advanced, the treatment will be costly and difficult."
Novo Nordisk is in the forefront of innovation and leadership in diabetes care, developing novel and competitive solutions to continually address patients' unmet needs.
With financial, social and environmental responsibility at the heart of its business directions, the Danish company keeps the best interests of its stakeholders in mind: financially, over 13 percent of sales (roughly 20 billion euros) go into research and development of treatment options for type 1 and type 2 diabetes, obesity, atherosclerosis and more.
Socially, Novo Nordisk engages more than 70 global partnerships and continues to put affordability and treatment access programs in place in low- and middle-income communities.
Environmentally, the company aims to run all production on renewable power by 2020, while reducing emissions where possible.
At Novo Nordisk, they have an initiative called Circular For Zero. "Our ambition is bold and simple: to have zero environmental impact," shared Kizilcik.
To get there, the company is adopting a circular mindset: designing products that can be recycled or re-used, shaping their best business practice to minimize consumption and eliminate waste, and working with suppliers who share their ambition.
"We know that many people are working to make the circular economy a reality and we want to be part of that change," enthused Kizilcik. "In 10 years, we will have zero carbon emissions. In our factories, we recycle everything. We also use renewable power. In some of our factories, we're using 100-percent renewable power."
Novo Nordisk aims to uphold its long-standing commitment to drive change to battle diabetes and other chronic conditions such as obesity and growth disorders with the "goal of enabling more patients to win against the disease."