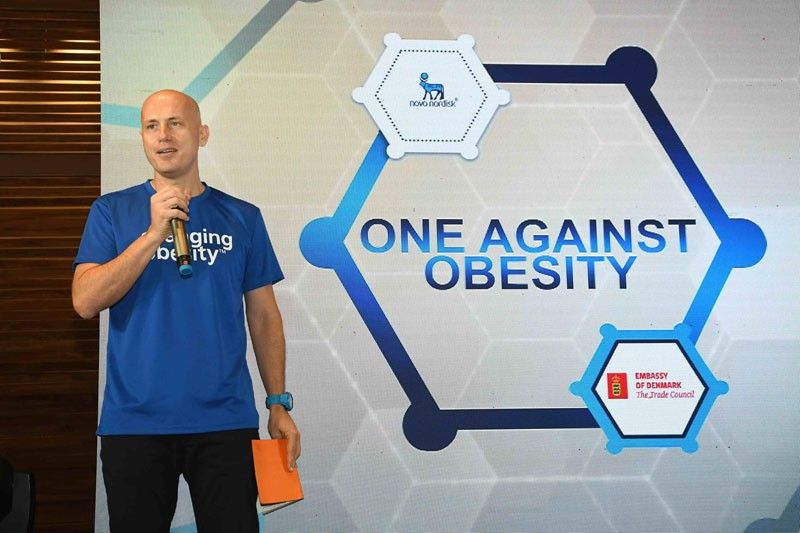 Cihan Serdar Kizilcik, Novo Nordisk Philippines vice president and general manager
Addressing the unmet needs of people living with obesity
Jove Moya
(The Philippine Star) - November 19, 2019 - 12:00am
MANILA,Philippines — Providing quality care for people living with obesity requires empathy and support from doctors, family, friends and the rest of society as these patients may likely have encountered weight bias before that can delay seeking of treatment.
A healthy diet and regular exercise are the primary ways to fight obesity, but obesity's continuing prevalence puts a spotlight on the unmet needs of treating people with the health condition. When opting for a healthier lifestyle doesn't work, advancements in pharmacotherapeutic options can help augment lifestyle changes towards weight loss.
In the recent healthcare forum dubbed "One Against Obesity," experts from government, private sector and medical societies discussed the burden of obesity worldwide and in the Philippines, the barriers towards a healthier lifestyle, and the steps that could be taken to fight the chronic disease.
The forum, led by Novo Nordisk Philippines, underscored the value of strengthening obesity awareness efforts, since non-communicable diseases associated with it such as cardiovascular illnesses, diabetes, high blood pressure, sleep apnea and even cancer increase the morbidity and mortality risks linked with the disease.
In the recent National Nutrition Survey, it was found that three out of 10 adult Filipinos are overweight or obese. Over a 20-year period, the prevalence of obesity increased from 20.2 percent in 1998 to 37.2 percent last year. An individual is considered obese if he/she has a Body Mass Index (BMI) or weight and height correlation of 30 and above.
Dr. Mia Fojas, president of the Philippine Association for the Study of Overweight and Obesity (PASOO), emphasized that people with obesity should be treated as soon as possible. "For those who are morbidly obese, they have to consult healthcare professionals."
She added that people living with obesity could seek assistance from government agencies like the Department of Health (DOH) to help combat the condition.
"We have advocacies from different divisions of the DOH. We actually have exercise programs that are dedicated to different body types," said Dr. Fojas.
Experts from the DOH explained that obesity is also a common problem among people in lower middle classes.
"There are people from poor urban areas who suffer from obesity. Why? Because alternative diets that result in obesity are cheap," explained DOH National Nutrition Program Coordinator Dr. Luz Tagunicar.
Health experts has earlier warned parents against instant noodles and processed goods saying that while these products have the good intention to provide nutrition, they may have been fortified, which causes these goods to contain large amounts of sodium.
According to National Nutrition Council executive director Azucena M. Dayanghirang, the frequent consumption of instant noodles may also lead to hypertension.
"We have always reminded manufacturers to reformulate their products, do not put a lot of salt in it. Noodles is the most affordable for households. So we tell moms to add vegetables like squash, malunggay and eggs," Dayanghirang said.
Aside from affordable healthy food, health experts also noted that the lack of public spaces conducive for walking, jogging, cycling and other forms of exercise makes it hard for Filipinos to fight obesity.
Novo Nordisk Philippines general manager Serdar Kizilcik advised obese patients to develop "life-changing" habits. "I think the best way to solve the problem of obesity is to be more supportive of them and encourage them to observe a healthier lifestyle, most especially the obese children. Obese people are also victims of prejudice because of (their) weight," Kizilcik noted.
The consequence of weight stigma includes low self-esteem and depression. Obesity is preventable and manageable but it takes a shift in perspective, as well as empathy towards people living with obesity in order to help treat the condition.
The first line treatment for obesity is lifestyle therapy. This involves proper diet, exercise, as well as counselling in order to help patients overcome obstacles in weight loss. For those with a BMI above 27 and have obesity-related complications, and 30 above with or without complications, doctors may recommend anti-obesity medication in addition to lifestyle therapy. Weight-loss surgery may also be an option for patients with a BMI of 40 and above and also have obesity-related complications.
The forum was supported by Ambassador of the Kingdom of Denmark to the Philippines Grete Sillasen. PASOO vice president Dr. Nemencio Nicodemus also discussed the challenges in weight management, while fitness coaches from FitFil, coach Jim and Toni Saret, gave tips and a series of exercises towards living a healthy lifestyle.