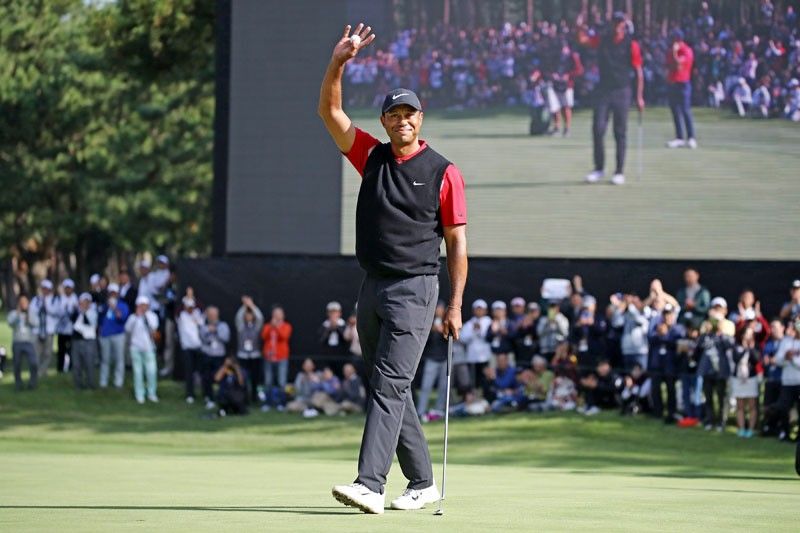 Japan is the seventh country where Tiger Woods has won a PGA Tour event, counting the US, England, Scotland, Spain, Canada and Ireland.
Tiger Woods wins big in Japan
Ever since Tiger Woods was a top amateur standout, I always marveled at his potential and when he turned pro, he exceeded everyone's expectations and then some.
Lately though, injuries have caught up with him and I felt my window of opportunity to watch him live was closing. So when I heard he was committed to play in the ZOZO Championship, the PGA Tour's very first event in Japan, I made sure that I was there to follow him on the fairway.
I was able to certainly do that. A big thank you goes out to the gentleman at the communications department of the PGA Tour led by Chuah Choo Chiang with Chris Reimer, Nick Parker and the rest of the group for all the help during the event.
Chuah was able to arrange one-on-one interviews with top stars Bubba Watson, Jason Day, Paul Casey, Adam Scott, Jordan Spieth, and Gary Woodland, which was absolutely fantastic. But Tiger was the star and the Japanese fans knew it and followed him all throughout the week.
Woods acknowledged that the Japan market was surely ripe for a PGA Tour event.
"I haven't played here in a very long time, a place that I've thoroughly enjoyed over the years. I'm excited to be back here in front of fans that really understand and respect the game of golf. Golf is so strong here in Japan and to have seen it grow like it has over 20-some odd years that I've been playing is very special and to be a part of it is even more special," Woods said.
Heading to Japan though, he wasn't exactly in good form, coming off some minor surgery.
"I had it scoped, some cartilage issues. I was intending to actually get it done last year after the Hero World Challenge. Because I had played well in the playoffs and I won the tour championship, I figured I would keep rolling with it and I wanted to play at Torrey at the beginning of the year." Tiger details. "If I had the surgery, I wouldn't be ready for Torrey Pines, so I decided to not have a procedure done and tried to get through it the rest of the year and it progressively got worse and got to where it was affecting even reading putts."
But during the tournament at the Accordia Golf Narashino Country Club, Tiger not only delighted the fans with his shotmaking, he also allowed the local fans to witness history, as he tied the all-time record of Sam Snead's 82 career victories, a number experts said could never be broken!
Just imagine, when Tiger won his first tournament in 1996, there were over 400 players that had won more tournaments than he had. Now, no one is ahead of him.
"It's a big number. It's about consistency and doing it for a long period of time. Sam did it into his 50s and I'm in my early to mid 40s. I've been very fortunate to have the career I've had so far. To have won this tournament in Japan, it's just so ironic because I've always been a global player, I've always played all around the world and to tie the record outside the United States is pretty cool," Woods exclaimed.
Japan is the seventh country where Woods has won a PGA Tour event, counting the US, England, Scotland, Spain, Canada and Ireland.
Woods owns the highest career-winning percentage (minimum of 200 starts) in PGA Tour history at 22.8 percent That's an incredible statistic.
Given up for gone because he hasn't won in five years, Woods now has three PGA Tour victories in his past 14 starts.
What could be next? The Olympics?
"Well, I would love to play in an Olympic Games. My dad and I in 1984, Long Beach was right down the street from our house and right next to Eldorado. We went to the archery games, so I got a chance to experience the Olympics at a very early age and didn't really understand it," Tiger narrated. "But over the years, having friends compete in the Olympics, seeing golf be part of the Olympics, it would be an honor to represent my country in an Olympic Games."
* * *
Follow me on twitter and Instagram @anthonysuntay.