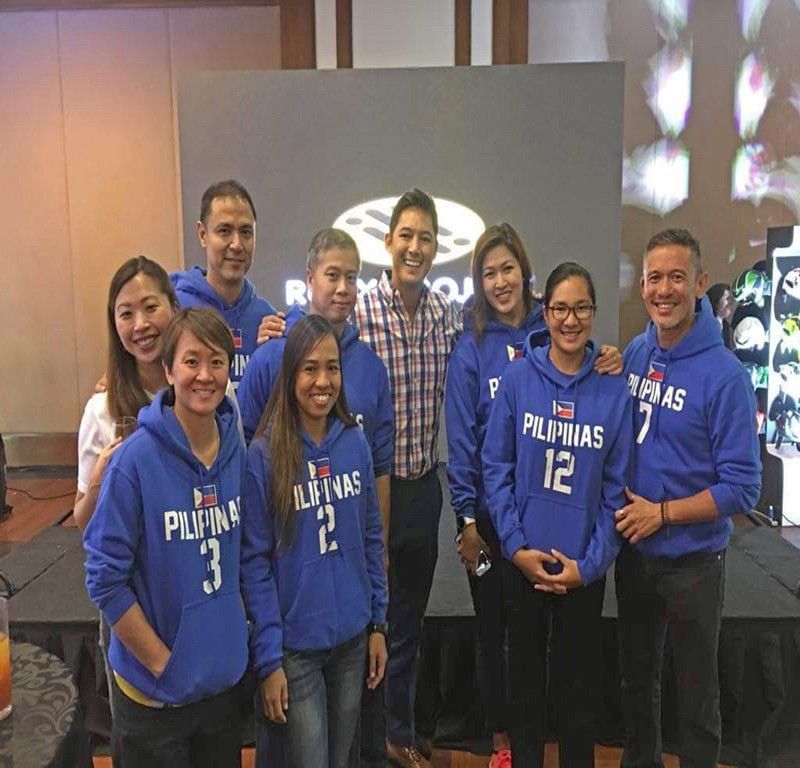 Dennis Valdes (rigth) and Marc Nelson (center) with members of the Philippine Underwater Hockey Team
Dennis Valdes gives back to the sport he loves
We've read about various athletes and their drive to get to the top, but we haven't really delved into the mind of someone behind the scenes, the one that charts the path for our athletes and helps them reach greater heights.
It does take a special breed to take time out and dedicate himself to helping our national team.
Dennis Valdes is a former underwater hockey athlete. He retired in 2016 after competing in the World Championship in South Africa.
PHILIPPINE STAR: Why did you decide to enter Philippine sports and help our athletes?
DENNIS VALDES: When I started underwater hockey in the 1980s, it was just a fun thing to do during the habagat or typhoon season, when we could not go scuba diving. I actually stopped playing after college due to work commitments. I got back into it in early 2000, as a way to keep in shape through a sport that is not physically injurious since water helps absorb the shocks on the body. I got more serious about underwater hockey when our team decided to try out for the 2013 World Championship in Hungary.
That's when I realized that sports in our country are very difficult to get to a level of excellence, primarily due to funding constraints. The Philippine Sports Commission is under a lot of pressure to get gold medals in a lot of sports, but especially in the more popular sports like basketball.
The world has evolved beyond the traditional sports, though. Today, the youth are interested in so many new and unique sports. The PSC does the best it can in this constantly changing landscape. But that means most sports cannot totally rely on just the PSC for funding. To achieve success, athletes have to get support from individuals and corporate sponsors to fund the many expenses needed in training and coaching a world-class sports team. And that's why I got into helping out our UWH teams. Aside from helping the athletes improve their performance, they also have the drive and determination to truly become world-class.
Have you seen some changes in the lives of some of your national athletes?
Sports is the ultimate character builder. How else will a person learn to deal with failure in as "safe" a manner as possible? And better still, ideally take that failure and build from there. In the build up to selecting a Team Philippines for SEAG 2019, we started with 20 men trying out for 12 spots on the National Team, and 18 women for their own 12 spots. As we've trained over the past year, we've cut players from the pool and only recently finalized the 12 on each squad.
I'm so proud to see that many of the athletes that were cut continue to train with the teams up to today, because their continued training and playing is helpful to the squad. When you see that selflessness in athletes, how can you not help but try and be as supportive as you can to all of them?
Amid all the chaos surrounding Philippine sports, how are you able to shield your athletes, so they can perform at their optimum?
I don't try and shield the athletes. I believe in full transparency and letting them know where we are as much as I can. I believe this struggle in Philippine sports can only aid their mental preparation.
From a personal standpoint, how do you stay determined and inspired to continuously support the underwater hockey team?
I should say if, but I like to think when we win "four for four" SEAG gold medals, then Team Philippines will use that as a springboard to greater success further in the UWH world. With the support of our sponsors and PSC, truly the sky is the limit.
What are your future plans for the team?
I want to take them as far as they want to go. In the immediate short term, there are the World Championships in Brisbane in 2020, and hopefully the Asian Games after that. Also, I aim to start UWH programs in a number of colleges in 2020. If we can get younger athletes started, I believe we can build teams that will do very well in future UWH World Championships.
* * *
Follow me on Twitter and Instagram @anthonysuntay.