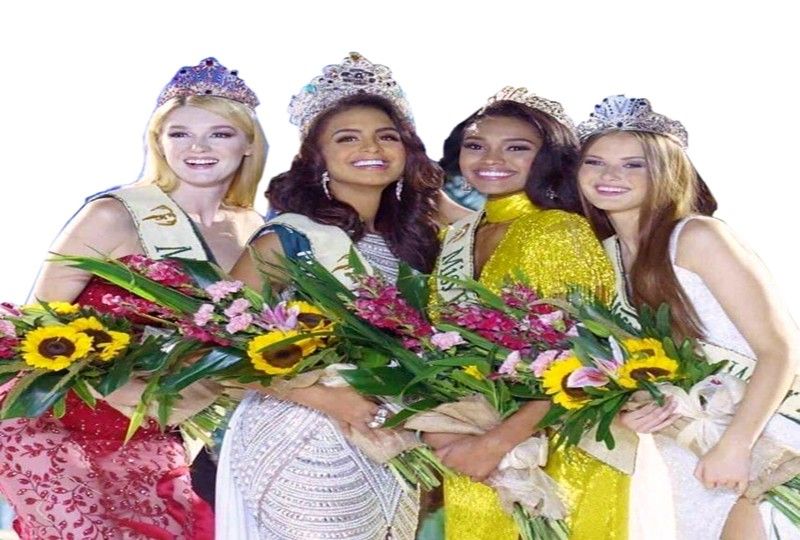 Miss Earth 2019 Nellys Pimentel with Miss Fire Manyonok of Belarus; Miss Air Emanii Davis of USA; and Miss Water Klara Vavruskova of Czech Republic
Love & Respect matter most, says Miss Earth 2019
Eighty-five women from all over the world capped their four jam-packed weeks of activities last Oct.26 at Cove Manila in Okada with the coronation of one lucky woman as Earth queen.
All delegates underwent three preliminary judging rounds where they were evaluated based on figure and form, beauty of face and poise, intelligence and environmental awareness
The 19th edition of the advocacy-driven pageant took on a floral theme to celebrate the national flowers of participating countries. Unfortunately, some of these flowers are nearly extinct. The pageant theme is a timely reminder that nature could be brought back to life if people from all walks of life show genuine care for its protection and preservation.
Miss Earth 2018 Phuong Khanh Nguyen of Vietnam, the very first Vietnamese major international pageant winner, crowned her successor Nellys Pimentel from Puerto Rico. An early favorite, the young marketing and psychology student is the very first Puerto Rican to bag the crown.
"Puerto Rico has more than 2,200 species of native plants that can cure naturally, among them our national flower — the Puerto Rican Hibiscus commonly known as Flor de Maga," explained Nellys on why chose to represent hibiscus. "Besides it's beauty, it is also known for its array of benefits such as its high concentration of calcium, iron and potassium. It is commonly used for decoration or as a sweet ingredient for baking desserts."
In the eco video submitted by Nellys, she expounded on her advocacy. "I am the oldest of two siblings. Our parents have taught us the values of love and respect and that is what my advocacy is based on. The family is the base of society and a society composed by families that love, respect and value each other is the one that will also do the same and make efforts in creating a stable and safe environment in every aspect. It is time to understand that the concept of love is the key to creating conscious change through education."
"It is time to raise our voice to take care of our biggest home, protect it with love where we set footsteps today — our Mother Earth. Because big changes begin with small acts of love, it is through these acts of love that I began giving talks about the importance of reducing and ultimately stopping the use of products that are harmful to the environment and educate the public on how reusing, recycling and replacing become easier with time."
In that same video, she expressed why the pageant is important to her. "It means a lot to be crowned Miss Earth because this pageant represents much more than beauty. It represents the cause and the voice that come with that beauty. I believe that is what I represent, a woman committed to raise the voice of awareness and act for the change that we need in order to care for the earth."
Crowned May 5 in Puerto Rico, Nellys trained and worked hard for the pageant ever since. She even took additional workshops here in the Philippines last September under the camp of Kagandahang Flores (KF). We were fortunate to get hold of the ever-busy Rodgil Flores of KF for a few words.
THE PHILIPPINE STAR: What is the best asset of Nellys that won her the crown? What did you have to improve or enhance in her to help her shine?
RODGIL FLORES: Nellys is a natural stunner. She has the height, a beautiful face and proportioned physique. These are plus factors that can easily make her standout. But there's more to winning a pageant. It's not just how you look, one must also deliver a solid performance. So we took time to enhance her stage presence – through visual poise and pasarela training.
Nellys also underwent hair and makeup training for her to come up with her best look for everyday activities, pre-pageant competitions and finale night. Since Miss Earth pageant is known for choosing winners that are articulate with substantial knowledge about environmental issues, we also helped her to keep abreast of current events and global environmental concerns as part of her Q&A training.
I believe that what made Nellys win was her "relaxed" confidence during the Miss Earth 2019 coronation show. The fact that she knew she was prepared for the grand battle made her deliver a winning overall performance. She was just on point in every round of competition even up to the final question and answer.
I would also like to thank the Miss Earth Puerto Rico organization, especially her national directors (Vanessa del Roide and Joe Ahmed) for the trust. Congratulations for honing Nellys into a perfect fit Ms. Earth delegate.
Are you flattered that KF is being recognized internationally for pageant training?
We are elated that KF is being recognized internationally. This just proves that, indeed, we Filipinos excel in the field of pageantry. We will still widen our global network in the coming years, but first and foremost, we will continue our commitment of developing Pinays into world-class beauty queens.
We are currently in the recruitment phase for KF batch 2020. Aspiring beauty queens may email their bio/profile with head shots and full-body photos to KFcrownglorylegacy@gmail.com.
* * *
Post me a note at mylene@goldsgym.com.ph or mylenedayrit@gmail.com.