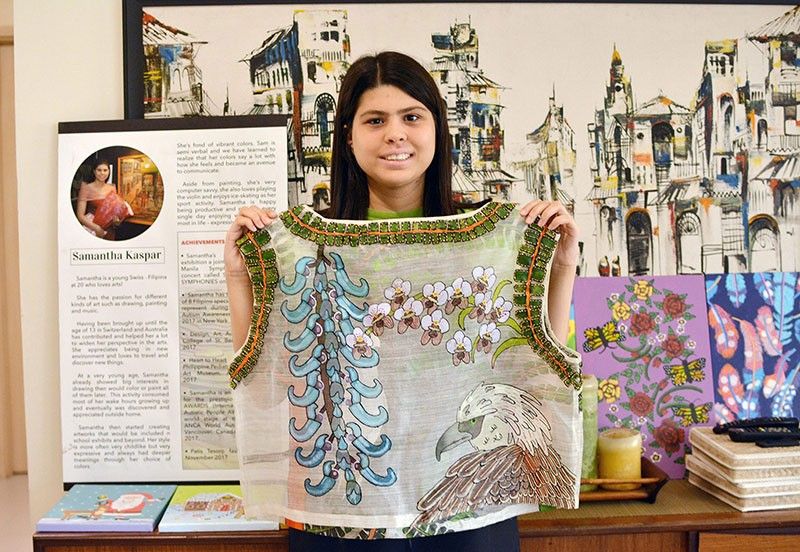 Samantha Kaspar, who's exhibited in New York and won an art award in Canada, paints her favorite subject — flowers — on piña, as well as the Philippine eagle for her biodiversity exhibit.
Samantha Kaspar draws a thin line between artistic and autistic
Samantha Kaspar seems like any other 22-year-old young lady. She's a pretty Swiss-Filipino mestiza who loves to paint, and showed over 40 of her works in "Biodiversity Through My Eyes," an exhibit at the Enderun Tent in McKinley Hill, Taguig City, on Oct. 17.
She also loves to sing and has a beautiful, sweet voice, belting out Colors of the Wind with a live band at the art opening.
But Samantha differs from other young women in one way: she has classic autism, a condition that her parents, Martin and Mitzi Kaspar, discovered when she was a small child.
"She was not hitting any of the milestones that a child her age was doing," Mitzi says. "No eye contact, didn't want to socialize. No audible words — they were just sounds.
"We went from one doctor to another, asking what was wrong," adds Martin, a Swiss chef who teaches Alain Ducasse's cuisine at Enderun Colleges and helms his own French restaurant, L'Entrecote, in BGC. "She went to Montessori School and the teacher was saying, 'No, there's nothing wrong with Samantha.' Because we speak three languages in the house (German, English and Tagalog — Mitzi is Filipino), 'so she's going to be fine.' Then suddenly it became obvious there was really something wrong. We moved to Switzerland, where she was finally diagnosed. So we hit rock bottom there."
"We were struck by lightning," Mitzi says.
"We drove back from the meeting when they labeled Samantha, and that was one of the lowest points in our lives," admits Martin.
"The next morning, we hadn't finished crying yet and the phone rang and it was a social worker: 'I'm assigned to Samantha,'" Mitzi recalls. "'I said, 'Ha? Who told you?'"
"We just embraced it and grew with Samantha, trying to do our best," Martin says. "We brought her to school and tried to communicate with her."
They found that Samantha communicated best — not with words — but by drawing.
"She started drawing when she was a toddler," says Mitzi. "She was more interested in crayons and color pens than actual toys."
Singing while she works
Three years ago a foundation in the US conducted a search for eight artistically inclined autistic children to represent the Philippines in New York during World Autism Day. Samantha was chosen, and the biggest piece she made for the New York Fashion Arts Autism Benefit show was a piña gown she'd painted.
"Everything was on piña because they wanted to also showcase Philippine fabric made by Filipino artists with autism, and create it into clothing by Filipino designers based in the US," Mitzi says.
None of the children knew how to paint on piña, so a piña master weaver volunteered to teach them, but her requirement was to have an art coach per child. That was how they met Ken Sioson, a freelance art coach who studied at UP Fine Arts and now devotes most of his time to nurturing Samantha's talent.
"I learned from Tita Mitzi that when Samantha was younger, she would express her emotions through art visually, and by knowing her childhood, I got to have a grasp of how I would want to teach her," Ken says.
He found that Samantha, a huge fan of Disney movies ever since she was two, liked to sing while she worked, just like a Disney heroine.
"Samantha is semi-verbal but she sings very clearly," Mitzi says. "She always chants something when they're working."
Adds Ken, "I know how she's feeling by the type of song she sings. I know when she's having a good time or when she's stressed."
When Samantha's having a good day, she'll sing a song like Colors of the Wind from Pocahontas. When she's stressed, she'll sing Someday My Prince Will Come.
"Because in Disney films, when there's a tragic event happening, they would sing," Ken observes, "so Samantha, when she's sad or feeling an urge or a certain emotion, she would sing it out instead of expressing it vocally."
Mitzi recalls that when Samantha was two years old, she would fill a whiteboard in front of the TV with nonsense letters like "XL." "Then I realized she watches until the credits." Apparently, Samantha was copying down the Roman-numeral year of when the movie was made. "Yun pala, mga Roman numbers nasa floor!" Mitzi laughs.
"And she's so updated," adds Ken. "She knows the film-screening dates of most of the films. If you ask her, she even knows when the film was shown."
Mitzi recounts how the night before the exhibit, Samantha came to her, asking for help: "Instead of asking, 'Mom, help me,' she motioned to me like Aladdin: 'Do you trust me? Come on!' She will always say a (line of) dialogue from a movie."
"I try to watch her references so I would be able to communicate with her," notes Ken.
At home, Samantha uses the family living room or dining area as her art studio.
"It would be nice to have a place outside where she goes and then comes back," muses Martin. "If she's in the house, sometimes that can have problems. Suddenly she stands up, goes to her room and then we're, 'Come back!'"
"Samantha is a bit OC," Mitzi adds. "The night before she already has to know what's going to happen the following day."
"If she knows what's happening, the whole day will be much, much easier," affirms Martin.
Biodiversity through her eyes
Samantha's "Biodiversity Through My Eyes" exhibit came about because the head of the ASEAN Center for Biodiversity, Dr. Theresa Mundita Lim, was a classmate of Mitzi's at UP. She noticed that Samantha had been getting publicity for her art and saw the piña pieces she had painted.
She told Mitzi, "I'm invited to attend the SONA. Can she make something that would depict biodiversity?" Mitzi replied, "Sure."
Lim supplied them with the subject matter she wanted, Samantha painted it on a kimona, and it became a conversation piece at the SONA.
"It was the gateway," Mitzi says. "It opened so many doors for Samantha until Mundita said, 'Why don't we make an exhibit featuring the biodiversity in collaboration with ASEAN and Samantha? And because Samantha was affiliated with The Center of Possibilities Foundation (a nonprofit dedicated to helping the indigent families of children with special needs), we put them together."
Since the theme of biodiversity was new to Samantha, Ken took pains to research the topic. "She worked from photographs, so I bought some books on Philippine biodiversity and showed her photographs," Ken says. "I also did some research on credible websites and showed it to her."
Samantha illustrated flowers (her favorite thing to paint), animals and insects in watercolor, at times using a very naturalistic style; other times doing more cartoonish renditions, as in the trio of paintings she did depicting the flora, fauna and geological landmarks of Luzon, Visayas and Mindanao.
For Ken this is the highlight of the exhibit, as the trio involved the most time, research, and effort on Samantha's part. "I was there to guide her between the choosing and composing," he says.
The main painting to be auctioned off was "Medinilla Theresae," Samantha's watercolor of a newly discovered flower species in Mindanao that was named after Lim. Proceeds will go to the ASEAN Center for Biodiversity and The Center of Possibilities Foundation.
Also on display were examples of Samantha's hand-painted piña clothing. In fact, the pretty young artist wore a Patis Tesoro ensemble that she'd painted herself, and there are plans for a future collaboration in the works, though the Kaspars can't give out details just yet.
"The difference between painting on piña as opposed to canvas is that you have to think ahead of what you're planning to work on, because aside from it being a delicate material, you can't just dabble your paintbrush and paint into the fabric," Ken says. "We want to keep that translucency in the fiber."
Meanwhile, Samantha starts rehearsing with the band onstage, singing a song I don't recognize.
"It's called Through My Eyes," Ken informs me. "It's a very special song she learned in Switzerland, and was made to create more awareness about autism. That's the reason why the exhibit was named 'Biodiversity Through My Eyes.'"
'Never give up trying'
I ask the Kaspars what they would advise other parents of children with autism.
"Never give up trying, go to every avenue and check it out," Martin says. "In the beginning, when Samantha was labeled, actually we still checked out a couple of other doctors because we wanted to be sure."
"We were hoping maybe another doctor would say she was not," adds Mitzi. "We went to the Germans, the French part and Italian part (of Switzerland)."
"But the most important thing is to find out the best way to communicate with her — I think that's the most important," advises Martin. "She understands much more than she really shows us," he laughs, "but she understands pretty much everything."
The doting dad has taught her how to cook, and Samantha can bake cookies, make pasta, and even quiche. "Maybe that's the next passion," Martin says. "Who knows?"
* * *
Follow the author @theresejamoragarceau on Instagram and Facebook.