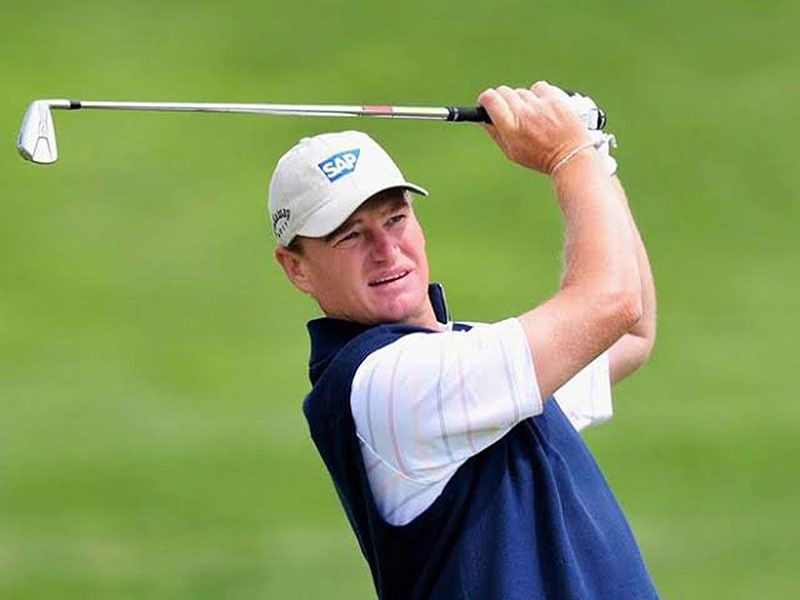 Ernie Els, team captain of the International Team
Ernie Els is all set for the Presidents Cup in Melbourne
The Presidents Cup is a unique golf event with no prize money. Players are not paid for their participation, but each competitor allocates an equal portion of the funds generated to charities of his choice.
Since the event's inception, more than $49.1 million has been raised for charity, as well as contributions made on behalf of the Presidents Cup, including a record charitable donation of $10.7 million from the 2017 event alone.
It is held every other year and this year it will be played at the Royal Melbourne Golf Club between the US Team captained by Tiger Woods and the International Team with Ernie Els as captain.
The Communications Department of the PGA Tour arranged a teleconference for the international media with Els.
PHILIPPINE STAR: The President's Cup is a few months away. What are you preparing for at the moment?
ERNIE ELS: I probably won't be playing this Presidents Cup, but I'm really looking forward to getting my team assembled in the full stage when the 12 guys qualify, and then we can get down there and really start playing the golf course and getting ourselves familiar with the surroundings. It's huge for us to pick obviously the right four to join the top eight and there's already very interesting scenarios that have come up. These guys have won tournaments and it's going to be interesting times ahead. Look at Jason Day. We'd loved to see him qualify in the top eight, but I don't want to give away all my cards here. Jason will always be on the list of guys we're going to root for the top 12. He tried a different caddie scenario and so forth this year.
Nov. 4 is fast approaching and we have to look at how the guys position themselves. You've got Erik van Rooyen, he won a tournament in Europe and he's an up-and-coming player. Branden Grace is another one. There's also Jhonattan Vegas, Adam Hadwin, even Brandon Jones, who plays on the Japanese Tour.
What's the best advice you can give your team about the course and about the tournament?
I told them to try hard and be prepared. Every part of the game should be at a championship level. Try and prepare like you prepare for a major championship. I've told them a bit about Royal Melbourne and what's the best way to attack the course. I warned them about the Australian conditions, which can be fast, a little windy and quite warm also. That's why a short game is very important around Australian golf courses. Driving is very important, too. The main thing is that the only session where you're playing your own is in the singles. We have four sessions before we get to the singles, and there's the foursomes format and the four-ball format. Those are the most important sessions of the whole Cup, and we haven't done too well in those in the past. I'm really concentrating on getting the guys familiar with each other and then trying to play the foursomes format a lot.
Adam Scott said he wants you to play. Is that something you are still seriously considering?
I'm going to play a couple event in the next couple of months, and I have to at least win two, three or four times before I can consider myself to be on the team. Scottie has expressed that I should look at myself as possibly a captain's pick, but I've got a lot of other things on my mind so it will be very difficult for me to be able to play and be captain on the side. So if I win four, five events, which is probably not going to happen, there's probably a 99-percent chance I'm not playing.
The International team hasn't performed well recently. Is this a concern and are you using making history as a rallying point for the players?
Absolutely! I told them that this could be one of the biggest events of their lifetimes, just because we are such a diverse team from around the world. We have a huge following. We have people from Asia, from Mexico now, we've got possibly Canada. We have an audience of billions if you look at the countries' numbers. At the end of the day, we've got a bigger following than the American team, and on paper, people are not giving us much of a chance. I mean, the whole of the US Team is in the top 20. We have one player in the top 20, and that's just the way it is. But you know, somebody is going to win 15 1/2 points, and at the end of the day, that's our aim. It's the score on the board that counts. That's the kind of mindset I want to get at them.
With so much more representation now, do you foresee the Presidents Cup being played in these markets in the future?
I think it is so important for these players that come from different regions. From Chinese Taipei, China, Mexico. These players haven't been represented in the Presidents Cup, and for the first time they're in, and this is just great stuff. Can you imagine all the people that's going to be tuning in to the Presidents Cup? It's just a whole world that's going to be watching us for the first time. For what Mexico has done, China has done for golf throughout the years, with the PGA Tour going there, the growth of the game is just going to be staggering. We're going to have potentially a billion more people watching this Presidents Cup.
* * *
Follow me on twitter and Instagram @anthonysuntay.