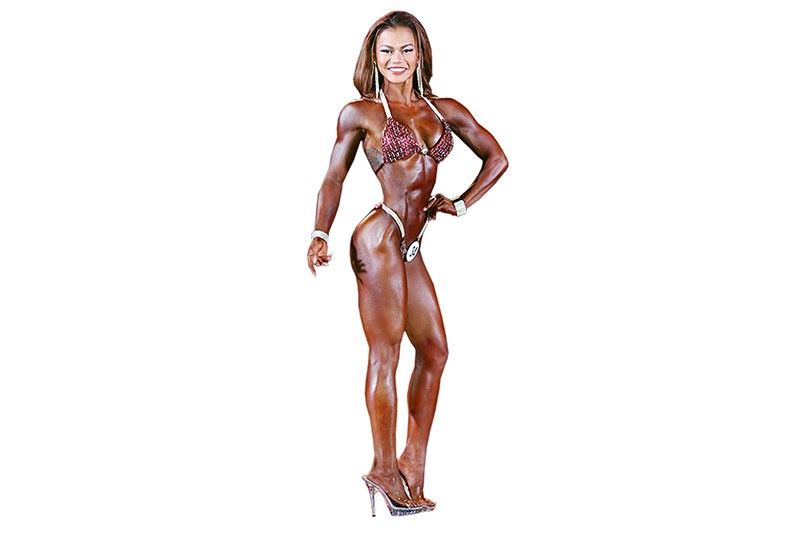 Sel Guevarra is the country's first Filipina IFBB Bikini Pro.
Sel Guevarra is the first Filipina IFBB Bikini Pro
History was made last Sept. 28 at The Tent at Acacia Estates as sportscaster and athlete Thistle "Sel" Guevarra was named the first Filipina IFBB Bikini Pro on Philippine soil. She is now eligible to compete in the most prestigious shows in the world under the IFBB Pro League.
We sat down with Sel to find out what's next for her.
PHILIPPINE STAR: How long have you been seriously training?
SEL GUEVARRA: I've been in this sport competitively for five years. Even on vacation I work out. It is just part of my lifestyle.
What convinced you to start training for bikini competitions?
I was always into sports like dancing, running and gymnastics. After graduating from college, I entered show business and my habits weren't doing me good anymore. I was drinking alcohol almost everyday, smoked two packs of cigarettes a day and consumed too much sugar on set despite the fact I was diagnosed pre-diabetic back in college already.
In 2014 to 2015, I had pneumonia because of smoking, my weight dropped to 83 from 85 pounds and my right lung failed. My doctors said if I didn't find a way to gain back the weight I lost, I would always get sick considering the demands of working for TV. I saw my high school friend and now my bodybuilding teammate Reign's transformation on Facebook. I messaged her and she introduced me to our bodybuilding coach Cris Giner, my coach for five years now. I got competitive and the rest is history.
What do you like most about competing in bikini?
I love that it is not all about competing for who has the best muscles. I like the glam part of it because I am a woman who likes makeup. It's a great opportunity to showcase that this is what training and eating healthy — as a lifestyle — do to you. But in all seriousness, bikini athletes (and other physique athletes) should be role models of health, fitness, hard work, poise and class especially on stage. A healthy and fit body should also represent a healthy mind and a positive vibe.
How do you stay motivated?
I always ask myself: Do I want to feel disappointed that I'm not inching closer to where I want to be or should I just endure the hardships and discomfort of working towards my goal? Even if it is hard, we are fortunate to be given opportunities to achieve our goals. We only live once, we don't want to get stuck with what ifs. We should always go for the things and people who set our soul on fire.
Would you encourage other women to try bikini competitions?
Yes. It changed my life drastically in the most positive way. Just make sure you are guided with the right and healthy methods. Don't rush yourself. You can't be a champion on your first show. Because of this lifestyle, I grew as an individual not only as an athlete. My family and friends are inspired to make healthy choices, too. I want more women and Pinoys to adapt to the lifestyle, eating healthy, doing meal prep, going to the gym and devoting some time to exercise. That way, the fitness culture in the Philippines will grow and improve in the same way western countries have embraced fitness as part of their lifestyle. For someone who smoked her lungs the whole day and ate junk food excessively, I couldn't be any happier that I'm living my life the way I do now. Whether I am competing at the moment or not, this lifestyle is a blessing.
Do Filipinas stand a good chance in succeeding in international bikini competitions?
Yes, definitely. Janet Layug, the top two pro in the world, has Filipino blood. There are many other amazing pros with Filipino blood as well including Geri Berger and Michelle Hurst who were present during Musclecontest. The Filipina woman has so much fire, exotic charisma and captivating beauty that leave everyone in the audience mesmerized. Match that with a robust work ethic, intelligence, resourcefulness, resilience, discipline and a humble and positive attitude, she can thrive in this sport and anywhere else.
What is next for the first homegrown Filipina IFBB Bikini Pro?
I am 10 to nine weeks out from the next Philippine pro show Shawn Rhoden Classic. That will be my first competition prep as an IFBB pro after winning my Pro Card at Musclecontest. And on the holidays, I will take a break and reset for 2020. Rest assured I am already making plans and conditioning myself mentally and trying my best to align everything as I aim for bigger goals in this sport and in life in general. I will go all out, like I always do. I am thankful for every opportunity. If it weren't for Musclecontest, I wouldn't move forward to the next phase of my journey.
* * *
Post me a note at mylene@goldsgym.com.ph or mylenedayrit@gmail.com.