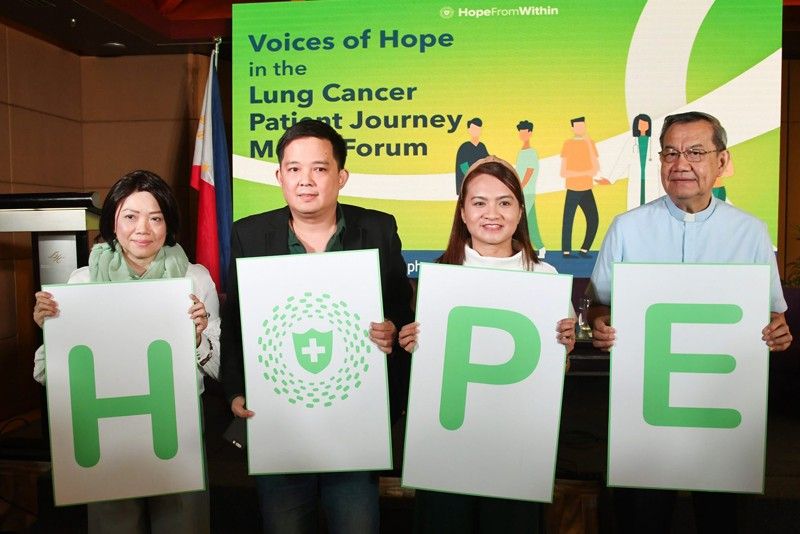 Fr. s, lung cancer survivor, is joined by Hope From Within ambassador and broadcast journalist Diego Castro (second from left), Tetit Melendres-Aristan, Stage 4 lung cancer patient, and Dr. Meredith Garcia, medical oncologist and passionate advocate for new cancer treatments like immunotherapy, at the "Voice of Hope: Winning vs. Lung Cancer" launch at Diamond Hotel.
Fr. Jerry Orbos on battling lung cancer: 'Focus on the humor, not the tumor'
'Common symptoms are cough that doesn't go away, coughing up of blood, chest pain, difficulty in breathing, wheezing. It's important to get screened because lung cancer is asymptomatic. And please, don't rely on Dr. Google.'
Why do men of God always find the good in the bad?
Fr. Jerry M Orbos, SVD, with three other priests, figured in a vehicular accident on Feb. 7, 2018. He suffered whiplash injuries, which required him to see his doctor regularly.
But instead of questioning God why it happened, the priest was even thankful for the accident.
"My doctor advised me to have a a CT scan of the abdomen. So I told my doctor to include my lungs during the scan," Fr. Orbos recalled.
His abdomen was clear, but his lungs weren't. A nodule about 1.5 cms was discovered.
"Had I not figured in that accident, there was no way of finding out I have cancer," Fr. Orbos matter-of-factly said.
The biopsy showed a left upper lobe malignancy, so his doctors decided he needed surgery to remove the entire lobe.
"I even asked my doctors to postpone the treatment because I was going on a Marian pilgrimage," he added.
When he got back, the tumor subsided a little but his doctor advised him to have the surgery.
"When you have cancer, the element of time is very important," he shared. "I know that a cancer diagnosis for others feels like a death sentence, but I always say, focus on the humor, not the tumor."
Early detection saves lives
Fr. Orbos considers himself lucky because the cancer was detected at its early stage. Unlike Tetit Melendres-Aristan who was diagnosed with Stage 4 lung cancer in September 2018.
"I had a cough that wouldn't go away. I thought it was the usual symptom of my on-and-off allergy rhinitis so I took the same prescribed medicines given by my EENT, but I didn't get well," Tetit recalled.
So she went back to her EENT who prescribed her a drug and told her that if she didn't get well after a week, she needed to see a pulmonologist.
"Then I was diagnosed with asthma. My condition didn't improve. My cough persisted," related Tetit. "So my brother-in-law, who is also a doctor, recommended another pulmonologist."
To make the long story short, Tetit was diagnosed with primary lung adenocarcinoma, Stage 4.
"How could that be? I lived a healthy lifestyle all my life," Tetit lamented. "I was not even a smoker. Had I only paid attention to the symptoms, it wouldn't be this serious."
According to Dr. Meredith Garcia, medical oncologist, one problem with lung cancer is that most of the time it can be insidious in onset.
"We normally detect the disease at its later stages. That's why it's important for people to know the symptoms early on, and don't take them for granted," she advised.
Some of the common symptoms patients complain about are cough that doesn't go away, coughing up of blood, chest pain, weight loss and loss of appetite.
"The less common symptoms are infections that keep coming back, difficulty in breathing, wheezing," she added. "That's why it's important to get screened also because lung cancer is asymptomatic. And please, don't rely on Dr. Google."
Lung cancer screening is very important. It aids the doctors in finding out the disease even in patients who have not yet developed the symptoms.
"Through screening, we're able to catch the disease at a very early stage in which it can still be cured," Dr. Garcia said.
Undergoing regular screening specifically for lung cancer can actually decrease the mortality of patients by around 20 percent.
"That's already a huge leap because lung cancer is the number one cause of cancer-related mortality not just in the Philippines but worldwide.''
Records show that lung cancer is responsible for 18.4 percent of all cancer deaths worldwide. In the Philippines, there were 17,255 new cases of lung cancer and 15,454 deaths occurred due to the disease in 2018.
The fight against lung cancer
Because of its alarmng increase in incidence and mortality rates, the disease has opened an important battleground in the healthcare community.
However, the fight against lung cancer is also a frustrating one, because all too often, the malignancy is discovered only during its late stages where, historically, it has been difficult to help patients survive even just a year after diagnosis.
Very few patients with advanced lung cancer have made it past two years. Survival of five years after diagnosis had been virtually unheard of.
But all this is starting to change. The tide is beginning to turn in favor of the lung cancer patient. Because of research and development leading to breakthroughs of modern medicine, we now have the technology that renews the hope in improving patient outcomes.
With the advent of new treatment options, many patients with advanced stages of lung malignancy survive past the five-year mark. One such treatment option is Immunotherapy, a type of cancer treatment that boosts the body's natural defenses to fight cancer.
"I received my first chemotherapy on Nov. 30, 2018. I finished the six cycles of the two-combo drug. In the third cycle, I had a CT scan and it showed the tumor has not grown in size," said Tetit.
She thought that her condition was stable. She even had Monotherapy. After two infusions, she developed a problem.
"I had a stricture in my esophagus. I couldn't swallow. Further tests confirmed that there was no tumor in her esophagus, but because the tumor in her lung had grown, it was compressing my esophagus," added Tetit.
And that was when her doctor decided to put her on Immunotherapy.
"It's a miracle drug," enthused Tetit. "What's fantastic is that the day after my first infusion, my cough finally stopped. My swallowing became normal."
After the second infusion, Tetit's CT scan showed that there was a marked regression in (the tumor's) size.
"Even the lesions found in my liver are slowly resolving. Nabuhayan na ako ng loob. With Immunotherapy, I regained my body strength," Tetit said.
You're not alone in this fight
Through the multi-stakeholder partnership between government agencies, non-government organizations, medical societies and patient advocacy groups, innovative treatments such as Immunotherapy and targeted therapies are being made more accessible in the goal to create better supportive care systems for lung cancer patients.
Just last week, lung cancer survivors, caregivers, specialist physicians, as well as representatives from medical societies, hospitals and government agencies gathered at Diamond Hotel to resolve gaps and identify action points and opportunities for improvement for each phase of the lung cancer journey for Filipino patients — from symptoms onset to post treatment.
Titled "Voice of Hope: Winning vs. Lung Cancer," the event featured a panel discussion moderated by MSD's Hope from Within ambassadors Diego Castro and medical oncologist Dr. Herdee Luna.
Diego, whose parents June Keith and Angelo Castro both died of lung cancer, has been the longtime advocate of MSD's Hope From Within and the face of Test, Talk, Take Action, MSD's lung cancer campaign.
The media launch is aligned with the "Inventing for Life" corporate anthem of MSD in the Philipines, which encapsulates the vision and the company's efforts towards invention and innovation to address some of the world's most life-threatening diseases like lung cancer.