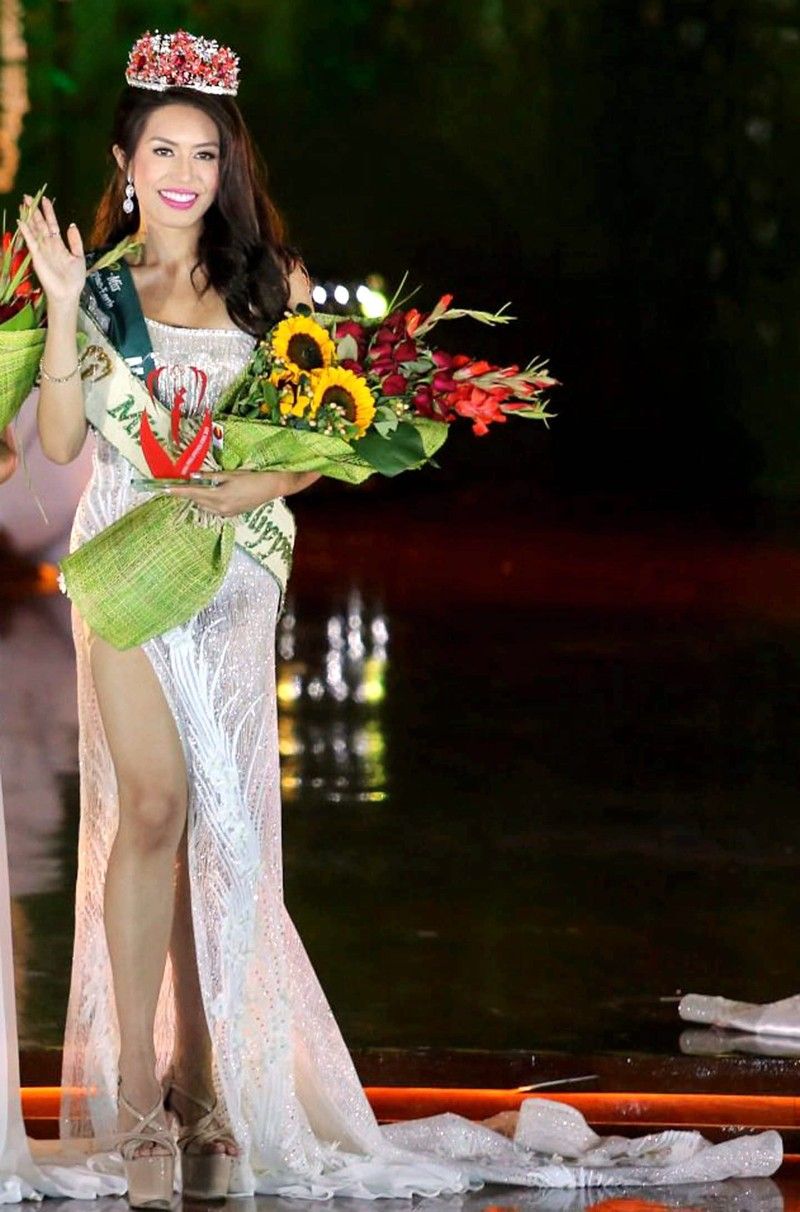 Alexandra Marie Dayrit
Photo by Russel Palma
How overcoming my fear won me a crown
Being crowned as Miss Philippines Fire 2019 is a dream come true. The fact that I had to work so hard for it — for so many years — only makes it sweeter.
MANILA, Philippines — I was 21, fresh out of college, 5'6" and 160 lbs. when I first met Rodgil and Gio Flores, who were producing a show for us. Being a pageant fan myself, I was eager to meet Tito Rodgil, the head of Kagandahang Flores or KF, which produced beauty queens such as Bea Rose Santiago, MJ Lastimosa and Karen Gallman.
My mom joked that it was my dream to enter pageants. My heart dropped, as that was a deep, dark secret I had given up on. To my surprise, Tito Gio said, "You're transformable. You can do it." And so he invited me to join the training at their camp.
For four years I never took the invite. I focused on my career and my fitness. I lost some weight, but never enough to compete. When applications for Binibining Pilipinas and Miss Philippines Earth were announced every year, I would look at myself in the mirror and say to myself: "No, you won't make it in time."
At 25 years old, something finally triggered me to do it. Early last year, I was betrayed and bullied by a group of people that I trusted. I was devastated, heartbroken and lost a lot of passion for life. I lost confidence in myself.
I distanced myself from everyone and began immersing myself in volunteer work. I joined JCI Manileña, a non-profit youth development organization, and actively participated in all their social outreach programs. It's so ironic, but out in the chaos of the real world was where I felt truly at peace. In a time of darkness in my life, I realized that my calling was to help people live healthier and happier lives.
I never talked to anyone about how I felt. I just took all the emotions out in the gym. Around that time, applications for a bikini contest were announced. I prepared for it. Dedicating so much time to training was a great distraction from how I felt. I cut down to 108 lbs. for the competition. As fate had it, I ran into Tito Gio Flores once again, 56 lbs. lighter than the chubby girl he met years ago.
It was in November 2018 that everything became real. I met up with Tito Gio and we started working on our game plan for my debut in the pageant world. We had to act fast because screening was in January and I had gained some weight from my month-long vacation in Europe right after the bikini contest.
On my first day of training in KF, the Binibining Pilipinas aspirants were complete in attendance. I put on my Bragais shoes for the first time. I couldn't even stand up straight. Halfway through the training, I had to be pulled aside from the group to begin with basic exercises because I really couldn't walk at all.
I knew that I had to work twice as hard as the other girls at camp because of my larger frame and lack of experience in pageantry. And so I did. I never missed training unless there was an official pageant activity.
I was only used to sneakers, so when I started using heels, my feet used to bleed. When that happened, I would just cover up my feet with socks and proceed with training. There were many nights that I was the first to arrive at camp and the last to leave, as I would walk additional laps after everyone else had left.
To prepare my body, I worked with nutritionist Cristy Marasigan to come up with a six-month diet plan that would get me coronation-ready. We focused on getting lean and toned. I avoided processed food, sugar and excess salt for the entirety of my pageant preparation. My diet consisted mostly of fish, eggs, vegetables and fruits.
I called on my trusted personal trainers Culver Padilla and Jonathan Motz Aviles to help with my workout program. We focused on improving my legs and glutes, targeting those muscle groups twice a week and using lighter weights for the rest of my body. We also integrated HIIT into my routine to help burn more fat.
Preparing my mind was the hardest part. Many of our mentors say that pageantry is a mind game and it's really true. I considered myself an ugly duckling, growing up insecure about my appearance. Even though I had bloomed into a swan, there were still times that I didn't believe I was beautiful.
As my coaches reviewed my performance in pre-pageant activities, they pointed out that my eyes looked scared. I was always so nervous about my catwalk and had a tendency to look stiff on stage.
Our catwalk coach Enan Cruz kept telling me, "Don't overthink. It's all in your mind."
Up until the last pre-pageant activity, the swimsuit competition, my walk was bad. I kept praying that God would help me be confident, believe in myself and perform at my very best. Hours before the competition, I prayed and posted on my social media, "Thy will be done."
By God's grace, my best performance in the entire pageant came out on Coronation Day. I was cool and relaxed, my catwalk was graceful and my poses and expressions were beautiful. It's hard not to believe that it was destined for me to rise up on that day and snag a crown.
Some women fear the fire; some simply become it. My dream of becoming a beauty queen scared me so much that I kept it secret and delayed it for years.
Now I'm living my dream, the newly crowned Miss Philippines Fire 2019. The fact that I had to work so hard for it — for so many years — only makes it sweeter.
With or without the crown, I would say that I have won. My entire pageant journey molded me into the best possible woman I could be: brave, confident, kind, patient and more understanding.