Ruffa Gutierrez to abused women: Speak out, be free and share your story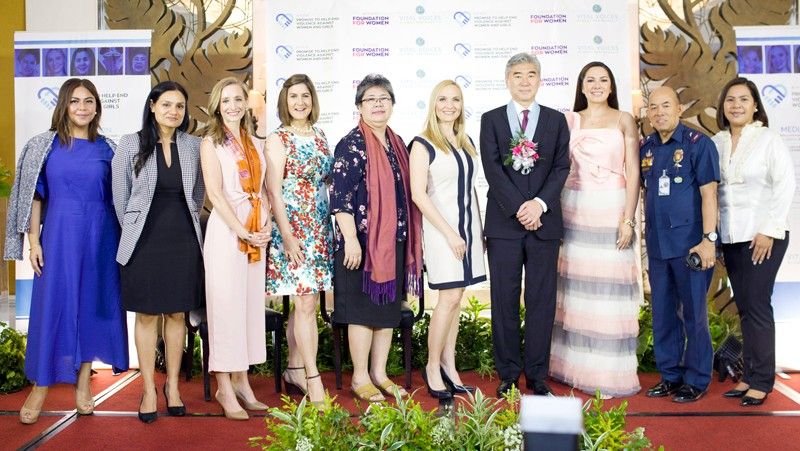 One perfect summer day in March of 2003, showbiz was abuzz with news of the forthcoming wedding of Ruffa Gutierrez to her Turkish boyfriend Yilmaz Bektas, billed as the fairytale wedding of the year. I remember the young bride-to-be looking so radiant, so full of dreams as she talked to us, in an exclusive interview with The Philippine STAR, about her future husband and their future together with a glow in her eyes that could light up the whole NBC Tent.
Fast-forward to 2007: We watched Ruffa on TV talking about being a battered wife with intense pain and angst in her eyes. Most of us know Ruffa's story: How she was locked up in a cabinet, the thrashings, the physical and verbal abuses.
From bed to worse
"I was living in Istanbul and I had a very powerful husband," shares Ruffa who wears the scars of her embattled marriage on her body, not unlike a bemedalled war veteran. "Yes, I have many scars in my body and it came to a point where I would just put makeup on them, cover them up. When he would cut my hair, I would put hair extensions. It became like a normal situation."
But Ruffa saw the red flags early on. "There were always parts of him that were controlling, but I actually liked that in the beginning because I thought that he loved me. But it got worse overtime. You'd think he'd change, but he never did and things just got worse until I couldn't take it anymore."
Without her family to turn or run to, Ruffa felt desperately alone and lonely. "I didn't even call the police, I didn't know where to go back then, 12 years ago. Every time I went to my in-laws, I would cry to them and ask for help. They would actually get mad at their son, but they were also protecting him."
In 2007, as soon as she had the slimmest chance, Ruffa took the first flight out of Istanbul to the Philippines, with her two daughters, Lorin and Venice. "Yes, it was a short but very productive marriage because it produced two daughters back to back," says Ruffa. "My daughters are now 15 and 14, born months apart."
Now back home, back in a safe haven, Ruffa was still in denial. She recounts, "When my parents were asking why I had so many black and blue spots on my body, I didn't say anything until I couldn't take it anymore. When I was ready to leave my husband, that was the only time I shared my story because I didn't want to criticize him and still stay in the marriage."
Winning the war vs. violence
Today, at this convention on "Voices Against Violence," with Avon Foundation for Women, Avon Philippines, and Vital Voices partnering for a special forum to help end gender-based violence in the Philippines, Ruffa is just one of countless voices speaking out against violence in any form against women and girls. Having been part of the cold statistics, Ruffa, Avon Philippines brand ambassador for the past 12 years, has turned from victim to survivor to advocate.
Did you know that 17 percent of women aged 15 to 49 have experienced physical violence since age 15 (according to the 2017 Philippine National Demographic and Health Survey provided by the Philippine Statistics Authority)? Nearly one in four women of the same age group experienced other forms of physical, sexual, or emotional violence from their current husband/partner or ex-husband/partner. Sadly, 41 percent of these abused women have never sought help or told anyone their stories. In 2017, there were 11,558 women victims of physical and sexual violence (there could be more, what with the unreported cases).
"One in three women globally experience violence and no one sector can confront the depth and breadth of this epidemic," points out Nicole Hauspurg, director of justice, Vital Voices.
"With the passage of the Safe Streets and Public Spaces Act (aka Bawal Bastos law), we're hoping there would be more programs and projects to address gender-based violence," speaks deputy executive director Maria Kristine Josefina G. Balmes of the Philippine Commission on Women.
Agnieszka Isa, Avon Philippines executive director for marketing, Asia Pacific, stresses, "No violence in any form — whether physical, emotional, psychological — is acceptable. Because we want all our women to be free, to feel inspired, to feel safe."
To fulfill its promise to help end the war vs. violence against women and girls, the Philippines has been chosen as one of three key Avon markets for the implementation of the training program, according to Christine Jaworsky, director, Avon Foundation for Women.
Distinguished guest US Ambassador to the Philippines Sung Kim has two daughters of his own to remind him to always be a champion of women's causes. "My embassy law enforcement team is working closely with their Filipino counterparts, including the Philippine National Police Women and Children Protection Center (represented at this convention by no less than Police Chief Superintendent Gen. William S. Macavinta) to combat human trafficking and child abuse."
As one of the potent voices at this convention by women, for women, we hear more from Ruffa. Wearing her heart — and her bruising battles — on her sleeve, she courageously declares, "I believe I've come full circle because of everything I've gone through. I'm just so happy right now because I'm surrounded by my family, a lot of friends, a lot of work. I'm so grateful for every blessing that comes my way. I think being financially independent is important because a lot of these women have no income and have nowhere to go."
Through it all, Ruffa wanted her daughters not to hate their father and to have a good relationship with him. Isn't she afraid that they might meet the wrong guys someday? She replies with a hint of confidence, "I believe I raised my children in a way that they are God-fearing and strong individuals even at their tender age of 15 and 14. I know that they'll be wise enough to make the right decision when the time comes."
She adds with a naughty smile, "But just the same, I already gave them a list of what to look for in a man."
Though the past still haunts her like a recurring nightmare (no matter how many tickets her ex-husband has sent her to come to Istanbul, she will never go back because "I'm afraid he'll kill me."), her ordeals have only made her stronger. "The greatest lesson for me was taking care of myself. Self-respect, self-love is what's important. Now, I love myself more."
* * *
Are you a victim of violence? Speak out, share your story. Here are the hotlines of Avon's partner NGOs: Luna Legal Resource Center for Women and Children in Davao, (082) 306-5761; Gender Watch Against Violence and Exploitation (GWAVE) in Dumaguete, (035)422-8405 or 0915-2593029;
Women's Care Center, Inc. (WCCI) in Manila, (02)514-4104 or 0999577963; Ing Makababaying Aksyon (IMA) in Pampanga, (045)323-4750.