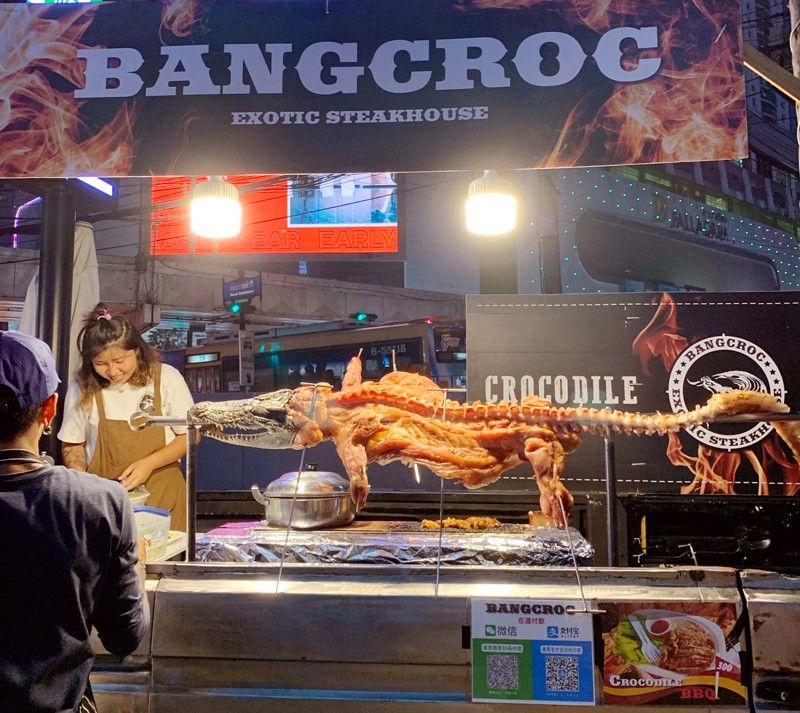 Crocodile meat roasted on a pit outside the Platinum Mall in Bangkok
Bangkok has become one of our favorite destinations for obvious reasons: its interesting, preserved heritage sites that speak well of their glorious past, the rich flora and fauna, food and fruits (check out the pungent and buttery kanyao variety of durian; duku langsat or lanzones; atis or sugar apple, pomegranate, guava, dragon fruit) and a personal favorite, crispy banana chips with tamarind paste.
There are good buys in weekend markets, while modern retail shops offer a wide variety of products and services. We can't seem to have enough of it.
To sum up our Bangkok experience, I'll rate from bad (in a good way) to baad (a rip off).
Bad: I booked our airport pickup online (Viator for P2,262.39 or US$43.14). The six-passenger van was new, clean and spacious. The driver was polite and experienced.
Baad: It took us over 40 minutes to find the van. My name was spelled wrong, making it difficult for me to spot the welcome sign displayed among hundreds of signs. In exhaustion, I spotted the Tourism Desk who called the limousine company and we were finally directed to wait by Gate 1. Despite its modern facilities and efficient staff, there are just too many people in the Arrival Area causing chaos, confusion and delays.
Bad: After reaching Shangri-La Hotel, we found this little Thai restaurant called Zab Bang Love, just a three-minute walk from the hotel. What a pleasant surprise. This is a Mom and Pop operation, homey and casual. The husband took care of the table service, while the wife was busy cooking in the kitchen. The baby sat behind the cash register playing with his toy computer but was so used to seeing diners that he greeted us with the typical Thai way of hands pressed together like in a prayer and bowing slightly.
We ordered Tom Yum Gung fried rice (150 baht), grilled pork neck called "kor moo yang" (100 baht), spicy vermicelli salad (100 baht), cucumber salad with Vietnamese sausage (90 baht), deep-fried mushrooms (60 baht) and fried veggies spring rolls (100 baht). They were cooked fresh and nose-dripping spicy, but truly flavorsome. The fresh fruit shakes were the perfect complement and we finished off with sliced mango with sticky rice for dessert. I detected a pinch of salt on the coconut (gata) sauce and indeed, the cook used salt to throw off the sweet gata sauce.
Bad: The next day, we took a cab to Chinatown and found ourselves in front of the restaurant we were looking for — Yoo Fishball. Touted to have the best fish balls made from fresh catch, we were not disappointed, except for dessert, they didn't have the fried banana that I wanted to compare to our native saba.
Bad: The Temple of the Golden Buddha. It's the world's largest Buddha measuring nearly five meters in height and weighing 5 1/2 tons. Artisans crafted the Buddha in pure gold and disguised it from invading armies by a covering of stucco and plaster. This Buddha was accidentally dropped so its outer covering of plaster peeled off. Footwear has to be left outside the temple and you have to walk barefoot in the sizzling pavement. Hot! Ouch!
Baad: Tuktuk ride. Our driver was YoYo. We saw him just outside the temple of the Golden Buddha so I asked him whether he could take us to the Reclining Buddha. He said that we needed to ride a boat to get there but he could take us to where the boats are parked. Before that, he made two stops: First, to a jewelry store where he was hoping we would buy some pieces of jewelry. We didn't, although I bought some souvenir wallets on the second floor. Next, he took us to a tailor shop where we absolutely didn't find anything to buy nor were we keen to order anything custom-made.
This is a racket! Tuktuk drivers will take you to several shops before your destination and pretend that "I need to get a stamp from this store to get free petrol." In short, he gets a commission if his passengers buy something. Beware! Don't fall for this trap. When you hire a tuktuk, tell him, in no uncertain terms, where you want to go and not to make any unnecessary stops along the way. Agree on the fee first before taking the tuktuk.
Bad: Thipsamai for Pad Thai. Sandy Daza of Food Prints featured this restaurant known for its Pad Thai. When we got to Thipsamai, there was already a line forming but we got a table after 20 minutes.
It was interesting to watch the staff prepare the Pad Thai like in an assembly line with separate food stations. One plated the raw vegetables (garnished with lots of bean sprouts), another sautéd the vegetables, while another took care of just frying the egg to form a wafer thin wrapper around the sautéed vegetables. They cooked using live charcoal.
The Pad Thai had a smokey flavor and was quite tasty, but not that exceptional cause other Thai restaurants can cook just as well. Thipsamai also provided toppings for additional flavor — chopped peanuts, sesame seeds with sugar, and dried chili. Try their freshly squeezed orange juice with thick pulp bits that was chilled to icy temperature. It was incredibly refreshing.
Bad: Ayutthaya is Thailand's most impressive set of temples, and their answer to Cambodia's famous Angkor Wat. It's home to the famous "Buddha Head in the Tree." Ayutthaya was formerly Thailand's capital and in 1700 was the largest city in the world. It's now a UNESCO World Heritage site.
Several ruins are in Ayutthaya: The Ubosot (a building in a Buddhist wat, considered the holiest prayer room, also called "ordination hall"); Vihara or monastery; Pagoda (a tiered tower with multiple eaves, built in traditions originating in South Asia and further developed in East Asia, (commonly found in Nepal, China, Japan, Korea, Vietnam, Myanmar, India, Sri Lanka and other parts of Asia); Stupa or Chedi is a mound-like or hemispherical structure containing relics that is used as a place of meditation. A related architectural term is a chaitya, which is a prayer hall or temple containing a stupa.
I decided to book a taxi instead of joining a guided bus tour. I hired driver Virat 062 393 8933 for eight hours (the whole day) to take us to Ayutthaya for 1,800 baht or P3,006 or US$60. Virat picked us from the hotel wearing a spunky uniform. He stopped at a service station to load up on LPG. I paid for the Skyway toll of 400 baht (round trip, P668 or US$13) to cut our travel time to 1.5 hours instead of 2.5 hours.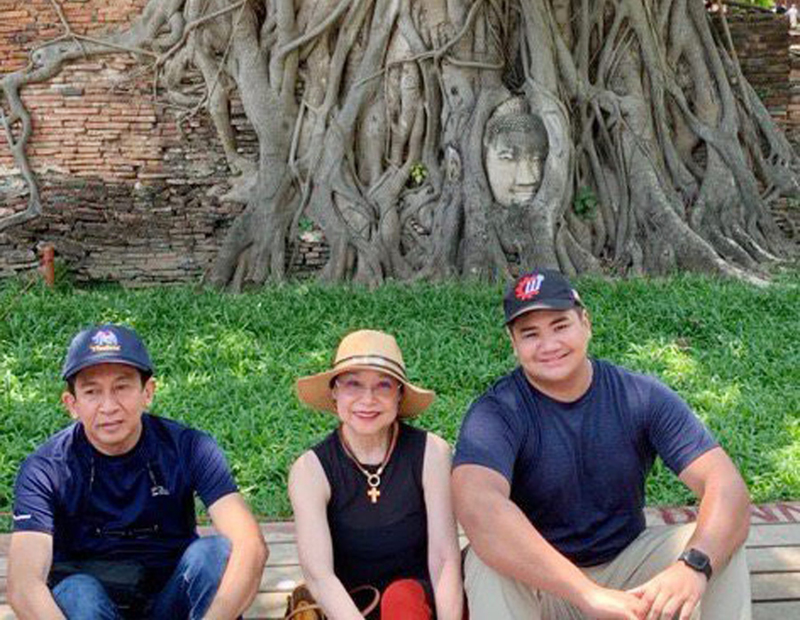 The Buddha should always be higher than anyone's head so Ayutthaya provided a wooden board.
It was a hot day but luckily, it wasn't crowded so we had a leisurely time taking in all the sites. Admission Fee: 50 baht or P83.50 (x 1.67) or US$1.67.
First stop was the Buddha head stuck in a Banyan Tree. How did the head of the Buddha come to rest amid the roots of a banyan tree? I could not get a straight answer.
One guide told me "Ayutthaya was over run by the Burmese in 1767 when much devastation was inflicted on the whole complex. The head of the Buddha probably came to rest on the ground during the conflict and the banyan tree growing nearby had aerial roots that had grown downwards into the ground and in the process had grown around the Buddha's head."
No one is allowed to sit or pose (with head) higher than the Buddha's head so they provided a wooden board where one can sit and have photos taken with the Buddha head in the background.
Baad: Avoid this! The Ayutthaya tour includes an elephant ride and a photo shoot with a live tiger. The elephants were trained to carry passengers but their handlers hit them with a sharp stick to make them move. This is cruel.
The big tiger in a dark room looked sluggish and weak. Could it have been drugged? You pay 1,200 baht or P2,004 or US$40 that includes a souvenir photo riding the elephant and posing with the tiger. A rip-off.
Baad: Another scam was a quick boat ride along the river with a view of the different stalls selling local wares and food items. The boat ride cost 200 baht each. Avoid this. You could walk around the stalls without taking the boat.
Baad: Put down that meter. When you book a taxi, make sure the driver has placed the meter down. Otherwise, you will have to haggle and bargain until you get blue in the face. In short, they cheat. On my first day, the driver charged me 80 baht based on the meter reading. The following day, I failed to check whether the meter was flagged down and he charged me 200 baht for the same distance. I had to pretend to take a photo of his ID prominently displayed on his dashboard and warned him that I would report him to the police and the Tourism Board. He got alarmed and agreed to accept my 80 baht.
Never hail a taxi during rush hour and late at night (7 p.m. to 11 p.m.). You'd have no choice but to accept his exorbitant fee that could run from 200 baht and more.
Bad: Change your dollars at Super Rich Money Exchange for the best rate. Bring a Xeroxed copy of your passport leaving the original in your hotel room's safety box.
Baad: And where will you be charged for a cup of hot water? In top restaurants in Bangkok. They charge between 20 baht (P33) to 35 baht (P58). I don't know where the logic is but iced water is still free.
Despite some baad apples that left an unsavory taste in the mouth, we went past them because the Thais are by nature warm, gracious and welcoming.
Bangkok, until next time, stay bad.