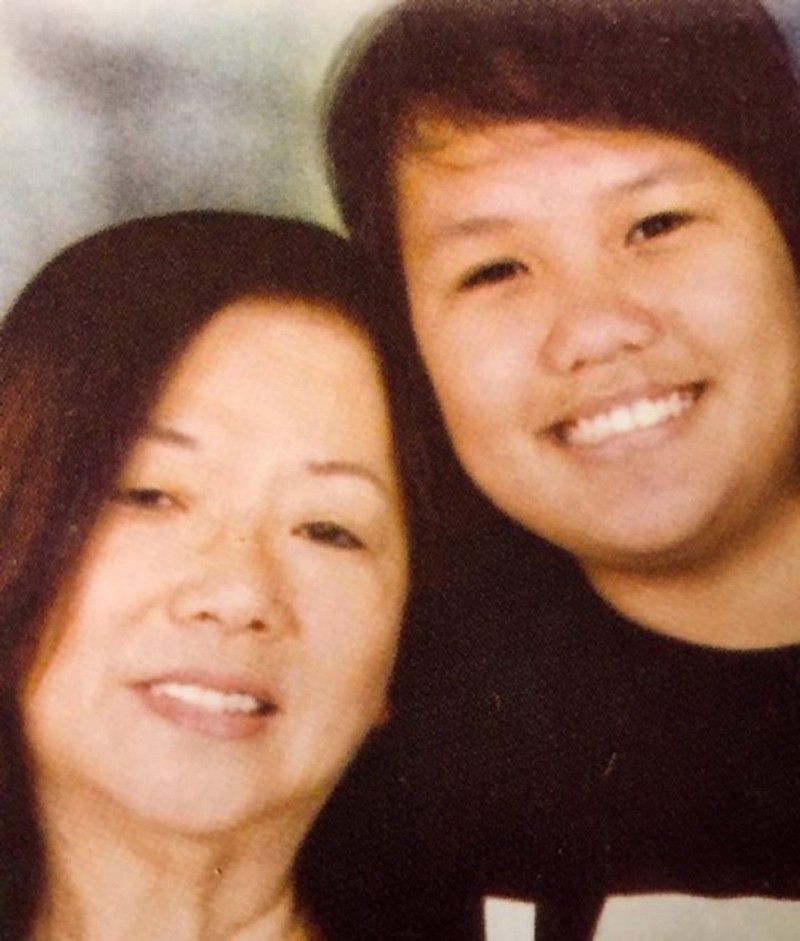 Maria Luisa Chikiamco with daughter Angela
Her name is Maria Luisa Chikiamco, Marisa to her family and the outside world, but we, her classmates in St. Scholastica's College, called her Chiki. She was one of the quiet ones in high school and college. She was a math major, and I barely noticed her.
I was an English major who did school plays, joined the glee club, edited the campus paper, joined SCA, NUS, JOB — extracurricular activities that made for a passable social life with the boys across Taft Avenue, Mendiola and Loyola Heights. Chiki quietly went to the slums of Leveriza and Tala Leprosarium, teaching catechism and doing social work. When we graduated from college, I got cited for drama and campus journalism. Chiki received the Pope John XXIII Award for exemplary service to the underprivileged and the Mother Clodesindis Award for catechetical work. We lived in two different worlds.
Right after graduation, she entered the convent at Good Shepherd, she said, "to care for society's 'rejects' — unwed mothers, the poor and abandoned." But six years later, she left the convent, reluctantly, for health reasons. Then she tried what most of her classmates were doing — working in corporate jobs, traveling, setting up a business, cooking and baking, generally, she wrote, "living my life of privilege and comfort."
But the need to serve was persistent. Ever since I re-discovered Chiki in the late 1980s, I have known her to be a woman for others. Her persistent mantra was, "What is life if I don't serve?"
She opened her home in San Lorenzo Village to class meetings and parties and provided a warm bed for those needing one. It was there where we planned our presentations for alumni homecomings, rehearsed our songs and dance steps, or simply got together for birthdays and reunions with balikbayan classmates. She could not carry a tune to save her life, or follow the dance steps with grace, but she was a great host and wonderful cook who made sure her classmates were well fed, wherever we met. When Chiki was in charge, we were never hungry.
She was also there, taking charge, when anyone among was ill. After we buried our second classmate who Chiki had cared for with deep love and dedication, over and above the call of friendship, I prayed that she would outlive us all, and be the caring and efficient presence we would need when we fell ill.
Chiki's last and most lasting legacy is her work in Anawim, a home for the elderly who have been abandoned, where she was a tireless volunteer. Anawim is Hebrew for "the poor who depend on the Lord" and Chiki, as directress, was its primary "beggar." Anawim was Chiki's mission and passion, a cause she assiduously raised funds for, until she passed away last month.
Her cancer, which she had decided to ignore in favor of an uninterrupted life of service, dealt its final blow on May 12, 2019.
A few days before she died, Chiki got a call from a nun who informed her that our alma mater, St. Scholastica's College, had chosen her for the PAX Award, highest honor given annually to outstanding alumnae, for her service to the community and country. We, her classmates, cheered. But when she was told that it would be conferred during the graduation ceremony on June 6, Chiki told the sister, "I cannot be there anymore."
But some of her classmates were there to pay tribute. Milou Locsin von Einsiedel introduced her to the audience, and Angela, Chiki's 19-year-old daughter, spoke on her behalf.
Angela shared four lessons she learned from her Mom.
• "Step out of your comfort zone." Angela said her Mom exposed her to her work early, bringing her to Don Bosco where she played with the street kids, and Anawim where she got to know the abandoned elderly, which kept her grounded, in spite of her privileged life.
• "When you welcome anyone into your life, do it whole-heartedly." Chiki's home was open to all; her table ready to feed the hungry, her space ready to house one in need of lodging. "She was never tired of sharing whatever she had," said Angela.
• "Do things with great love." Chiki was 54 years old when Angela came into Chiki's life and was deemed too old to adopt her. So, she opted for legal guardianship. Chiki also took in the two children of Agnes, her caregiver, Ella, now 12 years old, and JJ who is five.
• "Life may be scary but we must take courage living it." In her last few months, Angela said, "My Mom showed immense bravery, grit and resilience in the face of her illness." Chiki assured her frightened daughter that everything would be okay. For as long as she could, Chiki insisted on living life normally, going to malls, eating out, and walking around the hospital where she was confined, telling her daughter, "life must go on."
Angel proudly declared, "I am proud to say that I am the daughter of a woman of faith, a woman of love, and a woman of action. May she be equally proud of me as I try to live out the lessons she taught me."
Good job, Chiki. May we learn to live our lives as generously and purposefully as you did.