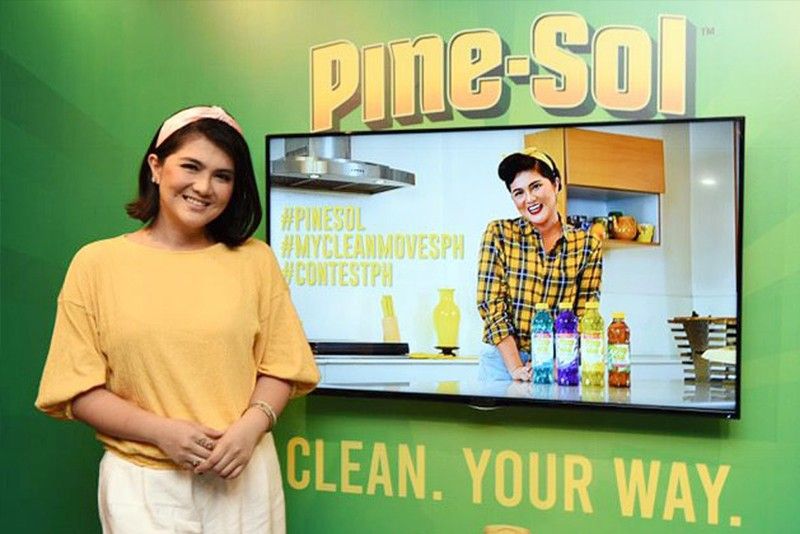 Moving drama: Actress Dimples Romana, Pine-Sol brand ambassador, shows off her dance moves in her video for My Clean Moves Dance Challenge.
Why make the children clean?
MANILA, Philippines — On screen, Dimples Romana is someone most people love to hate as the crafty, shady, scheming Daniela Mondragon on the trending teleserye Kadenang Ginto. But off screen, the 34-year-old bedimpled actress is simply a loving mom to her teenage daughter Callie and toddler son Alonzo. And their favorite bonding activity? Would you believe, cleaning the house?
"Amid all the things that I do — brand exposures, shootings, hostings, writing a book, I need to find my center and cleaning my house centers me in a very peaceful manner," confesses the the supermom. "And you can encourage your kids to clean the house — your way — through the cleaning dance moves/grooves of Pine-Sol. It's a perfect family bonding activity."
Her new role as brand ambassador of Pine-Sol is a most challenging move for Dimples. "I love how Pine-Sol opened a new world for me because as moms, sometimes we just tend to stop where we are and just say, 'Okay, this is it for me.' But no, this brand pushes us moms forward in terms of being individuals. Like I never thought I'd do a dance video, but here I am. The positivity and happy vibes you will get from doing and watching 'My Clean Moves' Dance Challenge will give you the same feelings that I have."
Dimples certainly does it her way. "Of course, you can clean before the kids wake up. But if you're the kind of mom who wants to involve her children, you can clean after the kids have eaten so they have enough energy to help you clean. I'm a very schedule-oriented person so I list down everything on paper. Like on Sunday, we would clean this particular room, so the kids can also have a routine. Everything kids do now is super instant."
But why make the children clean? "We want to bring our children back to their roots or basics — they would be cleaning, washing dishes, helping in the house like their parents did as kids. It's the most basic moral value you can teach your kids. In the future, that will ground them as people, they will remember that they should never have any sense of entitlement, whether they're privileged or not. They should work for everything they have."
Her favorite Pine-Sol scent? It's Lemon Fresh! The other variants, which are just as scentsational, are
Original Pine, Lavender Clean, and Sparkling Wave. "Filipinos are lovers of scents," Dimples declares. "If you can't smell it, you'd think that nothing happened. With Pine-Sol, you can still smell it even after a few days. Not only does Pine-Sol make sure your house is clean, it makes your house smell great, too."
A heritage brand with a 90-year-old history (it was invented by Harry Cole of Jackson, Mississippi in 1929, selling 20 million bottles throughout the US and 11 other countries), Pine-Sol has been moms' faithful partner in keeping their homes germ- and dirt-free.
"To make sure your house is germ-free especially for the kids, what we recommend is for you to really sweep and mop the floor because the kids play with their toys on the floor," suggests Monique Gonzales, Pine-Sol Philippines brand manager. "The other germiest parts of the house to watch out for are the toilet and bathroom, particularly because kids touch the toilet seat. That's where Pine-Sol comes in handy — it lifts the germs and the dirt so instead of the dirt getting thicker, it's removed. You can use a cloth or a mop to wipe surfaces. Dilute 1/4 cup of Pine-Sol in one gallon of warm water."
When Pine-Sol was launched way back in 1929, the main cleaning ingredient used was pine oil for removing dirt and grease. "But because pine trees are getting fewer and more scarce, we had to tweak the formulation," Monique reveals. "The new formulation is made of a disinfecting ingredient."
Indeed a fine product, Pine-Sol Multi Surface Cleaner is a broad-spectrum disinfectant that kills illness-causing germs such as salmonella and staph. It doesn't just mask odors, it wipes out odor-causing bacteria on floors, countertops, tiles, sinks, and garbage cans.
And here's an interesting footnote: Pine-Sol keeps athlete's foot from flaring up — simply soak socks in a splash of Pine-Sol after wearing them. Pine-Sol helps kill the fungus left in the sock fibers. After soaking, wash socks as usual.
Your washing machine can harbor germs and bacteria, so it should be cleaned regularly with Pine-Sol especially if an illness has spread throughout the household. Pine-Sol can also be used to disinfect laundry without causing damage to the clothes.
More, we hate flies, don't we? Well, flies hate Pine-Sol. Just mix it with water (50/50) and keep handy in a spray bottle. Spray on porch or patio table and furniture to shoo flies away.
Cockroaches are afraid of the scent of pine, too. Simply mix a cup of water, two cups bleach, two cups Pine-Sol in a bucket and pour the mixture where those hideous cockroaches like to hide.
So, are you ready to show your cleaning dance moves? The Pine-Sol Cleaning Dance Challenge from the US is now in the Philippines. For details, log on tohttp://www.pinesol.com.ph/dancechallenge. Prizes include a Bose Bluetooth Bucket Speaker, Bose Waterproof Bluetooth Speakers, and Bose Wireless Earphones. The 10 most liked and shared posts will also receive special prizes. Contest runs from June 1 to June 30 while the winners will be announced on July 12.
Who knows, you just might score a clean sweep!