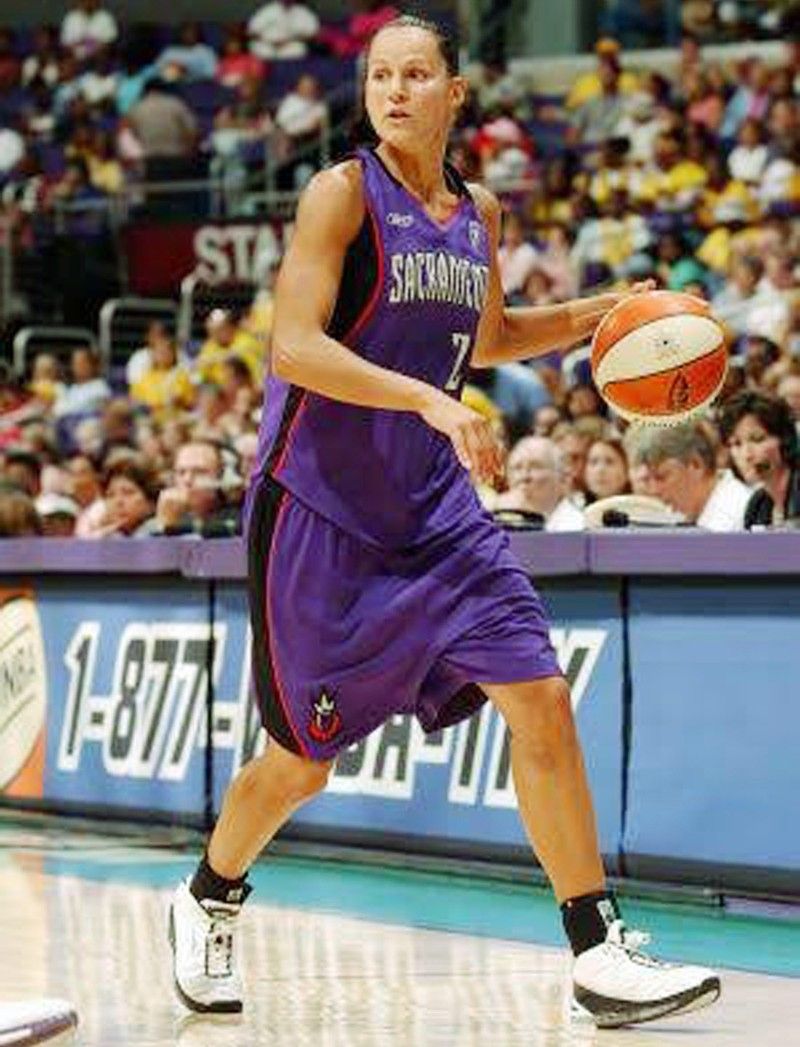 Ticha Penicheiro is a certified legend.
WNBA hall of famer Tich Penicheiro got balls
'When I got into the Hall of Fame, I take my country with me, a country that is very small and doesn't have a history in basketball,' says Ticha Penicheiro.
It's exciting when you get to meet sports stars , but when you come across a legend, it's special.
Ticha Penicheiro is a certified legend.
Selected second overall by the Sacramento Monarchs in the 1998 WNBA draft, she was named as an All-Star four times from 1999-2002; was an All-WNBA First Team twice from 1999-2000; named to the All-Defensive First Team in 2008; led the league in assists seven times from 1998-2003 and 2010; and was among the leagues Top 15 players of all time in 2011.
She was named to the 2019 class of the Women's Basketball Hall of Fame set to be enshrined this month.
She was in town as part of the Jr. NBA Philippines, presented by Alaska.
Philippine STAR: Congratulations on the Hall of Fame!
Ticha Penicheiro: Thank you. I'm excited, honored, humbled by the selection. I haven't thought that will happen. When I left Portugal at the age of 19 to go to the US, my goal was to get a scholarship, to get better as a player and never in a million years would I have thought that I would be in the Hall of Fame.
Would you say that's the culmination for all the hard work that you put into your basketball career?
Yes, definitely! When you get into the Hall of Fame, they think of what you've done on the basketball court and your career is worth it. When I go into the Hall of Fame, I take my country with me. A country that is very small and doesn't really have a history in basketball. So it's pretty cool feat for me because I'm proud to be a Portuguese and I know that they supported me through my whole career. So this is the pinnacle of my career for sure.
Do you think basketball will get some limelight in Portugal?
Well, I know that I've impacted a lot of girls and maybe some boys back home, but I always tell them, I don't have any special powers. I just worked really hard and I dreamt really big. I believe in my dreams but I work extremely hard to get to wherever I want to go. So that's what I always tell the youth is to really work hard and to dream big and to really pursue their dreams, because if it happens to me, it really can happen to anybody. I hope that one day they have another Portuguese girl in the WNBA, and soon we'll have a Portuguese guy in the NBA.
How special was winning that championship?
We were trying for such a long time, but we'd always lose to the (LA) Sparks. In 2005, we finally got over the hump and made it to the finals and win it in front of our fans. Arco Arena was packed with 17,000 people and to win it there was definitely special. I won a lot of championships in Europe and everything but that one was definitely the most special.
Your game has always been to share the basketball.
Yes, I was point guard and I felt comfortable with ball in my hands. I enjoyed passing the ball, I enjoyed getting the ball to my teammates, to make them better. That's something I took a lot of pride in. I think it's my vision, that was a little gift that I had and obviously playing around with the guys. I think it helped in developing that but yes, that's what I'm known for, and the "no look" was my trademark. I definitely enjoyed making the assist than scoring points.
Nutrition is a very important component for elite athletes, Alaska being one of the main supporters of the Junior NBA. Is that something you want communicate to the youth?
Yes. I think when you're young, you think/feel you're invincible. Don't think of stuff like that. I know I didn't, and not until later in my career, that I know if I ate the right things, stretch, drink plenty of water and plenty of milk, it would prolong my career. I always tell kids that nutrition, staying active and getting yourself into sports are super important. It starts at home. I think the parents have to buy good things to have in the refrigerator because if you have junk at home, then you're going to eat it, right? But I try to tell these kids to don't wait until you are 25 or 30 to start eating right. Do it now!
* * *
Follow me on Twitter and Instagram @anthonysuntay.