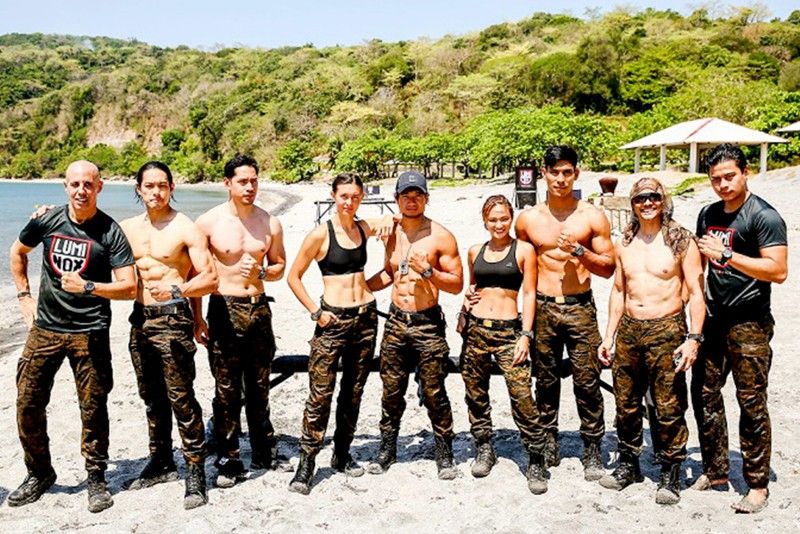 Racing against time: Andres Poy of Luminox with racers Rey Talosig, Victor Basa, Chrystalle Omaga and Gabb Rosario, Marline Capones, Mauro Lumba, Ernie Lopez, and Manuel Dacanay at the 2019 Spartan Races in Corregidor with Luminox-Lucerne as the official timing partner
Are you tough enough for the Spartan Races?
And so, the tough get going as this year's grueling Spartan Races kick off under the blazing sun on the tortuously challenging terrain of historic Corregidor with Luminox-Lucerne as the official timing partner.
As for the not-so-tough (like me and other press invitees), we're simply happy to lend our robust voices in cheering on the high-spirited racers who include an actor, a beauty queen, a media sportsman, and a publishing company CEO-turned-fitness addict.
The challenges: running (3k for the non-pros and 10k for the pros), jumping over an eight-foot wall, lifting sandbags while running up and down a hill, crawling through deep mud, and swimming after all those sweat-inducing activities.
Certainly not for the faint of heart, a Spartan Race is not your ordinary race. Not for ordinary mortals, it's a little bit of what the Navy Seals or army groundwork feels like. Of course, a little bit is a whole lot for those whose physical activity is limited to jumping to conclusions, bending one's principles, and lifting a finger.
"These are extreme challenges designed for the military and professional athletes," discloses Edward Kho, event director and strength/conditioning coach. "And there's no better place to hold these marathon races than on the island of Corregidor because grit and tenacity are its DNA, being the bastion of last defense of the Philippines during World War II."
Sweat victory
There to support the athletes in their bruising battle to the finish line and sweet (or should we say sweat) victory are members of the different branches of the Armed Forces -- the Air Force, Army, and Navy -- and coaches of the Philippine Athletics Track and Field Association.
"This kind of sport is really what we're promoting for young people, especially with our mother federation, the International Association of Athletics Federations," Kho points out. "Our thrust is to get as big a chunk of the young market as we can. We're hoping that this will keep young people away from vices and gadgets that make them sedentary. The Spartan Races give enough satisfaction especially for those looking for some adrenaline-demanding activities."
One of this year's youngest Spartan pro racers is Miss Universe Canada 2016 Chrystalle Omaga who confesses, "I would say the hardest part of the races is the mud crawl — coming out of the water, doing the walls, then crawling in the mud, and your pants and boots are so heavy. It's like literally being paralyzed with just your arms moving. I love it though!"
Beauty and brawns
The 22-year-old beauty-and-brawns Chrystalle declares, "My goal in the next three years is to be the best in the world."
Chrystalle and husband Gabb Rosario, himself a Spartan racer and fitness coach, have a little sportsman-in-the-making in their three-year-old son Xavier. "He's already started training. Spartan starts at seven years old so in the next four years, he'll be elite enough to be doing it."
The young mom, who's part Filipino and part Ukrainian, and a total lover of obstacle sports, has this advice to all mommies out there: "Find something that is fun to do. At the end of the day, as long as you finish, you know you gave 110 percent, and you're a role model to your children, that's all that matters."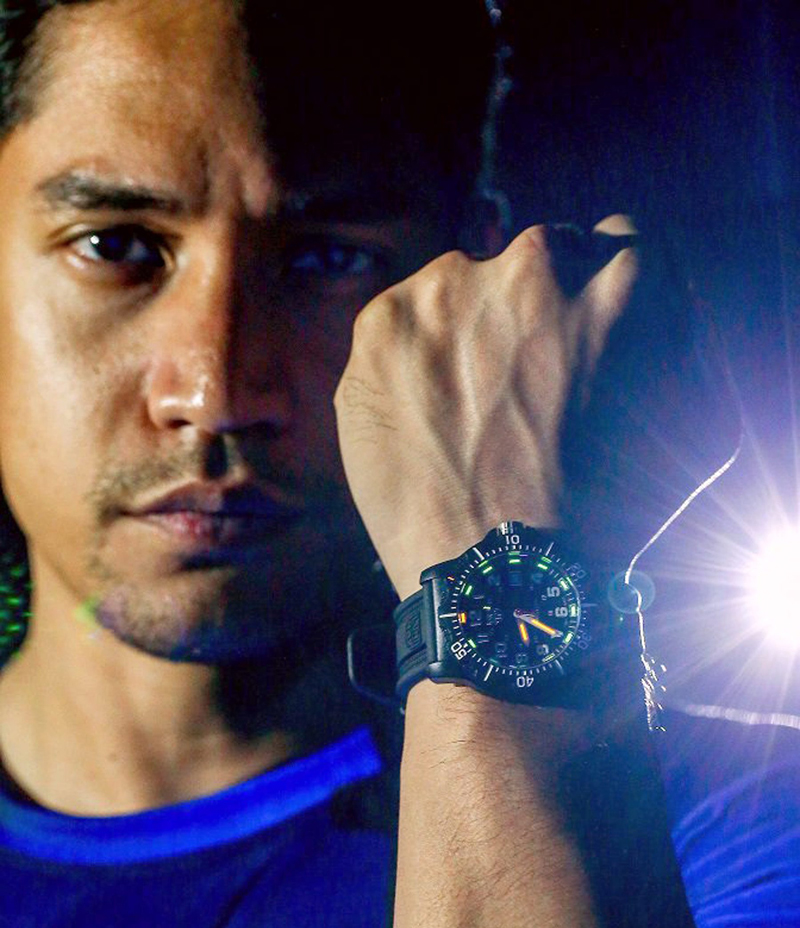 Watch and wear: Actor Victor Basa trusts his Luminox watch that's designed not just for elite military and law enforcement units but also for active, everyday consumers.
Seasoned racer Ernie Lopez, ABS-CBN Publishing Inc. CEO/president, is in such fine form he looks much younger than his age ("I don't look 55, I look 65," he says in jest.). At the start of the races, we overhear him saying, "Bahala na ang Diyos (It's up to God)!" Having successfully completed the races, he sighs, "Thank God!"
Ernie is grateful for his mother's genes. "My mother is 88, turning 89 this year, and she's still very active. She's on the Philippine Water Ski Team, she has trophies in tennis, pelota, and golf. I took her rock climbing when she was 64 and wakeboarding when she was 75."
Ernie has broken about nine bones in his body, but he's not about to quit. "I'll do this till the day I die," he swears. "I've been into sports (he's a triathlete) all my life. I feel that God has given me sports to help me enjoy my life, live a healthy life, and be a better person."
Lights! Camera! Race!
Then there's screen hunk Victor Basa, 33 and 5'10'' tall, who completes in the 10k pro-course even though he's not a pro. "I've never done this kind of sport, but it's a fun race, the energy is great! Being in sports helps me in a lot of ways -- you're around people who are very encouraging which is important."
The daring Victor, who's doing a Joel Lamangan movie titled Because I Love You, just loves getting into sports that try the human spirit to the limit. "Being physically active definitely gives you structure, especially if you're in the creative industry."
And in battling the bulge, Victor keeps away from the bottle. "Fitness and alcohol don't mix!"
A newbie at the Spartan Races is sportscaster/columnist Anthony Suntay who's made sports a way of life for his family. "Everybody has some kind of stress in life, but as long as you have a physical activity, it helps relieve you of stress and keeps your body going. My children may hate me for forcing them to be active, but in the long run, they will thank me for it."
For young sports manager and event organizer Gio Diamante of Spartan Race Philippines, "the hardest part of the races was having the feeling of getting tired and giving up. It may look like it's a very easy course, but when you're competing against yourself, it really gets tough. But then, I just keep pushing myself."
One tough lady who's been pushing herself ever since she was a kid is Judith Staples of Luminox. The lissome Judith with her delicious sun-baked skin moves with the agility of a 20-year-old, but believe it or not, she's 49 going on 50 and a mother to two children, now in their 20s. Admittedly very hyper by nature, Judith has competed in races abroad and subscribes to a high-fat, low-carb diet.
There's no stopping this racing mom. "I want to see my grandchildren grow up so I need to be fit."
Let there be Luminox!
Faithfully keeping watch over our lean and mean racers is Andres Poy, regional sales manager Asia Pacific, Mondaine Swiss Watch (Far East) Ltd, who's fit enough to be a Spartan racer himself. He tells us, "It's important to understand the DNA of the Luminox brand (founded in 1989, celebrating its 30th anniversary this year). It's true that at the very beginning, we were making watches only for professional people, for the army, for the Navy Seals. But after that, we started expanding the sales of our watches to civilians and we can say that today, many people identify with our brand because of the durability and reliability of the watch. These are watches you can use in any kind of occupation, in outdoor activities. But many people obviously don't belong to these special groups like the army, they are normal people like you and I, but they like this kind of lifestyle. We're not making classy watches or dressy watches. This is a kind of sports watch you can use when you are running or doing leisure time."
Luminox has lighted up people's lives in more ways than one. It was Barry Cohen (no relation to the Cohen diet) who stumbled upon this bright idea of a Swiss self-powered illumination system that could make watches more visible and easier to read in low or no-light situations. Thus did Luminox (Lumi is Latin for light while nox means night) see the light of day, with its line of high-performance sports watches.
Just how luminous is Luminox? Its light technology makes it luminous 24/7, up to 25 years, no matter what the conditions are. As if to show off its luminosity, a feature of the Spartan Races is the "blackout siege," where participants prove their mettle in challenges held in the dark (with maybe just their trusty Luminox watches and their coaches guiding the way).
Luminox became famous for its Navy Seal watch. It has since been adopted by many elite and law enforcement units as standard equipment all over the world. This watch sure is tough!
"We have a brand ambassador who's doing an exploration on the North Pole and he's using a Luminox watch," relates Poy who owns 15 Luminox models. "So our watches are tested to be used in any kind of environment. We like to make many different tests to our watches. I remember people from our team putting the watches inside a glass of water and then putting the glass inside the freezer and leaving it there for almost one week. Another test is throwing the watch from the sixth floor of a building. And yes, letting it be run over by a car. Of course, we're not encouraging you to do these, but the point is this watch is indestructible, this is a watch that can be used in tough situations."
Life may be tough, but here's a timeless message from the Spartan Races: Make time for fitness!