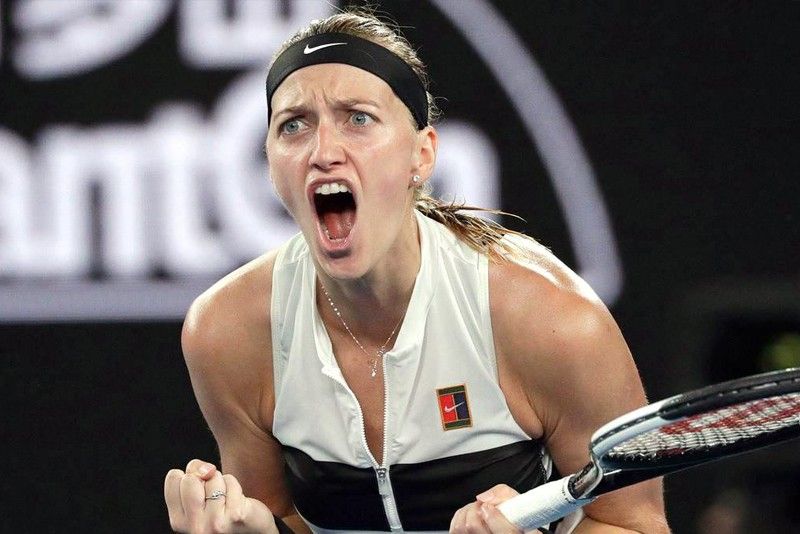 Petra Kvitova enters this year's Australian Open with so much confidence.
You can't put Petra Kvitova down
You can never put a good athlete down. Tiger Woods is proof of that. After marital problems shook his life and having several back surgeries, experts said he wouldn't be able to win another tournament, especially a Major.
But last week, he claimed another Masters title, bringing to Major a total of 15!
Experts said the same thing about Petra Kvitova after she sustained lacerations on her (playing) left hand from a knife attack at her home in the Czech Republic in December 2016.
After a tough rehab period, she slowly worked her way back into form. With a terrific season last year, she entered this year's Australian Open with so much confidence, only losing to world number one Naomi Osaka.
This year is hers for the taking.
Philippine STAR: You were really able to turn things around in the second half of last year. Did you do anything different?
Petra Kvitova: I think everything is just connected. It's tough to say only one thing. Physically, I was pretty empty after everything, which I had been through for several matches in a row. Those huge tournaments and the finals in Madrid were just so tiring. And even when I look back, I don't know how I did it. Definitely, it was physically taxing. Mentally, I needed to really be there for those tough matches. It took me some energy. On the other hand, it boosted my confidence, but it's also tough to find the balance between everything. I need to probably think about the scheduling. But you never know. If I happen to lose in some first rounds, and then I need to play more tournaments. It's tough to plan it in tennis.
Has your game has evolved through the years?
Yeah, I do remember when I was young and I just came to the court. I didn't really think too much. I didn't have any experience. All I knew before was just hitting it very hard (smiling). I was kind of risking it, hoping those balls were in. I was very happy with that. But with time, the mind was there more.
I'm now trying to be more consistent and to mix it up a bit. I think my fitness has improved, as well. So I do have the ability now to catch a lot of balls and maybe not try to make winners and make mistakes. I just don't risk it as much.
When I was younger, I was more free. I didn't really care too much. I liked to play more volleys than before — serve and volley sometimes and try to mix it up a bit.
You said that 2018 was more special than your 2011 season. Why?
Well, it's great that I'm sitting here and playing. I don't really think whatever the results would be. You're right. I think it's one of the special seasons I ever had with my career. I'm very proud of it, actually, which is weird. Yeah, we'll see how my career goes, but the season was great.
Do you feel the challenge of the younger generation?
I do! I played with a few of them already in 2018. Naomi is there, Sloane (Stephens), as well. But I'm still happy I can compete with them somehow. I'm not that old yet, hopefully. Those young players are playing very free and just hitting the balls and not really thinking too much.
We need to kind of use the experience against them. It's nice that new faces are coming out.
* * *
Follow me on Twitter and Instagram @anthonysuntay.