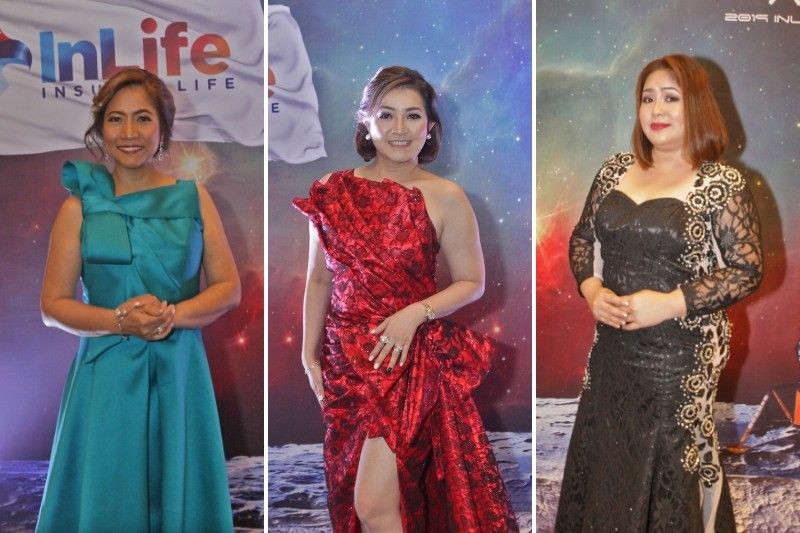 (From left) Arceli Tan, Chairman's Guild of Excellence awardee; Ida Sheng-Jacob, President's Circle of Producers - Non-Rookie awardee; and Marie Frances Tan, President's Circle of Producers - Rookie Associate Unit awardee.
Insular Life
Celebrating women who ensure a 'Lifetime for Good' for Filipinos
MANILA, Philippines — Insular Life, or InLife, recently honored hundreds of their agents and agency leaders at the Shangri-La at the Fort in Taguig City. These top agents were recognized for their achievements over the past year.
Arceli Tan received the Chairman's Guild of Excellence: Underwriter's Category award. Ida Sheng-Jacob was honored with the President's Circle of Producers: Non-Rookie District Sales Managers' Category award, while Marie Frances Tan was awarded with the President's Circle of Producers-Rookie Associate Unit Managers' Category award.
These three women personify InLife's vision of a "shero" — a unique human being who is an expert at multitasking, does not divide time and love but multiplies it, fights for causes she believes in, and turns obstacles into opportunities.
Prior to joining InLife, these ladies led different lives but the opportunity to bring a "Lifetime for Good" to fellow Filipinos was what brought them together to be celebrated in this magical night.
Before life with InLife
Prior to joining InLife in 2002, Arceli worked as a manager for a top company. She admits that it was her curiosity about life insurance that made her attend one of the training seminars.
"I had a wrong notion of insurance but when it was explained to me the beauty and the goodness of life insurance, I immediately resigned from my job and embraced and immersed myself with this new work. I saw that selling life insurance was a noble work and realized that life insurance is a must for every family. It's not about death, it's about life and how a family can survive," she said.
For Ida, life insurance has been her life. Her parents sold life insurance as early as 1966.
"I actually wanted to be a teacher but my dad told me, 'if you have a dream, get into sales.' I joined Insular Life in 1988 and I've been with them for 31 years. My first entry position was a trainer, training agents how to sell, but then one thing led to another and now I am the district sales manager for Binondo District Sales Office. It's a position I've held for 25 years. Until now, I'm still teaching, I'm teaching advisors and leaders and I love doing the job. I wouldn't exchange it for any other job." she shared.
Marie ran a dance studio prior to fully focusing in Insular Life.
"I've been in this business for 20 years. My unit manager was my mother; she was a big factor why I got in this industry. Before, I had negative views on sales but in God's will and in God's way, I began focusing on life insurance. I still have my dance studio but I am focusing more on InLife," she shares.
Not all sheroes wear capes
With careers spanning decades, many would ask why and how they were able to stay in the life insurance industry for so long. Though plenty, their reasons are relatively the same—flexible working hours, work-life balance, potential for growth, travel opportunities, good income and a life with purpose.
"The best thing about being a financial advisor is the work-life balance. I can manage my time and, at the same time, take advantage of the time spent with my family while I'm enjoying my work. And just as importantly, I can give time to my clients so they could prepare for their future," Marie shares.
"I think there is nothing better than assurance that you are helping set off other people in life—the thought that their lives are better because of you," she adds.
For Ida, "there are a lot of perks working for an insurance company."
"In this business, there are no secrets—everyone knows what the other person is doing and talks about it. There's also a lot of opportunities here. If you want a pay scale that isn't stunted, in this industry, if you want to earn a million every month, in two months, you can. If you want a CEO income but without the title, you can do this," Ida adds.
Arceli, meanwhile, the value of her work is palpable. "Just imagine, through you, you are helping people and their families to live longer and to fulfill their dreams. You are a solution provider. It's about providing them their needs—their future needs. So it's really a noble work. It gives your life a purpose, it makes your life meaningful, and yet, it also humbles you."
Age of digital
In a world where technology is constantly changing and at a rapid pace, InLife has adapted and changed many facets of its operations to meet the ever-growing and digitalized market.
Late last year, the life insurance company revealed its new logo—a fresher, more vibrant way of expressing that it is the life insurance company that the Filipino can trust and depend on. But prior to revealing its new logo and systems, InLife has already captured the attention of millennials through social media.

"Convincing people to invest in a life insurance is easier now, because of the technology we have now. They are more open-minded now," Marie says.
Ida agrees: "There is a lot of awareness and it's more acceptable and easier to sell now in the sense that people are open, they would accept the concept of insurance, especially when combined with investments. They seem to love it."
"Everything became easier, for the agents and more so for the clients. In just about 30 minutes, we can close a deal and then have all the applications approved. We call this our automated underwriting system—a first in the Philippines, and I believe we are the only one who has that straight application from the beginning of the application up to the underwriting decision. I would also say that we are now more sophisticated, whether they are young or old, people are now more aware that they need life insurance. They are now more sophisticated — even the millennials, because before they didn't care but now they do," she adds.
But often, the personal touch still wins over any modernization and digitalization.
"Buying life insurance is an emotional decision and since it is based on an emotional decision, there should be a deeper relationship between the advisor and the client — there should be trust and you have to assure the clients that you are dependable," Arceli says.
Marie concurs. "I like that through me, I am educating people about life insurance and its importance. I always put myself in the shoes of my clients. I don't think that I am selling to them, rather, I am the one being sold to," she says.
The heart of a Filipino
Insular Life is the first and largest Filipino life insurance company and the only mutual company in the Philippines. For over 108 years, it has proudly committed itself to serving Filipinos, their families and the country.
"Everybody wants to do something for the country but they don't know how to do it or how to start. In this business, I would say, it's the best. You build foundations, you build families. You also give children the right education. What do families need? A good foundation for children, and we do that. Retirement, as well. Everyone looks at retirement, everyone thinks of retirement, everyone thinks of education funding. Anybody who has a financial concern or if you love somebody, you will need this product," Ida explains.
"The good thing about InLife, is that it is a Filipino company. If I were to buy a life insurance, I'd rather buy from a Filipino company. Not only am I helping a fellow Filipino, but I am also helping the Philippines. Being in the insurance business, it is an unbroken service, and the best thing of all, if you are going to buy insurance, why not from a 108-year old company? We have the grit, stability and track record—and because it is a Filipino company, we have the heart," she adds.
Arceli declares, "I am very proud of being an InLifer, it's fulfilling — it feels good to be partnered with a Filipino company who understands the needs of all Filipinos. It is very fulfilling to become an ally of a Filipino company and be a part of their growth and serving our country and fellow Filipinos."
With dedicated agents such as these, Insular Life will undoubtedly last for 108 years more, helping Filipinos live a Lifetime for Good.