Food, legacy and memories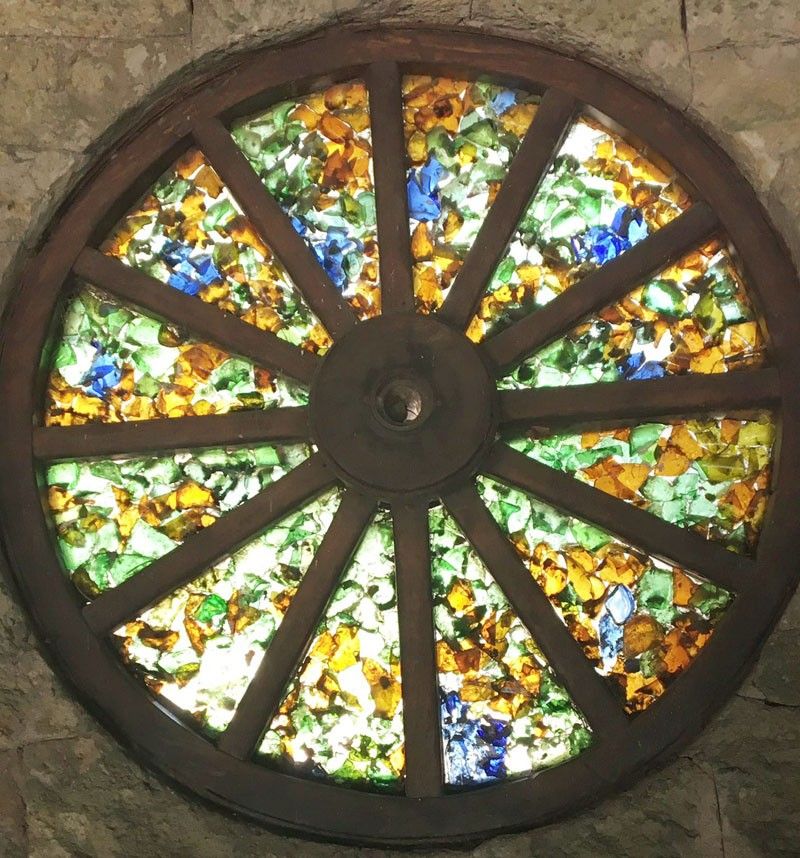 It was supposed to be a food trip, triggered by an item on Facebook by Milou Locsin von Einsiedel, our classmate from Silay, about a delicious KBL dish she was having in her hometown. KBL stands, not for the disgraceful political party founded by the disgraced and deposed former president and dictator, but for the delicious native Ilonggo dish, Kadyos-Baboy-Langka. We returned with much more than food. One can't go to Negros without encountering the intricacies of its socio-economic life.
Yvette and I, communicating via Viber across the Pacific, wangled an invitation from Milou to come visit her in March. Landing in Bacolod-Silay airport, our first stop was El Ideal, the oldest and most famous bake shop in all of Negros Island on Silay's Rizal Street, where we had lunch. In that ancient house, time seems to have stood still with its unvarnished walls and old wood and glass display cabinets filled with pasalubong fare, small tables and batibot chairs. We ordered a bowl of batchoy, guapple pie and fresh buko pie, and fresh lumpia. Simple, ordinary and very good Ilonggo fare.
The evening, after a visit to the Ruins of the old Mariano Ledesma Lacson mansion in Talisay, a short drive from Silay, we stopped by chicken inasal place for dinner. That night, I wrote on Facebook: "Eating well in Bacolod. Nothing fancy but all good. These people know food!"
They also know their legacy. The Ruins in the middle of a grassy field was a mansion built in the early 1900s in the grand Italian tradition by Lacson, a sugar baron, in memory of his wife, Maria Braga, who died in childbirth delivering her 11th child. During World War II, it was burned by the guerillas to prevent its occupation by the Japanese forces. Today, its skeletal frame is a tourist attraction and events place with a café and a tent for fine dining in the grounds.
Day two brought us to Manapla for the famous Puto Manapla, a tender rice cake steamed in a cup of banana leaves, and pinasugbo, sliced green saba bananas dipped in muscovado, and the Cartwheel Chapel in Hacienda Rosalia, the Gaston family farm. We found the chapel in a clearing amid ancient acacia trees laden with fern, near the Gaston ancestral mansion that was built in the 1930s.
I had read about this chapel built by the Gastons in the 1960s, but never got to visit it in my previous trips. It was lauded as a tribute to sugar farm workers, some of the poorest and most exploited in the country.
The chapel speaks volumes about the socio-economic history of Sugarlandia. It is fashioned out of local materials and farm implements. Shaped like a tall salakot, it has a tiny skylight that streams a ray of sunlight into an otherwise dark building. Cartwheels make up its walls and backdrop for the boulder that is its altar. Cartwheels fashioned into stained glass windows using broken blue, green and yellow bottles bring some light onto the altar. In lieu of a crucifix is an image of Christ crucified on a cartwheel.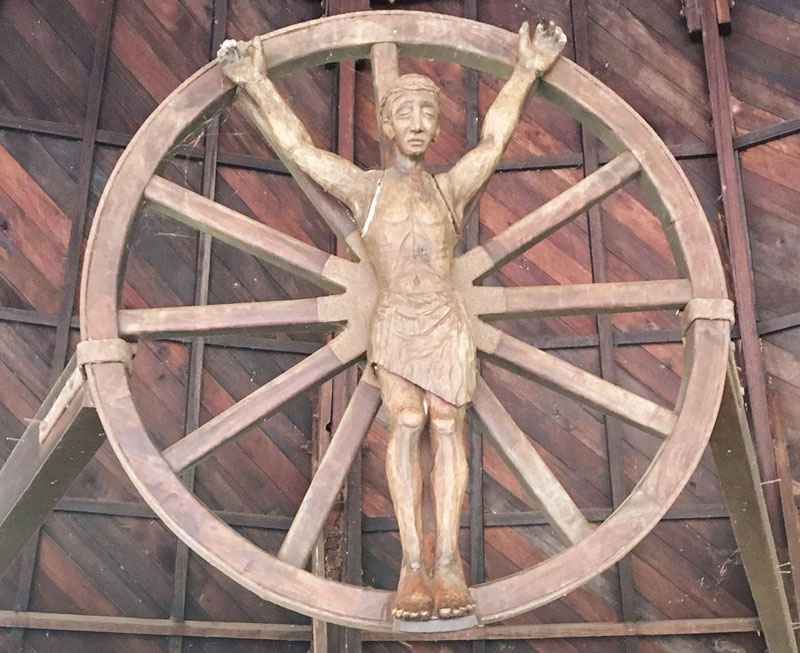 An image of Christ crucified on a cartwheel
The priest's and sacristans' seats, as well as the book holder on the podium, are carved from stone. Long pounders are used as candleholders, a wooden mortar sits by the door as a baptismal font, and plows decorate the walls. The seats, now smoothened from decades of use, are of uneven slabs of local hardwood contributed by the farmers themselves.
For lunch we went to a seafood place built over the water. We ate with our fingers — crabs, shrimps and fish sinigang — all fresh and good, then we hied off to Balay Negrense, the Victor Gaston house in Silay, built between 1897 and 1901, that is now a museum.
I visited this house in the 1960s, and decades later, as a lovely museum filled with the memorabilia of its residents. The most interesting part of the house, I thought, was the large round table on the ground floor where the Gaston family tree was etched, from Yves Leopold Gaston, the Frenchman who brought sugar as THE crop to Negros, down to the latest generation.
This visit, I found a sad old house, now run by a foundation, doddering with age and neglect. Areas were roped off, being too dangerous due to creaky floorboards and loose underpinnings. The exhibits were dusty, their labels faded, unreadable. They were supposed to represent glimpses into the lifestyles of old Negros aristocracy, but the exhibits were shabby, unkempt.
I saw little about the original residents, the Gaston family, save for the latest version of their ever-growing family tree that, we were told, is updated every three years. The once-elegant grounds, with its magnificent ancient trees, were bare and undeveloped. Although our guide was perky and well-informed, there was little about Balay Negrense left to appreciate.
For something more upbeat, Milou brought us to her ancestral home, the Big House, a few short blocks away. Built before World War II, the house of the late Senator Jose Locsin is large, well-kept and lived in. At one time, as many as 32 people lived in its enormous rooms. In its wide-open kitchen and informal dining room, we met Milou's 92-year-old Tita Charet who regaled us stories of her home and her youth and fed us with the sweetest chicos from the garden, sans rival (her recipe) and yummy piyaya (not the best yet, she said, recommending another brand).
Stuffed with Locsin family lore and desserts, we opted for just a bowl of dinuguan bought from the Sir and Ma'am turo-turo around the corner for dinner, to go with our stash of Puto Manapla.
On day three, overloaded with food and family stories, we were ready for the best part of our tour — an overnight stay in a forest community in Patag, a slice of heaven on earth, in the mountains of Silay.
(Coming next: Patag)