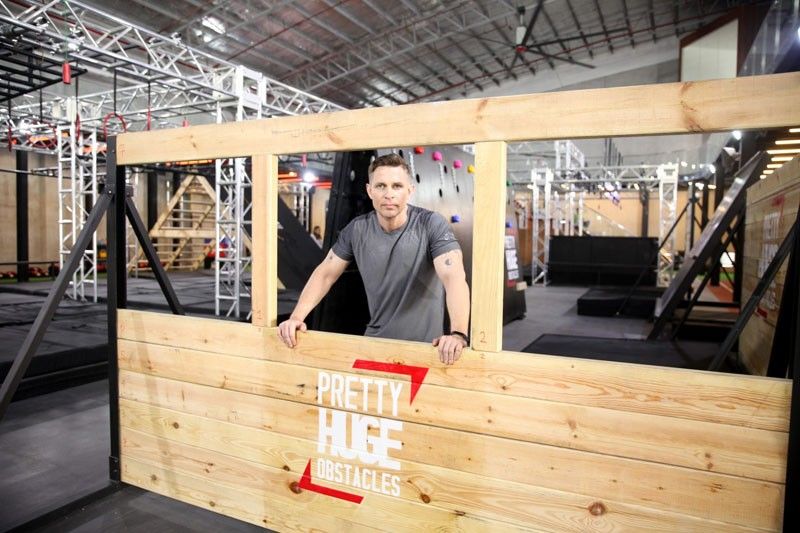 Fit as a fiddle: Charz Kelso and his buffed physic
Photos by Joey Viduya
Tired of the gym routine? Let's play!
We are of the mind that the concept behind Pretty Huge Obstacles (PHO) will work," said Charz Kelso, chief strategy officer of PHO. "Most people who come to the gym are already tired of the gym attitude, which is chin up, chest out, I am too cool to go to school — when what they really want is to get exercise before they go home."
This is why PHO believes that they come to the Philippines at the right time. Filipinos, who love to work out, can now try a fun and collaborative way to toughen up and achieve their fitness goals aside from treadmills or dumbbells—through an obstacle course at PHO.
PHO touted as Asia's largest indoor obstacle course training facility, has a huge number of obstacles configurable into over 100 flexible combinations. It includes both an Adult and Kid Obstacle Zones, a 100-meter elevated indoor racetrack, functional and obstacle training classes, 5-star level changing rooms, and a health food lounge. Among the obstacles inside are quintuple angles steps, monkey bars, five-foot wall, balance beam, small wheels, 9-foot wall, island hops, gymnast rings, weaver, cliffhanger, tarzan swing, and the famous wave wall—all designed to push one's limits.
On the day that we visited the facility, we were pleasantly surprised at what PHO had to offer. I am an mid-50 year old workout junkie who has been into fitness for the last 40 years— and I have a "been there, done that" attitude when it comes to fitness training, but having a tour at PHO gave me a new thrill of excitement.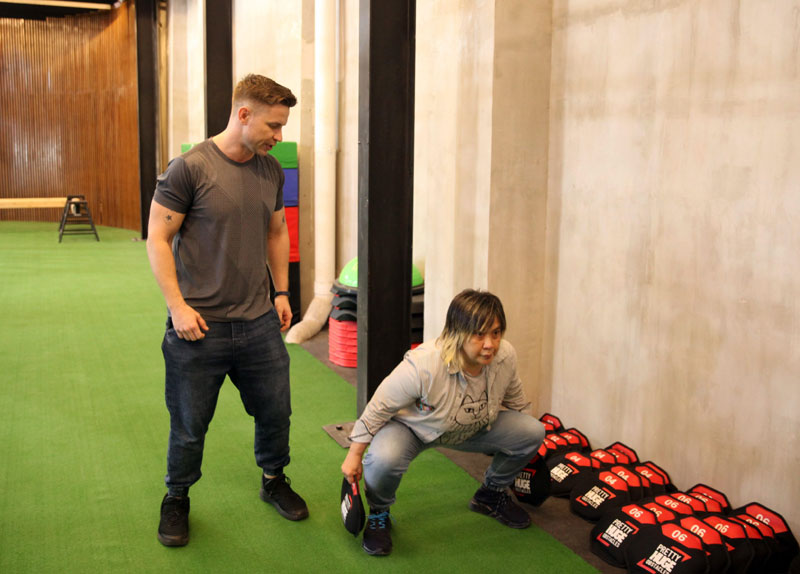 Author Kathy Moran tries to conqure a few obstacles — in jeans
Charlz told me a story that when they tried to work out on several groups in PHO, they found out that their heart rates reach 135 and that they didn't feel like they were a hamster on a wheel, but more like having fun. "There is the concept of having fun while you exercise. But the fact that they are able to burn calories while they are doing exercise is also a primary concern for our instructors."
Don't get me wrong, PHO offers three types of group classes just like they do in regular gyms. There are free popular classes which are suited for someone who is looking for yoga classes, HIIT and pilates, while functional training classes work best for mobility. And for those who are training for their next obstacle course race, obstacle course training classes will unleash the champion in them. It also has an adjunct facility called Physio-PHOrtress which provides outcome-based health programs for obstacle course racers through sports-specific individualized assessment and intervention. PHO employs licensed and accredited personnel within the facility, offering services on performance enhancement, recovery program, physical therapy rehabilitation, and newbie profiling.
But what I really like about PHO, aside from its two-floor facility that includes a running track on the second floor, is how Charlz showed me how their equipment could be used for what we older people would consider functional activities. For what is exercise but the ability to do regular daily activities without injuring ourselves.
"What we, here at PHO, want to do with families who work out in PHO is to recapture play (and the fun it evokes) in our adulthood," added Charlz. "PHO is an Olympic certifies facility with the best trainers the country has to offer and they are trained to personalize programs for their clients. That is why they make sure that there are programs which a millennial maybe able to do and give the same program at a level that a 50 year-old member may be able to do, too." "I have a five year old who comes here with me a lot and he sleeps like along when we get home," added Charlz. "That's because he exercised a lot — and yet it felt like play to him."
You are perfect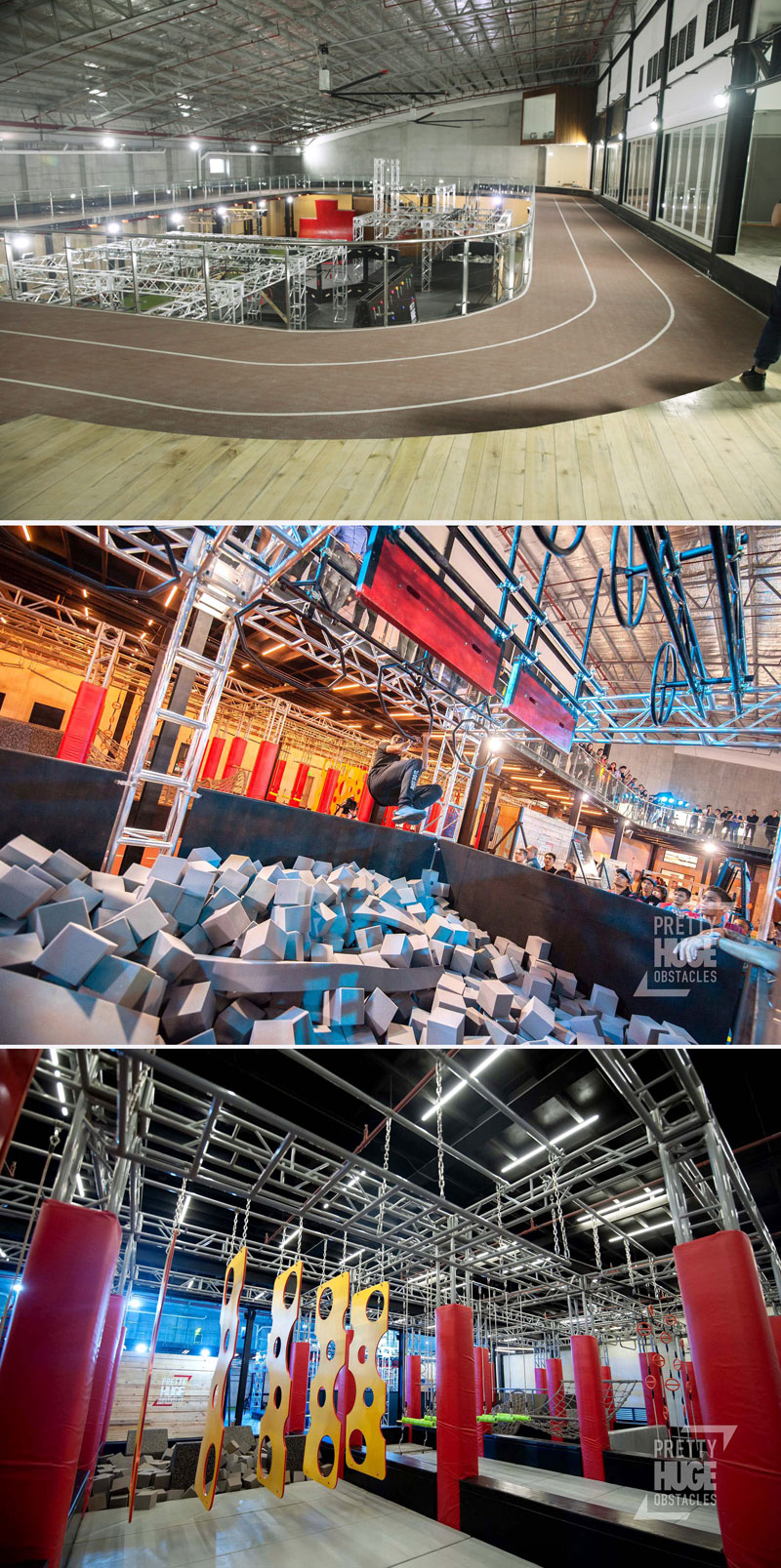 Pretty Huge Obstacles (PHO), touted as Asia's largest indoor obstacle course training facility, with more than 100 configurable obstacles.
"Have you ever signed up for a membership in a gym and as soon as you do, an assessment is made at how bad you are?" Charlz asks. "So, as soon as you signed up they berate you and let you know how not good you are. Here at PHO we achieve a balance between what you are good at and what you are weak at — and we help you become good at both."
Not one to take Charlz word for it I asked that I be allowed to do a few obstacles that they might offer to an old foggy like me.
I did two exercises one with a tire that I was asked to flip.
"This works out your glutes and thighs," said Charlz.
I did a few flips of the tire and I was panting when I got the end of the course. A clear sign to me that indeed I did some serious training.
We talked a little about the kettle bells that were lined up. And Charlz informed me that when doing kettle bell exercises one is able to get whole bodywork out if done correctly.
"Here is our obstacle course that I feel you look you may be able to do," Charlz said. "It requires that you roll under a wooden wall and then you climb through the next one."
Not to want to look like a workout disappointment — after all 30 years of working out is a lifestyle for me — I did what I was told. And Charlz was right because it was not something that I had regularly done at my gym I felt some muscles in the legs that I had forgotten existed.
"I want to show you that here at PHO we want to something that you are good at and something that you are not too good at," he said as he saw me panting. "We want to challenge you so that you can a have a complete work out."
"How soon will a client see results like weight loss?" I ask.
"Maybe in a month. But that would largely depend on the diet the client is following. Diet makes up maybe 70 percent of weight loos and workout is add to a total well-being."
At the of opening of PHO ambassador Noel Agra described obstacle course racing as a functional sport that involves a lot of running, swimming, and climbing walls, that makes one feel energetic.
"Conquering obstacles makes you feel like a kid again; and Filipinos are known to persevere and to never give up. I believe that by conquering physical obstacles, you get to conquer the mental and harder obstacles in life," he added.
More than its state-of-the-art facility, PHO is a breeding ground wherein members will be part of a supportive and bully-free community of OCR enthusiasts. Plus, it is safe and more personalized since PHO's OCR instructors are certified, highly-capable leaders in their field, who motivate people to go beyond their limits and reach their utmost potential. They come from diverse obstacle training backgrounds and even participated in professional obstacle race competitions worldwide.
Workout done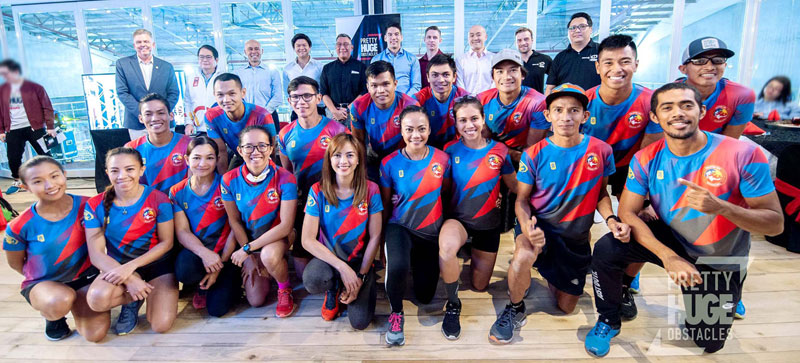 Pretty Huge Obstacles Officers together with the Philippine Athletes.
Before I bade Charlz and the two other trainers who had joined us goodbye — Charlz informed that they have Philippine team members who are preparing for the coming Asian Games training at PHO.
"We want to be able to help form world class athletes here," said Charz. "It would be good to be known as a gym that contributed to developing Philippine athletes who can compete in the world stage, too."
So, is you are ready to conquer some Pretty Huge Obstacles, have fun as you do and get fit, too? Visit Pretty Huge Obstacles at 2/F Civic Center, SM Aura Premier, Bonifacio Global City, Taguig City. For membership, training programs, and race event inquiries, contact us at: info@prettyhugeobstacles.com. For the latest updates, visit PHO's Facebook and Instagram Page at @prettyhugeobstacles. You may also check out PHO's website at www.prettyhugeobstacles.com.
It was a happy day when I left PHO because I was given a free pass for three sessions — I will be back soon.
To play and be a child again — it was the happiest time of my life.