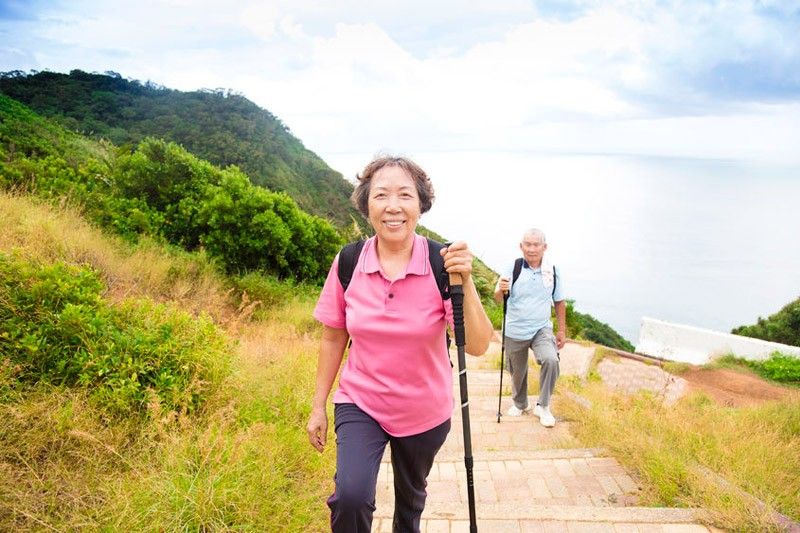 Take a moment to listen to what your body is saying. This will help you champion more years of sharing, learning and living to the fullest.
Be the champ of healthy lifestyle at 50 and beyond
MANILA, Philippines — Just like that, we are days away from celebrating the happiest time of the year! The Christmas season means transforming the house into winter wonderland, shopping for gifts, riding the holiday rush and having everybody over for a memorable Noche Buena.
While you are hooked on the cheerful mood, revisit your 2018 New Year's resolutions or lay down the plans you have been eager to pull off.
Take a moment to listen to what your body is saying as it will help you champion more years of sharing, learning and living to the fullest. As we know it, aging is not about stopping or running out of options but having extra years to make excellent lifestyle choices.
Below are quick tips on how you can prevent age-related health problems while observing proper nutrition and overall healthy lifestyle:
1. Be friends with greens and other colorful fruits and veggies
Colorful fruits and vegetables, such as apples, carrots and cucumbers, are more than just plate decorations that entice your eyes. These vibrant natural goodies hold components that satisfy your body's needs. They are also rich in antioxidants, which drive you away from diseases such as cancer.
Now we understand what our parents were saying back in the day. Fruits and vegetables are great kitchen companions since they readily available, delicious and easy to prepare. It's best served fresh, but you will never run out of ways to enjoy its benefits. All you need are five portions of it daily.
2. Go back to basics
As they say, nothing can topple down the classics even when it comes to food. Constipation, a common health concern for elders, can also be fought with common food and basic activities we often ignore.
The next time you try to incorporate fruits and vegetables into your diet, try not to slice off its skin. Fruit peelings contain half of the dietary rewards. Are you shopping for food in the pantry? Choose whole grains, which still have its three main parts. The unrefined ones are loaded with fiber, protein, minerals and carbohydrates, loading you with nutrients to combat the risk of bowel cancer and entry of unwanted body intruders.
And while we're on the subject of basics, let's not forget water. It hydrates and fuels the body, and drinking the recommended amount helps you lose weight, break down food, and flush out toxins in the body.
Walking is, of course, on the row of basics. It has been said that humans are made to move around and make great things. However, the modern word pulls us into a sedentary lifestyle. Now that you are wiser, you have more time to walk around and discover things around you. Who knew that making discoveries can double as exercise?
3. Enjoy calcium-rich food and drinks
Eating calcium-rich food and drinks, which are key to preventing bone illnesses and key in maintaining a normal heartbeat, have never been tastier. All thanks to creative minds and palates, you can satisfy your cravings and nutritional needs in just one go.
Yogurts and cheeses are great sources of calcium. These delicious dairies are often the secret ingredients to flavorful snacks and desserts such as toasts, cookies, pasta, overnight oats and fruit salad.
How can we miss the famed calcium-rich milk? Apart from the usual blend, we can now enjoy calcium-rich milk through smoothies. For a delicious refreshment, blend together slices of your preferred fruits, cubes of ice, and seven scoops of your favorite nutritional supplement, such as BOOSTTM OPTIMUM vanilla.
4. Fall in love with protein
Past the age of 50, you might lose 10 percent of muscle mass per decade, which could hinder you from ticking off items on your bucket list.
According to Canadian dietitian, author and foodie Julie DesGroseilliers, proteins must be taken three times a day to protect your body from diseases, preserve muscle mass, and renew your nails, hair and skin. Supermarket shelves are stuffed with healthy and protein-rich ingredients, which will help us achieve healthy aging.
If you don't know how to fill your empty grocery cart, start with eggs, fish, chicken, tofu, and yogurt. From there, grab other goodies that will complete your daily body needs such as BOOSTTM OPTIMUM.
As these ingredients take over your pantry and your body, you are now farther away from the risk of muscle loss, bone weakness and falling, ensuring that you can take on the new year, and welcome the upcoming years with a strong body!
BOOSTTM OPTIMUM is an adult nutritional formula designed with proteins, probiotics, prebiotics, vitamins and minerals, which help address nutritional needs as you age. It may also help improve physical performance and nutritional status when combined with physical exercise in as early as six weeks.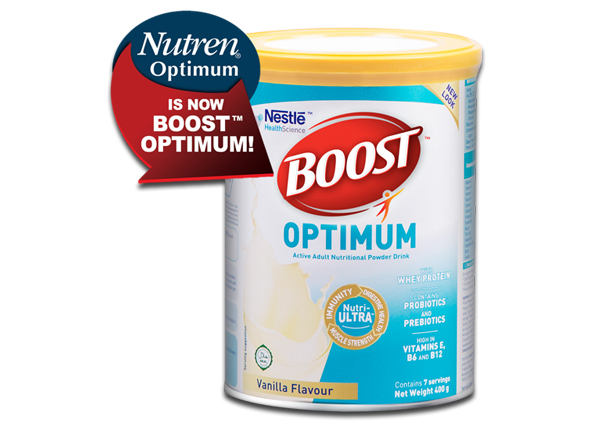 To discover other ways to be a healthy lifestyle champion, visit www.nestlehealthscience.com/boost/boost-optimum and Nestlé Boost PH on Facebook.