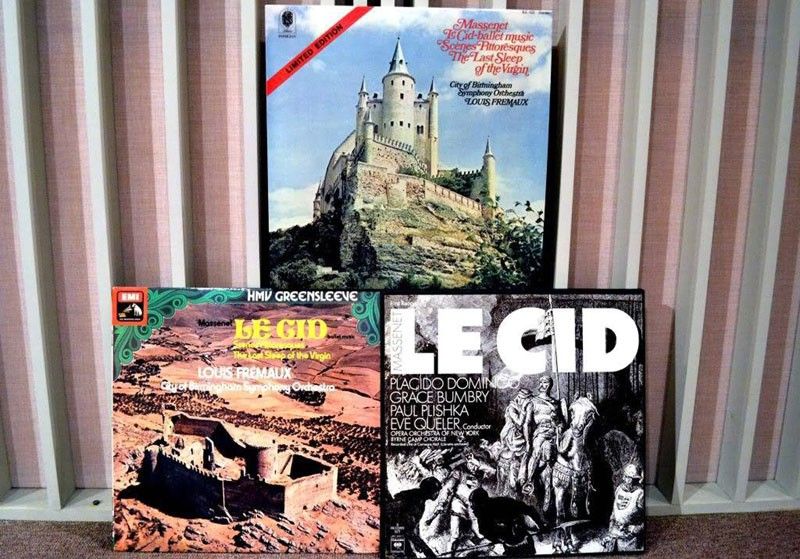 'Le Cid' and the power of love
This four-act opera lay in near-oblivion for almost a century before it was resurrected in New York's Carnegie Hall on March 8, 1976. The huge, appreciative audience who welcomed Jules Massenet's masterpiece Le Cid like a long-lost lover was understandably puzzled as to why such a chef d'oeuvre was left sleeping on the shelf for too long.
While arias such as Rodrigo's 'O souverain, ô juge' may have been heard, albeit infrequently, in concerts and on LPs (EMI's HMV Greensleave Records and Klavier's early 1970s excerpts recording, for example), a performance of the opera in its entirety had not been seen by avid opera fans since 1919, after only 150 performances after it was first produced in Paris in 1885 amid gigantic success.
The 1976 resurrection of Le Cid was top-billed by Placido Domingo, Grace Bumbry and Paul Plishka. They were ably backed up by the Byrne Camp Chorale and the Opera Orchestra of New York with Eve Queler at the baton. Critics of the 1976 Le Cid version observed that 'judging by the reaction both of the musicians and laymen alike in the sold-out house, the audience felt it had re-discovered a masterpiece. The long-lasting applause came from all parts of the house and sounded as if the listeners were fairly bursting with emotion."
Le Cid, based on the legend of El Cid, is about the power of love. It tells the poignant, tragicomic story of a gallant warrior, Rodrigue Diaz de Vivar, who returns from successful battles against the Moors to receive knighthood from King Ferdinand in the house of Count Gormas. Gormas's daughter Chimène and Rodrigue are in love, but misfortune strikes when the King bequeaths to Don Diego, Rodrigue's father, a governorship which has been long coveted by Chimène's father. The enraged Count Gormas insults and challenges Don Diego to a fight. Too old and frail to duel, Don Diego asks his son to fight for him and uphold his honor, without identifying his foe.
Although distraught upon learning that he is to duel with his loved one's father, Rodrigue nonetheless fought with Count Gormas, fatally wounding him by accident. Seeking revenge, Chimène asks the King to sentence her father's killer to death. The wily King obliges, but defers action until after Rodrigue leads his troops to victory against the advancing Moors. Upon Rodrigue's victorious return to Seville, the King then orders Chimène to pronounce the death sentence herself. Love triumphs in the end when Chimène' realizes that she could not bear to see her only love suffer.
Fortunately for us music lovers, the whole opera was recorded in vinyl by CBS Records. The three-disc album had stood the test of time, due largely to the analog renaissance which has brought back the audiophiles' interest in this kind of music genre.
Aside from the opera's many strong emotional appeals, what makes the Le Cid LP a must-have?
It was resuscitated at the 1994 Massenet Festival and in Seville in 1999. A 2001 production by the Washington Opera, starring Domingo, was seen on TV in Zurich in January 2008. Recently, Klavier re-issued its 1973 recording of the opera's excerpt by Louie Fremaux as performed by the City of Birmingham Symphony Orchestra, a proof of the resurgence of awareness for the album among today's music lovers.
I own a copy of these CBS, EMI and Klavier LP albums, and enjoy them immensely. Klavier's re-issue, however, excels in dynamics, instrument separation and a much wider soundstage especially when played in a full-range stereo system. Also, the re-issue is very much welcome since the early versions of CBS and EMI are becoming rarer by the day. But more than faithfully recording Massenet's best opera, the three albums throb with emotive choruses, fervent duets and riveting dynamics in passage after passage, all infused with a Spanish tang.
For comments, suggestion, email me at audioglow@yahoo.com.