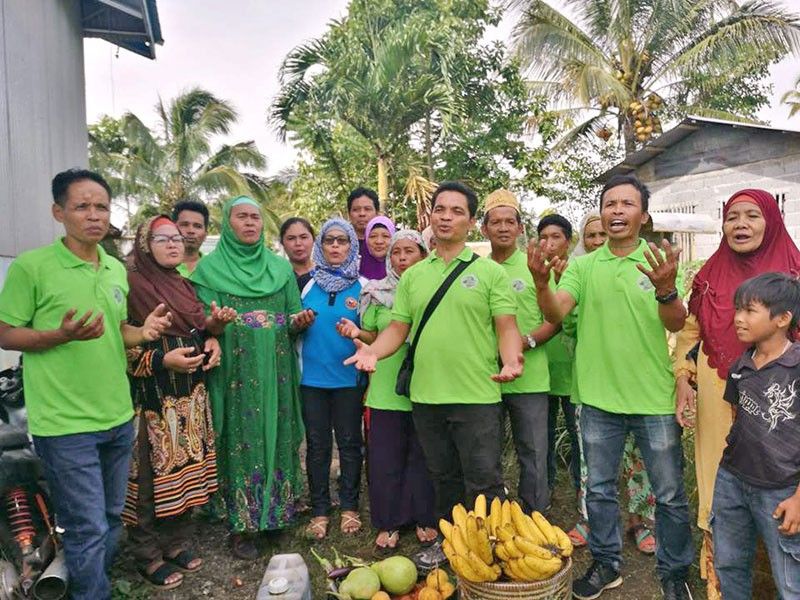 Busikong Greenland Multi-purpose Cooperative members with their produce
Rediscovering Maguindanao
When I got back from the US, I went headlong into visiting the sites that made it to the final eight of the Quest For Love, a quest for loving organizations that can build village economies. First stop: Maguindanao.
My staff would text me elatedly about Maguindanao. They said the people there are so sweet and selfless. To some, ARMM is a dangerous place and the locals are prone to violence and are involved in kidnapping. That certainly was not what my team experienced.
The story they texted me was that the people there are so selfless they plant trees not for themselves, but so their neighbors would have food to eat.
The group that won is Busikong Greenland Multi-purpose Cooperative headed by Jandatu Salik or "Jan," a beautiful soul, a very giving one.
When I went to their site, I saw lettuce and strawberries. The climate is similar to Baguio so they can grow many kinds of vegetables. I love the mayor. He used to be a seminarian and almost became a priest. He is a farmer and an IP at that. I found him quite dynamic. So I am excited about possibilities.
He gifted me with one basket of mangosteen. My favorite fruit! It's good for health, can address cancer and aids weight loss. It has a host of benefits aside from tasting good. Their rambutan is amazing! The Department of Agriculture representative told me to eat the seed because it is really healthy. That it tastes like raw peanuts. I must have had four seeds. I felt energized and a sense of well-being. Admittedly, there is a slight bitterness to it.
When I went to the farm, they showed me the greenhouse they built thorough funds from the British Council. That is one of the reasons why they made it to the Top 8. They have a track record. They gifted me with suha, eggplant. The site looked lush and promising and the people were oh, so nice.
So this is the dream. Since they know what to do and have been successful, they want to set up a network of organic farms in all of Upi, which means they have done well to help others. If we help them with a tractor, tillers and green houses, (they are thinking of having five to service everyone) the game plan is that they will help 225 organic farmers.
Click on this link https://www.facebook.com/pg/questforloveph/photos/?tab=album&album_id=2160207624298262 to see the pictures of the place.
The initial costing is P2 million. Click on this link if you want to help http://Www.passitforward.com/view-request/627. If you are interested in going there, email lovequest@gworld.ph.
We are organizing tours there after the investments start coming in so you can see the place. The game plan is to send the investments not later than October. I saw the place. It is beautiful.
The department of Agriculture and DPWH have promised to help. Our plan is to have the help come this year. The big challenge is marketing and sales — that is my strength. I just need good products and a good story. Please watch this link.
Upi is very safe. I am determined to make the peoples' lives better but I need your help. If you are touched by their dreams, the amount is not as important. It's the heart connection that makes things powerful. The place is beautiful enough to take tourists and we are working in that direction.
If you are interested in visiting, email hellogina@gworld.ph. When it's ready, we will let you know.