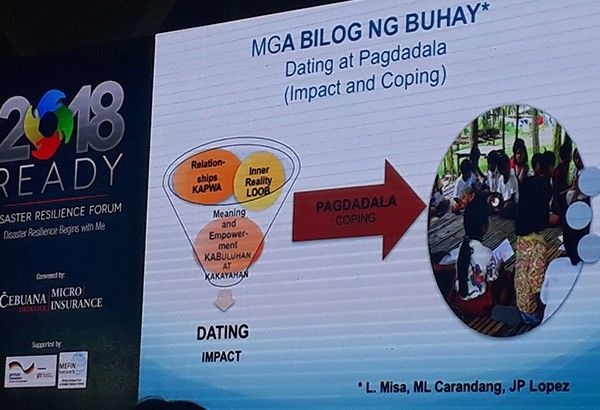 Disaster resilience, said psychiatrist Dr. June Lopez, should not only be about surviving, but coping or how one responds to problems in the aftermath of a disaster.
Philstar.com/Deni Rose M. Afinidad-Bernardo
Mental Health Law author warns of depression wave amid looming super typhoon
MANILA, Philippines — Weather bureau PAGASA warned on Sunday that a tropical storm may develop into a super typhoon when it enters the Philippine Area of Responsibility this week.
As a new super typhoon looms, Mental Health Law author and psychiatrist Dr. June Lopez warned of another wave of depression. She gave as example super typhoon Haiyan in 2013, which, according to the World Health Organization, left a predicted 800,000 cases of depression.
The youth should be specifically protected against depression brought about by calamities since the youth "are the next generation of Filipinos" that should carry on the nation's positive thinking skills and values, Lopez said during the recent 2018 Ready Disaster Resilience Forum organized by Cebuana Lhuillier in Taguig City.
Based on her experience as a trauma therapy expert that worked with victims of natural calamities like typhoon Haiyan, once children refuse to go back to school and become aggressive or worrisome after a disaster, they would think that life is difficult and an endless fight, therefore, they would think that they have to steal or commit a crime to survive.
"Kids' role in a disaster should not be as 'pasanin,' but they should have an active role in resilience and survival," urged Lopez, Convenor for Citizen's Network for Psychosocial Response.
According to Lopez, a boy named Christian, who lost 18 family members in Yolanda including his parents, has since always stayed in a corner and refused to go out of the house after surviving the super typhoon by hanging on driftwood.
The doctor then encourages everyone to take precaution and not just wait for the storm to come before taking action.
"Depression evolves and multiplies. Let's not wait until an incident happens," Dr. Lopez stressed. "Pinoys are crisis-oriented. When somebody commits suicide, that is the only time we act on depression and suicide."
The problem with mental health and psychological problems, she said, is because they are abstract and not concrete, they cannot be quantified and therefore cannot be a basis for government to declare a "state of national emergency."
The Mental Health Law, which she authored and was passed into legislation last June 21, aims to not only support local government units in providing psychosocial services for recovery and resilience of victims, but also to train teachers, parents, and even rescuers on mental health education on enhancing their values, positive thoughts and thinking.
"We should care for carers because they are also survivors, and just not robots that cannot be affected by the stories they hear," the psychiatrist said.
Being aware about mental health, depression, and suicide should become a lifestyle and an everyday endeavor, she said, and not only when government announces a national emergency or a special day for it.
Every day, she said, people should help each other bring back their motivation and interest to live.