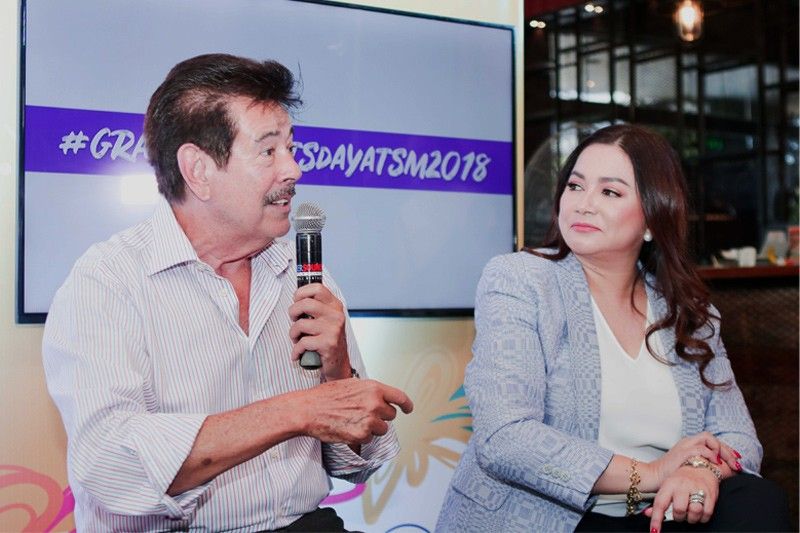 Celebrity grandparents Eddie Gutierrez and Dina Bonnevie share what makes them most excited about this coming Grandparent's Day at SM.
Released
#AweSM moments, amazing treats await grandparents at SM
It's time to spoil the spoilers at SM this Grandparents' Day!
MANILA, Philippines — It's a Filipino family story everyone's familiar with. From being strict to their own kids, grandparents transform when it comes to their grandchildren. Gone are their disciplinarian days. They become extra doting, caring, loving, and yes, they can be spoilers too.
But this coming Grandparents' Day (September 9), it's the family's turn to spoil the spoilers and treat our Lolos and Lolas with all the things they love to do at their favorite happy place – SM!
LOLO DREAMS. SM Supermalls released a digital video sharing an "SM Moment" close to every grandparent and apo's heart.
"This Grandparents' Day, we have prepared fun activities and treats that pay tribute to the unconditional love of our beloved grandparents. We have shopping discounts, dining promos and different 'grand' entertainment in 70 SM malls across the country," said Jonjon San Agustin, SM Supermalls senior vice president for marketing in a recent media launch at the Mall of Asia Complex, Pasay City.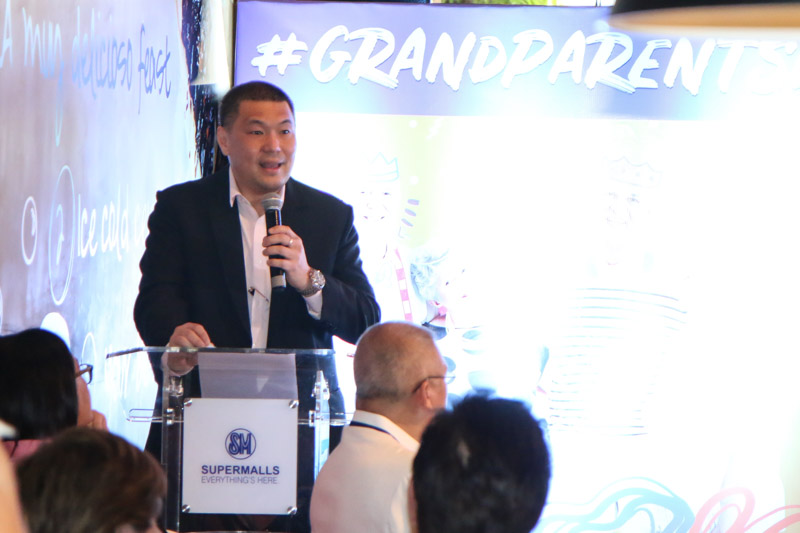 Joaquin San Agustin, senior vice president for marketing at SM Supermalls, reveals what SM has prepared to treat and pamper grandparents on their day. Philstar.com/EC Toledo
"Grandparents like to indulge their apos. This is the best time for the grandkids to give back to their grandparents," added Grace Magno, SM Supermalls vice president for advertising.
Ready to make lolo and lola feel truly special and loved this Grandparent's Day at SM? Take one or more picks below:
1. A supersized Sunday
Dina Bonnevie, actress and 'Mama D' to her grandkids, loves to spend Sundays with her apos at SM. For Grandparents' Day, it will be the same as every Sunday in the mall but with unique add-ons.
"An ideal Grandparents' Day will be any other Sunday kasi nga SM always provides everything for you. You have the movie house there, you have good restaurants where you can eat, and of course the stores, if you want to buy toys, books, shoes, bags, anything it's all there," she said.
During these bonding moments, Mama D receives greeting cards and performances.
"They draw the cards with their own crayons, something that they make with their own hands. When we eat out, they have something special for me, may kakanta, may sasayaw. I really look forward to that all the time," she said.
Just like Mama D's grandkids, you too can find handmade gifts for your grandparents. Drop by Lolo & Lola's Bazaar and choose from arts and crafts to comfortable slippers.
A program of SM Cares, the Lolo & Lola's Bazaar is happening at participating stores in SM on September 9.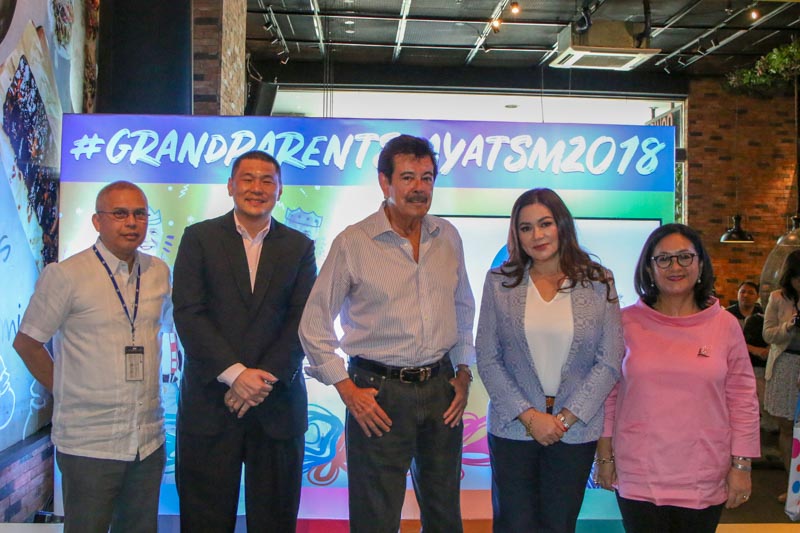 Celebrity grandparents Eddie Gutierrez and Dina Bonnevie with SM Supermalls executives (from right): Grace Magno, vice president for advertising, Joaquin San Agustin, senior vice president for marketing, and Danny Chavez, program director for SM Cares Committee on Senior Citizens. Philstar.com/EC Toledo
2. A day of good food
Eddie Gutierrez, the patriarch of the Gutierrez celebrity clan, is looking forward to a day of feasting at SM on Grandparents' Day. His family does this after a tiring day of shopping. Lolo Eddie, sometimes Baba, goes to sporting goods store, while the apos, at Toy Kingdom. "Yong toys ng mga bata, si Annabelle ang in charge kasi siya ang nababayad," he revealed, pertaining to his equally famous wife, Annabelle Rama.
For grandparents who love to eat, SM is offering them their favorite eats and dishes at Grand Treats. Just go to participating restaurants in the malls until September 9 for special dining deals.
3. Music to the ears
Grandparents also love good music and at SM, they get to be serenaded by talented kids at Grandparents' Playlist on September 8 and 9. This mini-concert will feature heart-tugging performances just like the rendition of "Iingatan Ka" by SM Little Stars 2018 Grand Winner Aleynah Cassedine Redillas.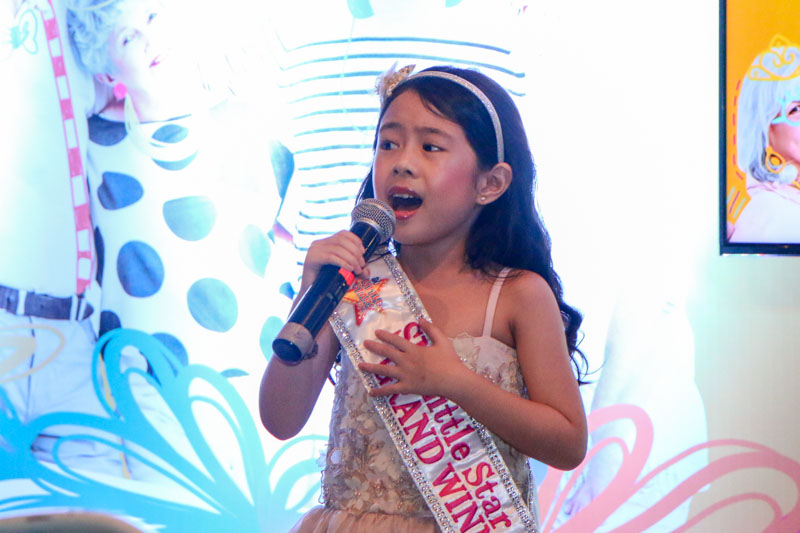 SM Little Stars 2018 Grand Winner Aleynah Cassedine Redillas sings her sweet rendition of "Iingayan Ka." Philstar.com/EC Toledo
4. To more, modern memories
Immortalize all the wonderful memories on Grandparents' Day, the modern way! Bring the whole fam to the Grandparents' Snap, an augmented reality family booth where they can enjoy with technology. 'Coz even lolo and lola are techies these days.
And because they love to take snaps of their wonderful moments together, grandparents and grandkids are invited to join the Website Photo App Digital Promo for a chance to win P5,000 SM gift certificates!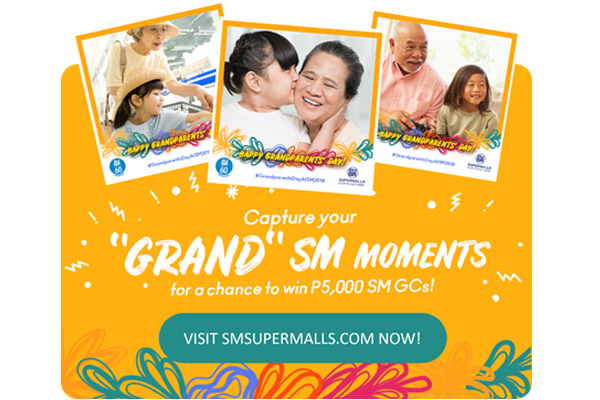 5. Blessed
To start or end the Grandparents' Day, celebrate the blessing of love and family with a mass. Grandparents and grandkids can attend a mass celebration with a Special Blessing for grandparents on September 9.
The 'grand' celebration continues with SM's #AweSM Dining Deals where families and friends will also experience a fun weekend of dining 60-themed deals like pay only 60 percent, less P60, or pay only P60 on #AweSM food items. Happening at participating restaurants from September 21 to 23 in SM malls all over the country, #AweSM Dining Deals is part of the continuing 60th anniversary celebration of SM.
To know more about the upcoming Grandparents' Day and #AweSM Dining Deals at SM Supermalls, visit www.smsupermalls.com.