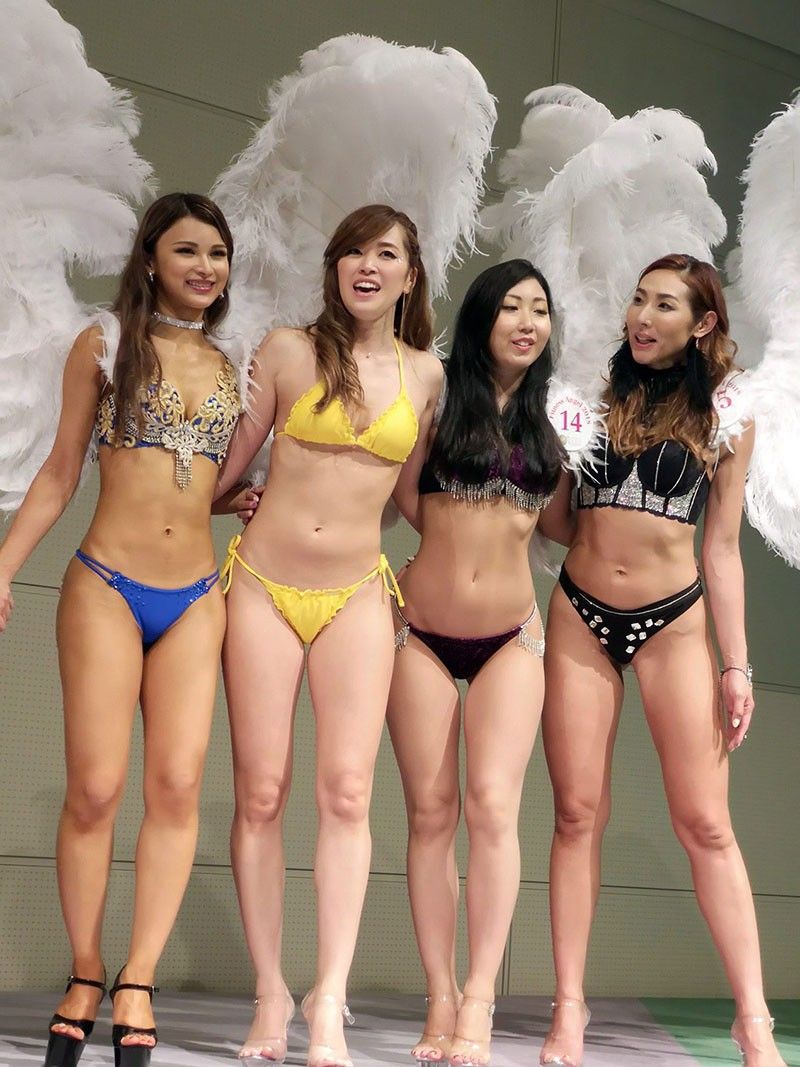 Fitness Angel 2018 Kareda Amin (left) with the other contestants
Fitness Angel Kareda Amin to compete in Miss Bum Bum World in Brazil
The reviews of Sportec Japan being an exciting and dynamic fitness expo are accurate. It was my first time to attend one and I was not disappointed. Three days were not enough to discover all the breakthrough products, try amazing programs and services, as well as watch all the exciting shows.
Organizer Eiji Tezuka, who is also the owner of Gold's Gym Japan (with 85 locations and still growing), was frantically looking for me because he wanted us to stay as close as possible to the stage. The enclosed show venue in the middle of Tokyo's Big Sight Convention wing for Sportec was packed with excited spectators.
The search was on that afternoon of July 25 for the 2018 Fitness Angel. Eighteen curvy finalists in high heels and white long-sleeve shirts went on stage for a lively production number. After a brief intermission, they were introduced in their bejeweled bikinis and stilettos. Surprisingly, the search was for the best behind!
Japanese bikini model Kareda Amin won the top prize, including the chance to compete for the famous Miss Bum Bum title in São Paulo Brazil this coming November.
The show producer and popular butt personal trainer Tomo Okabe, who also owns Spice up Fitness, said that Fitness Angel encourages a healthy lifestyle through "training the hips to create the perfect behind."
She has conducted butt workout workshops in Manila and as we congratulated her, she encouraged the Philippines to send at least three contenders for the Fitness Angel 2019 show to be held on July 9 in Tokyo next year.
We learned that Miss Bum Bum would like to go global and aims to select the best derrière in the world in a star-studded event in Miami sometime March 2019.
Apparently, women from around the world have sent requests to participate in the famous search for the best bottom, which is on its eighth year in Brazil.
We were told that Miss Bum Bum World would carry the same rules as the contest in Brazil, which disqualifies women who undergo surgery to enhance their bottoms.
The 18 finalists came from a group of nearly 50 hopefuls who all underwent a booty fitness camp. As a certified personal fitness coach, Tomo has designed workouts that particularly focus on physical conditioning to develop one's behind.
Fitness Angel winner Kareda Amin will join more than 200 participants as they compete for the Miss Bum Bum title in Brazil this November.
Unfortunately, this might be the last year for the competition to be held in Brazil due to some protests.
As in any contests, winners are overjoyed while some finalists are almost tearing up in disappointment. In my opinion, they are already all winners as their hard work, commitment and patience rewarded them not only with bodies they can be proud of but also the confidence to show off some skin.
The sense of accomplishment is evident in their sparkling eyes and glowing smiles. Most confessed to being ashamed of their old bodies, which they hid under layers of clothes.
While that afternoon was all about curves and a shapely behind, the morning of July 27 (the last day of Sportec) was all about muscles and physique as the JBBF or Japan Bodybuilding Federation presented several male and female finalists for the Sportec 2018 Cup. That same afternoon, different martial art disciplines showcased their skill sets.
Eiji Tezuka was very happy about the Sportec 2018 outcome. Support from exhibitors and visitors alike grow stronger every year. He attributed this to the fast growth of the Japanese sports market especially in relation to the upcoming Tokyo Olympic 2020.
While smaller in scale compared to Sportec, Musclecontest Philippines is launching a multi-sport and fitness show at the Subic Bay Exhibition & Convention Center on Sept. 7 to 9. The event includes bodybuilding workshops, a six-hour group exercise dance marathon, a fitness challenge, MMA exhibition featuring at least 35 fights, a bodybuilding IFBB qualifier, as well as an IFBB Bikini Pro contest.
Check out the Facebook page of Musclecontest PH for more details about the events.
* * *
Post me a note at mylene@goldsgym.com.ph or mylenedayrit@gmail.com.