LIST: 8 fun family activities
MANILA, Philippines — Looking for activities to try with your family? Whether for spending quality time together after work or for weekend bonding, these suggestions could add excitement into your every day family life.
Make glitter slime
Related video: How to make slime art
At the recent SM Stationery Art Fest, local artists gave workshops on different arts and crafts, including how to make your own glitter or pastel slime, which can be molded into different shapes like clay.
To make one, you need:
a bottle of glitter glue
lotion
shaving foam
baking soda
contact lens solution
mixing bowl
spoon
gloves (optional)
Procedure:
1. In a mixing bowl, pour four tablespoon of glitter glue.
2. Add a teaspoon of baking soda
3. Add ½ tablespoon of lotion
4. Add one tablespoon of shaving foam. Mix well.
5. Add one tablespoon of contact lens solution, then mix.
6. Repeat sixth step five more times or until the slime reaches its ideal consistency.
7. Grab the slime from the bowl and knead it.
8. Enjoy and play with your slime, but wash your hands after playing.
9. Alternatively, you can make a pastel slime by using white glue instead of glitter glue. Add color by putting in a drop of food color after putting the shaving foam.
Guess who's that Pokemon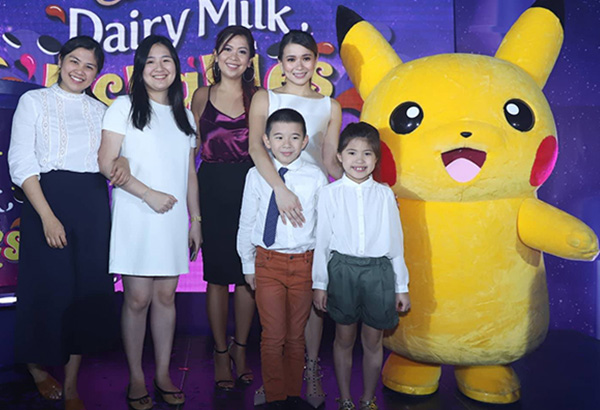 Celebrity moms like LJ Reyes graced the Lickables' recent Manila launch. Cadbury/Released
Moms often want to turn their kids' days from ordinary to extraordinary and make everyday special. For those looking for everyday little rewards to enjoy with your children, Cadbury Dairy Milk Lickables come in a space-ship-like packaging. Inside, parents and kids can enjoy chocolate with a collectible Pokemon toy.
Celebrity moms like LJ Reyes and Valerie Concepcion and their kids are among the guests during Lickables' recent launch in the Philippines. Launched in India in 2017, the new Lickables is now in Southeast Asia, including Malaysia.
Weekend race in Disneyland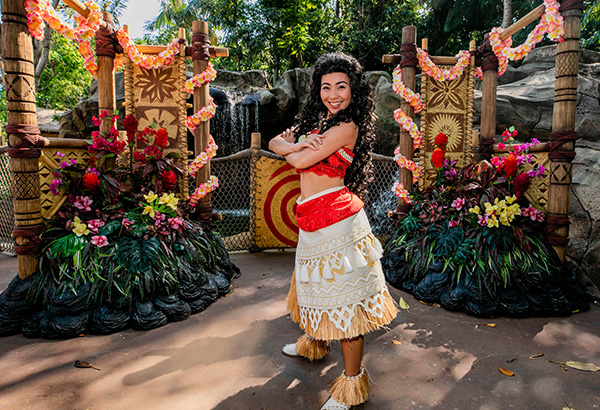 Polynesian heroine Moana invites Filipino guests to join her adventure in a new 20-minute live show. Disneyland/Released
Registration is now open for the whole family for the 10K Weekend race with a Disney Pixar theme at Hong Kong Disneyland.
The announcement for the race coincides with the launch of new lively atmosphere stage show, "Moana: A Homecoming Celebration," in a new outdoor venue, Jungle Junction, in Adventureland.
Polynesian heroine Moana invites Filipino guests to join her adventure in a 20-minute live show rich with inspirational music, dance, puppetry and immersive storytelling. Guests will be invited to participate and interact as Moana recounts her tale. Guests can also meet Moana in person, hear stories of her oceanic voyages, and share hugs and snapshots with her.
At the new African-style Karibuni Marketplace, the Carnivale of Stars will feature the park's first ever "Pixar Water Play Street Party, featuring characters from one of Disney-Pixar's latest movies, "The Incredibles."
Characters from beloved Disney adventure stories, including Carl and Russell from "Up," Judy and Nick from "Zootopia," King Louie and Baloo from "The Jungle Book," Rafiki and Timon from "The Lion King," Princess Jasmine and Genie from "Aladdin" and Lilo and Stitch will greet guests at the Karibuni Marketplace.
Evenings at the theme park are capped with the new "We Love Mickey!" Projection Show, which transforms the buildings of Main Street, U.S.A. into a canvas for vibrant, colorful visuals that pay tribute to Mickey's major milestones.
Raising well-rounded kids through nutrition, sports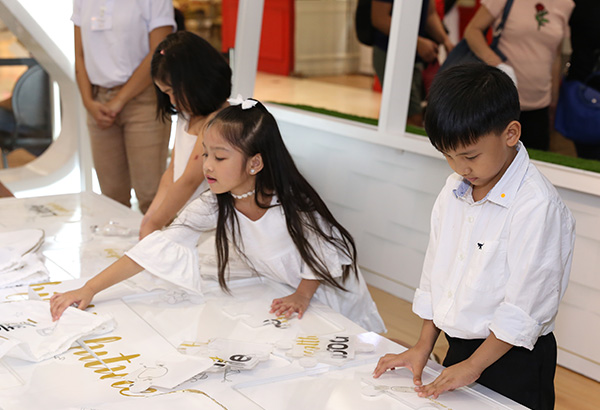 Kids participated in activities for Parentology+. Nankid/Released
As parents try to navigate the new challenges presented by changing lifestyles and technological advancements, Parentology+, powered by Nankid, is aiming to make parents empowered with tips that will help reshape their children's future.
Launched earlier this year, Parentology+ is anchored on three pillars—proper nutrition, active lifestyle, and high social quotient. "The success of Parentology+, gaveparents an opportunity to address challenges presented by modern parenting. We would like to go deeper into these issues and really flesh out the importance of these three pillars, as well as give parents the tools to establish this at home," exclaimed Jean Espino, Vice President for Marketing, Premium Milks of NestléPhilippines.
Understanding that parents seek guidance and tips from people they trust, Parentology+ sought the help of various experts to weigh in and give advice for the three pillars, partnered with the milk brand's ambassadors.
Cat Arambulo-Antonio is skilled at juggling relationships in different situations, and with clinical psychologist, Dr. Cely Magpantay, the two believe that in order to help your child socialize, it is important to put your child in new situations where they can learn and listen to others. To better encourage kids to socialize with others, Dr. Cely says, "Warm up, be present at first, then be invisible during playtime. Join them during the start of the activity, and eventually let them be. Be a role model to them."
In the event, they have also prepared an activity that lets moms and kids do work together to see what traits their child already possesses and how they can further build on them to make them more socially competent.
Nutrition can be challenging for parents, especially when kids need around 3,000 calories a day. Nonetheless, Joy Sotto and Aleli Magtibay, Nestle's own Nutritionist, said that it can be done with moderation, balance and variety of food options. Magtibay further advised parents, "Follow portions by making sure to give a combination of go, grow, and glow foods in every meal, and practice variety, in terms of flavor, texture, color, and food preparation."
Play time may seem like a regular activity for children, but its benefits on the child's physical health is hard to ignore. Anton Del Rosario and Dr. Edgar Eufemio, an orthopedist specializing in sports medicine, want parents and kids to realize that some activities are better than others. Through a fun goal kicking challenge, kids learned the different traits that are beneficial to their physical development and lifestyle.
When asked how to encourage kids to be more active, Dr. Edgar said, "Give them a taste of success by giving words of encouragement. Be supportive of your kids' activities, so they would just continue doing what they love to do. Also, play with them. If you expect them to be disciplined and grow up a certain way, do it with them."
Parents are encouraged to be a role model for their children, and participate in their various activities, may it be socializing, eating healthier and staying active. Through learning the style of modern parenting, Parentology+, can help parents create a customized model that can help reshape their child's future.
An 'incredible' family day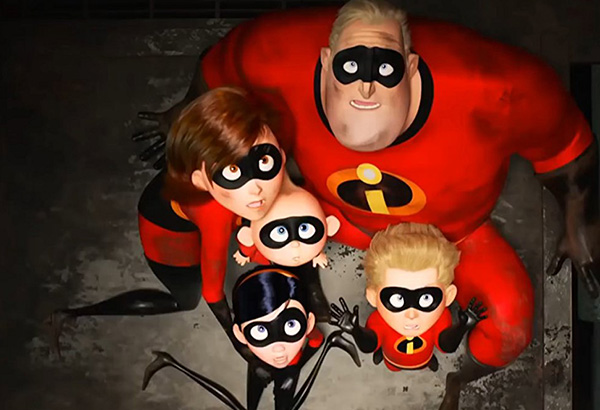 Scene from 'The Incredibles 2.' Disney-Pixar/Released
Kids and kids-at-heart recently enjoy a fun family activities dubbed as "Incredible Day" at Trinoma Activity Center.
Disney fans enjoyed various games and fun activities such as Force Field Fight, Mr. Incredible's Test of Strength, Jack-Jack's Laser Field, Dash Speed Zone, Elastigirl's Mirrors and Violet's Photo Bomb.
"We know that Filipinos love spending time with their families. And we, at Giordano, want to make this day more memorable by bringing in their favorite family, the Incredibles, through this local collaboration with Disney. We want to celebrate Filipino families through an apparel that everyone will enjoy," Giordano Philippines Vice President for Marketing Beatrice Lim said.
The t-shirt collection features members of the Incredibles family in various designs and colors. Being the head and the tough guy in the family, dads can wear the Mr. Incredible shirt, while moms, who are known for their multi-tasking abilities and flexibility, are perfect for the cool Elastigirl shirt.
Kids can choose from a variety of Violet, Dash and Jack-Jack printed tees whether they are the protective sister, the family runner, or the happy pill of the squad.
'90s throwback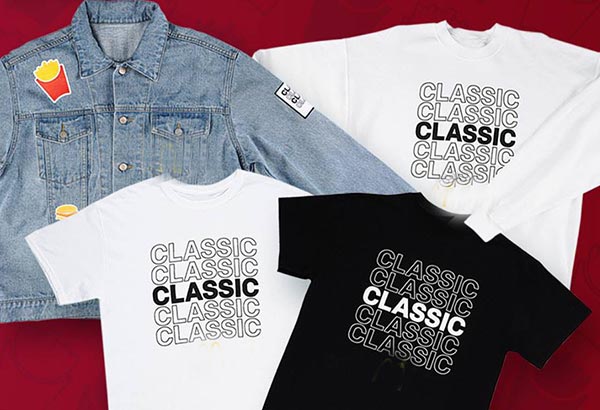 Limited-edition merchandise. McDo/Released
In celebration of Global McDelivery Day, McDonald's is releasing limited-edition merchandise from the McDelivery collection. The '90s-inspired collection includes t-shirts, sweatshirts, and denim jackets in fun, retro designs. The t-shirts and sweatshirts come in black and white and feature a play on the word "Classic" in a graphic style, while the denim jacket features patches of the food chain's fries, Big Mac, sundae, and cheeseburger.
These new merchandise, however, are not only limited in quantities, but also not for sale. Only lucky Metro Manila based customers who ordered online via the website got a chance to win items from the collection.
Search for 'Happiest Pinoy'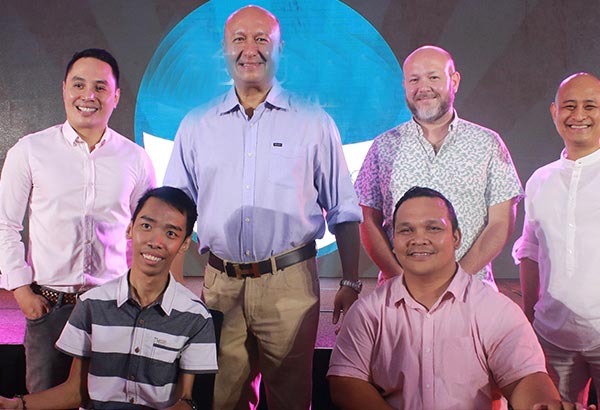 PJ Lhuillier Group of Companies officials with past contest winners. Photo release
Microfinancial services company Cebuana Lhuillier has formally opened this year's Search for the Happiest Pinoy. The competition celebrates the Filipinos' indomitable spirit of resilience and positivity and gives honor and recognition to outstanding Filipinos that best represent these values.
"We have been celebrating this culture of happiness and resilience through the Search for the Happiest Pinoy since 2009," said Jean Henri Lhuillier, president and CEO of PJ Lhuillier Group of Companies.
In the 41st Annual Global End of Year Survey of Gallup International, the Philippines ranked third among the happiest countries in the world. The survey revealed that Filipinos exude a positive outlook in life in spite of economic uncertainties and financial upheavals.
The 2018 Search for the Happiest Pinoy will be the most inclusive in its 10-year history since it now covers ten categories: youth, senior citizens, overseas Filipino workers (OFWs), lingkod bayan, professionals, manggagawang Pinoy, entrepreneurs, employees, persons with disabilities (PWDs), and lesbian, gay, bisexual, transgender, and queer (LGBTQ) community.
The company and a panel of judges representing the academe and the business community, as well as past Happiest Pinoy winners will pick a finalist from each category. The new Happiest Pinoy will be selected from the roster of 10 category winners. The grand winner of the 2018 Search for the Happiest Pinoywill take home P1 million tax-free while category winners will win P50,000 each.
Celebrate Filipino artistry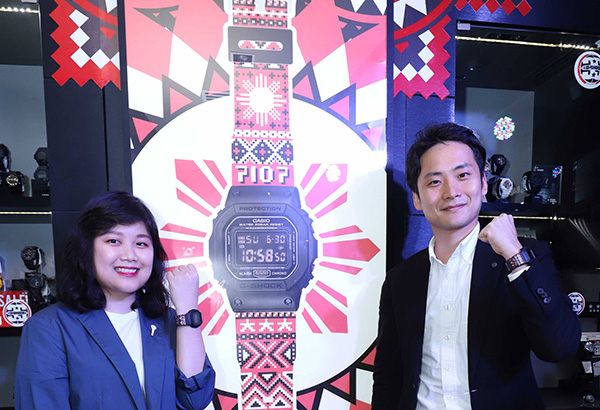 Dylan said her main inspiration on her design is the old weaving technique or "habi" which Filipino ancestors used to create art, basic supplies and livelihood. Philstar.com/Jan Milo Severo
A 28-year-old art director from Manila won the design the national watch contest that sought to create an authentic Filipino watch strap that raised a tough sense of nationalism and determined spirit.
Dylan Dylanco, who graduated with a Communication Arts degree from Miriam College now working for a private graphic design and illustration company in Los Angeles, California, captured the attention of the judges as her creation "Habi" bagged the Design the National G-Shock Contest.
In an interview with Philstar.com, Dylan said her main inspiration on her design is the old weaving technique or "habi" which Filipino ancestors used to create art, basic supplies and livelihood.
"Various patterns and Philippine symbols, such as the national flag's sun and three stars, as well as the number 7107 representing the different islands of the country, were united to create a unique, wearable, and nationalistic band that is distinctively Filipino," she said.
"In addition to the Philippines' silhouette on the back cover, the words "Iniibig ko ang Pilipinas, aking lupang sinilangan" were lifted from the patriotic oath. 12.8797° N, 121.7740° E are the country's coordinates, which reminds the wearer of the Philippines no matter where they may be in the world," she added.
For its process, Dylan said she "had a very clear idea in my head of what I wanted the design to look like and what elements I'd be using. I don't really sketch my ideas on pen and paper and just wing it on the computer digitally."
She added it took her three to four hours to finish the design. She was inspired with the project so she zone out and sit on the design to finish it.
With her winning the contest, Dylan said she was extremely overwhelmed and humbled by all of the appreciation people have given towards her design.
Aside from designing and having a wide range of art background from her work experiences including advertising, street wear, and packaging designs for Xbox, Playstation, Nintendo, Marvel and Disney, Dylan's favorite thing to do is travel.
"I easily get inspiration from music, movies, people I meet, and places that I've been to. I love to constantly push myself and learn new things. Recently, I've learned how to play football and went to Barcelona on a FCB-funded trip (my favorite team), and even got the chance to train in Ciutat Esportiva, and play a full game in Camp Nou. Now I'm learning Hangul/Korean, and am also practicing shooting with gimbals and video editing," she narrated.
"The watch design actually fits perfectly with my lifestyle all my adventures because now I'm always reminded of home whenever I see the watch. Amidst all of my travels though, nothing beats coming back home to my pug Tbone. She's been my lucky charm throughout all of this so I've naturally become that crazy dog lady who constantly updates people of her dog," she added.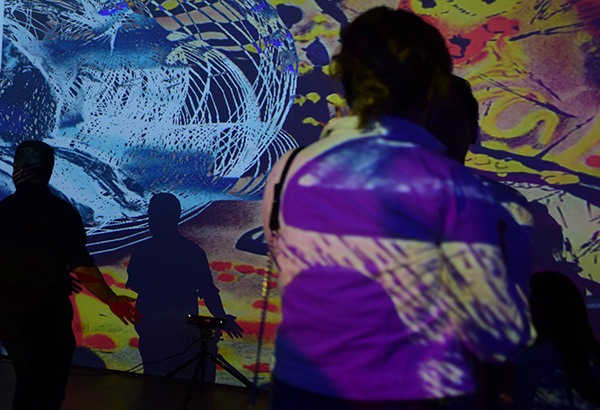 Gavel & Block's first Summer Art Party. Photo release
Who says art, altruism, and fun can't go together? That's exactly what happened at Gavel & Block's first Summer Art Party, a heady night that brought together art and party people in the spirit of giving. The party cast the spotlight on many of the modern and contemporary works by Filipino and contemporary artists that were auctioned off at the highly successful benefit fundraiser which raised over Php 3.3M to support Vicky SyCip Herrera Filipino scholars at the International School Manila.
Art enthusiasts, as well as select Gavel & Block's and Salcedo Auctions' clients, joined Manila's glamorous and fun-loving set at the party held at Salcedo Auctions' minimalist loft-style gallery in Salcedo Village, Makati, where a one-night interactive video mapping art installation featuring works by Ronald Ventura, Salvador Dali, and Romulo O awaited them.
Guests were asked to dress in tropical white in the spirit of creativity, diversity, and openness. A live performance by Kiana Valenciano with sets by DJs Nix Damn P! and Gian Romano further enervated the crowd that packed the venue. The heady mix of creatives, entrepreneurs, celebrities, influencers, media personalities, and socialiteincluded Ramon Orlina, Rajo Laurel, Cristalle Henares-Pitt, Happy Ongpauco-Tiu, Julio Villafuerte, Tim Yap, Markki Stroem, Rico Blanco, Gino Santos, Pepper Teehankee, and JM Rodriguez.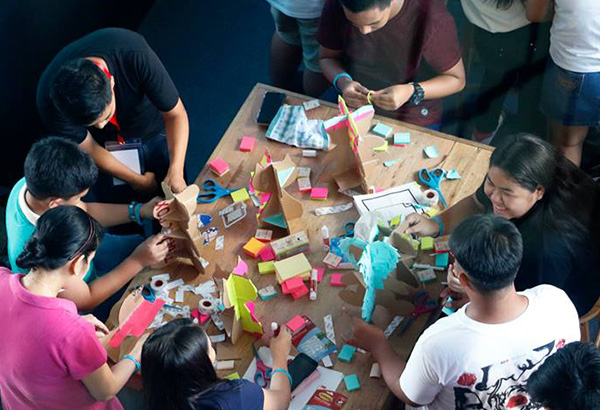 Manila Mini Maker Faire at the Mind Museum. Facebook/Manila Mini Maker Faire
Also recently, the Manila Mini Maker Faire (MMMF) was held at the Mind Museum in Taguig City. The fair is a family-friendly festival of invention, creativity, and ingenuity, featuring makers from all over the country who are ready to share all about their craft and passion.
Held for second year in a row, the fair aimed to link science and art by featuring exhibitors in paper crafts, upcycled furniture, 3D printing, paper engineering and pottery making.
From engineers to artists to scientists to crafters, the Maker Faire is a venue for these "makers" to show hobbies, experiments, projects.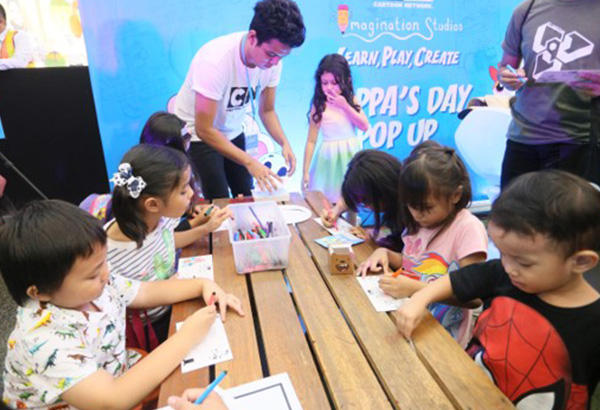 Kids participating at Imagination Building Notebook Design Contest. Philstar.com/Jan Milo Severo
Kids showcased their artistic talents in fun-filled event held at Glorietta Palm Drive Activity Center in Makati City as characters from Cartoon Network shows helped kids squeeze their creative juices.
One of the highlights of the event was the Imagination Building Notebook Design Contest. The winning entries will be printed on over a thousand notebooks donated to a selected public school.
Participants of the contest were also recognized for their talent in creative design with their work displayed in a colorful gallery.
Children also sculpted their very own galactic clay heroes with Ben 10 and designed their own Adventure Time candy people. They could then see them come alive digitally, by making their own We Bare Bears stack, or printing their own personalized Powerpuff Girls avatar. — Videos by Deni Bernardo, Kat Leandicho