Mom, businesswoman, athlete: Carlene Aguilar and her journey into triathlon
MANILA, Philippines — As a former beauty queen, Carlene Aguilar is gifted with a long pair of legs that have walked and conquered glitzy runways and stages. After all, she is the first Filipina to win two major crowns in Philippine pageantry, at Miss Earth in 2001 and at Binibining Pilpinas World in 2005.
Over a decade later, Carlene's legs are now trained to blaze trails, turn the pedals and hit the waters as a triathlete. In 2016, she has completed her first-ever triathlon, the TriUnited 4 held at Clark, Pampanga. From 2017 until present, she has joined half IronMan races in Cebu, Davao and Subic.
Her beginning as triathlete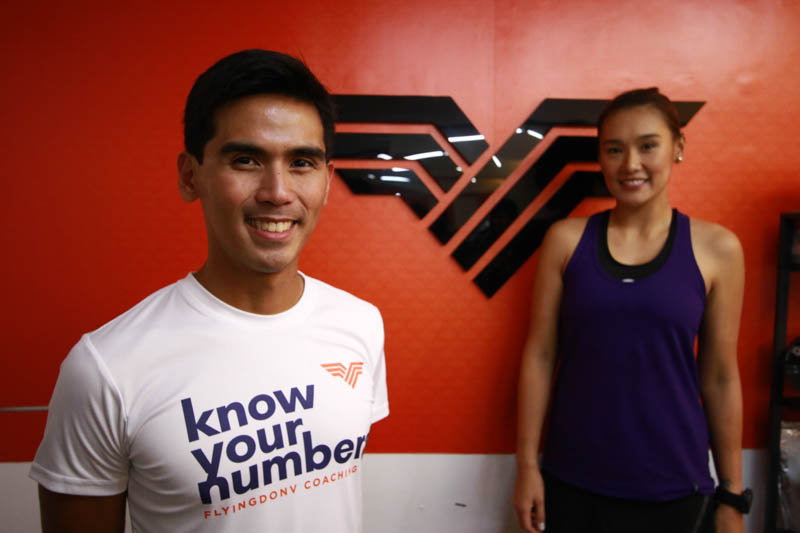 Carlene Aguilar's coach, Don Velasco of the Flying Don V Human Performance Lab, helps her achieve her maximum potential as a triathlete. Philstar.com/EC Toledo
What started as a simple desire to lose weight became an athletic pursuit, Carlene told Philstar.com in an exclusive interview with her coach, Don Velasco of the Flying Don V Human Performance Lab.
"Alam ko lang na three sports ang triathlon pero hindi ko siya gustong pasukin," Carlene said,admitting she began swimming in July 2016 to lose weight.
A triathlete friend persuaded her to get into the sport. With reservations, she joined her first aquathlon in September of that year. She placed third.
The thrill of winning in her first athletic competition encouraged her to finally get into triathlon, even despite the initial refusal of her husband, Yo Ocampo. He didn't want her to bike, and she, too, had feared the dangers of cycling.
"But as they say, the rest was history," said Carlene, who, a month after her aquathlon, was seen at the TriUnited 4, a 600-meter swim, 20-km bike and 5-km run race.
Last year, she trained to join her first half IronMan, the most prestigious of all triathlon races, in Cebu. She finished it, a grueling 1.9-km swim, 90-km bike and 21-km run.
"Yes, you lose weight but you also become stronger, triathlon being a whole body sport. You swim, you bike, you run. Your overall physical development is holistic. You need a strong upper body as long a strong set of legs," Coach Don commented.
There's no stopping Carlene. This year, she competed in back-to-back 70.3 IronMan Races in Davao last March, and then in Subic just this June.
"Always, the goal is to finish with a good time. Bonus na lang kung mag-place because your only competition is yourself," she said. "It's really a hard sport but if you train for it, makukuha mo naman 'yong result na gusto mo. It's really discipline and confidence that you'll do it but always remember that quitting should never be your option."
Prioritizing what matters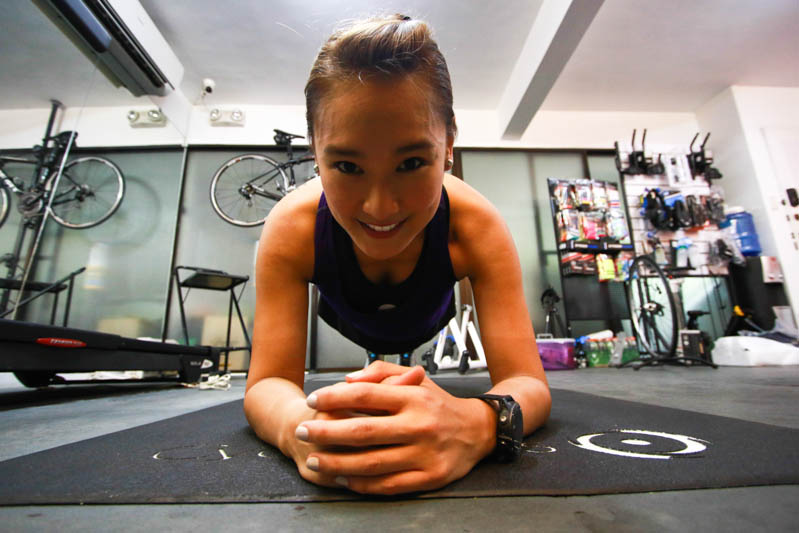 There's no stopping Carlene, who is also the brand ambassador of Jeunesse Anion. This year, she competed in back-to-back 70.3 IronMan Races in Davao last March, and then in Subic just this June. Philstar.com/EC Toledo
From two crowns, Carlene now wears many hats, as a mom, businesswoman and triathlete. Managing time between her many roles is more challenging than the physical training.
She swims every Monday, Wednesday and Friday, bikes every Tuesday, and then runs every Thursday, or alternate days of biking and running. Come weekend, she does long runs or long bikes. But always, only in the morning.
"Kailangan magising talaga ng maaga. I prepare my three boys to school. After they leave, I begin training and then I work for our business. By lunch time, I should be home to take care of the kids again, plus my husband! Then they have me the whole day na," she explained her new normal.
Understanding all this, Coach Don nevertheless sees Carlene as a very dedicated athlete.
"I can't really expect her to do the same workouts that other triathletes do. But at the same time, I know she does her best in squeezing in the workouts that I give her. I'd catch her hopping on the bike trainer at 9 p.m. and finishing close to midnight," the coach revealed.
"She's a very dedicated athlete. Even if she does not have the luxury of time, she does what she can," he continued.
Asked what pushes hers to do all this, Carlene answered, "My family is really important so I have to manage and prioritize my time well."
In turn, she inspires her boys, Calix, 10, Marcus, 6, and Hunter, 3. "Tuwang-tuwa sila lagi kapag umuuwi ako with a medal," she said adding that the whole family joins fun runs, as well as swim and bike together.
Lastly, she does it for herself. "I need to love myself first to be able to fully them."
Finding the right partners
In her journey into triathlon, Carlene credits Coach Don for helping her get to where she is today.
"It's really important to find someone who will guide you, to improve what you have, develop your strengths, and achieve your maximum potential," Carlene said.
Flying Don V Human Performance Lab helps athletes like Carlene achieve their maximum potential through two tests. Lactate testing profile athletes to tell them how hard they can push and how long they need to push in a race. Metabolic testing, meanwhile, involves fuelling and knowing how many calories they need per hour to sustain themselves during a race.
"We help athletes train smarter and by training smarter, it means figuring out what specific workouts they need to do to help them improve," Coach Don said.
Another trusted partner that keeps Carlene feeling even more confident as a woman athlete is Jeunesse Anion Sanitary Napkin.She trusts the brand because it has special anion chip that prevents bacteria during menstruation, reduces feminine discomfortand eliminates unwanted odors.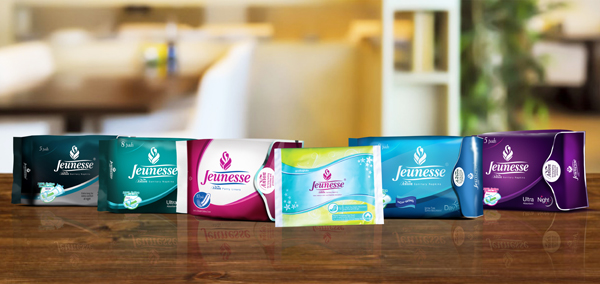 Carlene also trusts Jeunesse Anion Sanitary Nap, which keeps her feeling even more confident as a woman athlete. Released
"A good sanitary pad is very important for me. I love Jeunesse with wings because it stays in place, the same with the panty liners, which I use even when I'm training," Carlene said.
How does it feel to be a mother and a woman excelin a sport dominated by men?
"Actually, triathlon is dominated by men only because there are a lot of them who join. But there are very strong women, especially those under Coach Don, who finish at the podium," Carlene answered.
For Coach Don, there's no difference in the drive of male and female athletes. "What I always tell my athletes is that what guys can do, girls can also do," he said. "These girls like Carlene and a few others, they actually beat a lot of guys. And I don't feel that they are pushing themselves harder than men that's why they are doing well, but rather just taking the plan and sticking to the program as much as they can."
Carlene believes that competition is mostly within. "It's not a competition of who is better, man or woman? It's really yourself who is the competition how you will beat your previous time." — Video by Kat Leandicho
Available at Watsons, Mercury Drug Stores, and other leading supermarkets and groceries nationwide, Jeunesse Anion also offers ultra day non-wing, ultra day pad, ultra night pad, all-night pad, panty liner to and the all-new singles variant to help every woman to go through their period with ease and comfort. For hassle-free shopping with the convenience of free delivery straight to your doorstep, visit www.lazada.com.ph and www.shopee.ph.
Wellgold International Inc. distributes Jeunesse Anion Sanitary Napkin and Liners and currently available at Watsons, selected Mercury Drug and South Star Drug outlets, SM department store's health and beauty section, Robinson's Supermarket and selected department stores, Shopwise, Rustan's Supermarket, Waltermart, Landmark Department Store, PCX stores, selected Metro Gaisano outlets, plus other selected stores in Visayas and Mindanao. You can also purchase online with free delivery via www.lazada.com.ph. For more health tips, visit www.jeunesseanion.com and follow YouTube, Facebook, Twitter, and Instagram: Jeunesse Anion. For inquiries, email: wellgoldinternational@gmail.com or call (02) 4701294.