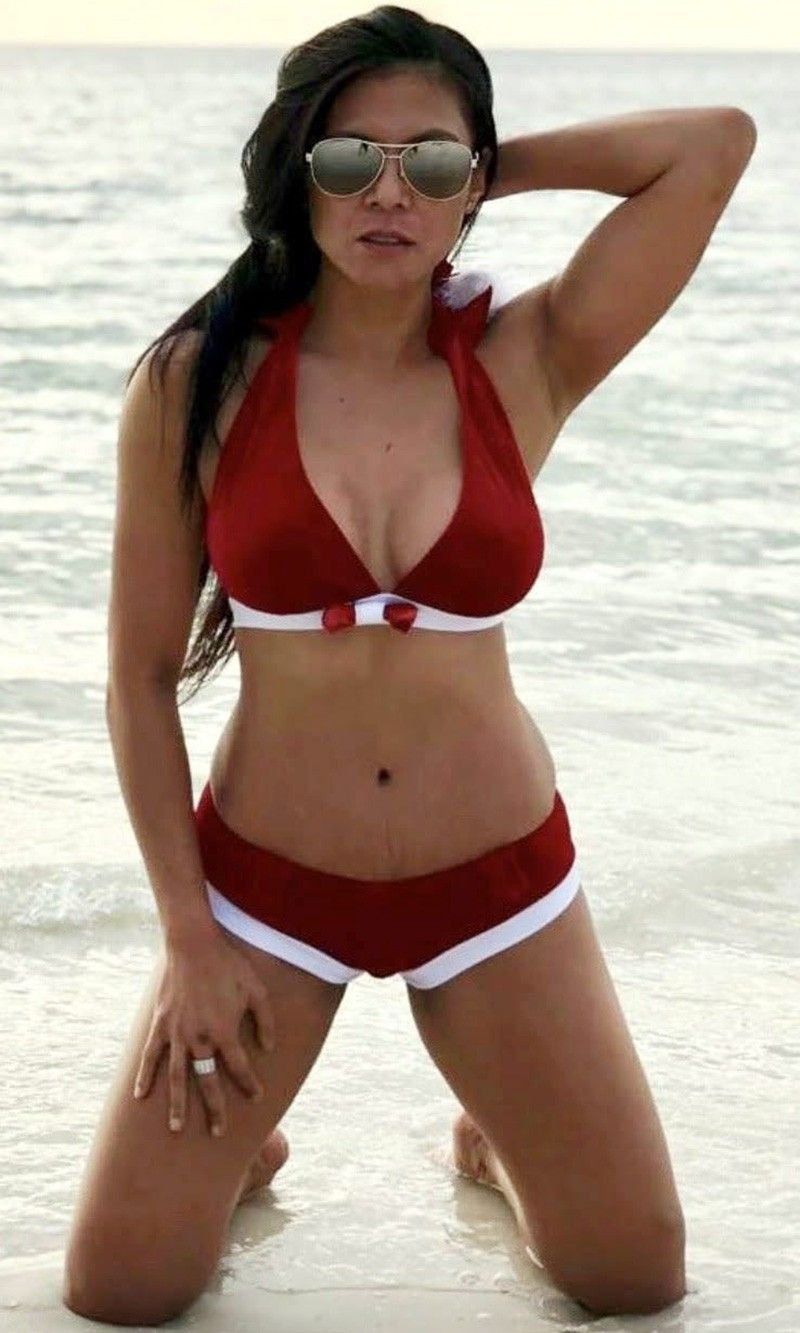 Marinez "Lola Nez" de la Torre-Burnett, a 47-year-old grandma of two, lifts six days a week then does an intensive 90-minute cardio on weekends.
Amazing grandma rocks a bikini bod
Marinez de la Torre-Burnett has positively influenced thousands of followers all around the world. More than a third of her 130,000 followers in Facebook are in the Philippines where she hails from, though she permanently resides in the United States with her family. A native of San Fernando, La Union, Burnett is a registered nurse who runs her own medical transcription business.
In her South Dakota gym, this 47-year-old grandma of two can shame others half her age in lifting more than a hundred pounds. She lifts six days a week then does an intensive 90-minute cardio on weekends.
Though Burnett started bodybuilding only in 2014, she already won several major awards as a competitive bikini class bodybuilder, including five NPC (National Physique Committee is the largest amateur bodybuilding organization in the United States) Master's class titles.
A 2014 diagnosis of gastroesophageal reflux disease (GERD), a digestive disorder that causes heartburn or acid indigestion, brought her to the gym. Her initial objective was just to be healthier and change her lifestyle. Aside from being a competitive bikini athlete, she is also a certified personal trainer by the National Academy of Sports Medicine (NASM).
We reached out to her for more inspiration.
Philippine STAR: What motivates you to compete at your age?
Marinez de la Torre-Burnett: My motivation to compete is partially from a passion for the sport of bodybuilding and because through competition I get a platform to spread my message.
What is the greatest challenge in keeping yourself in top form?
I take the sport very seriously (and don't really take time off, slow down occasionally for brief periods but no time off). I certainly deal with aches and pains physically but I must push through because the real challenge is mental. The toughest is getting into the gym on days when I feel a little burnt out or under the weather and still get a full workout. It is keeping my discipline to do my food preparation and sticking to my nutrition plan when a cheeseburger and piece of cake would be so easy to eat instead. If I slack off on a workout or cheat in my nutrition, no one knows but me. But I also know that in the end, it is the people that overcome the mental battle who become champions. I take pride in my mental strength and determination.
What is your message to the many admirers you inspire around the world?
I believe that society has a way of pushing mothers and grandmothers into stereotypes — of how they should act, how they should look — defining their roles and their capabilities. I reject, refuse and object to these stereotypes. My message is that regardless of your age and whether you are a mother or lola, you hold the power to be as confident, active, healthy and, yes, even as sexy as you want to be. Age should not define you and what you can do and accomplish.
What is your tip to grandmas out there when it comes to being in shape?
For those of us grandmas, or frankly for anyone, there are no quick fixes; no magic diets, no magic pills, no cleanings, no 15-minute workouts that provide any lasting results. There is only one way to improve yourself for the long run and that is by making a healthy and balanced lifestyle change. The lifestyle change requires a commitment to exercise, nutrition and rest — all in balance and adhered to over the long haul. Results will not come instantly and that frustrates many people, but as I tell people, if you are overweight that didn't happen overnight, so if you want healthy weight/fat loss, that won't happen overnight either. Also, even though I just mentioned losing weight, I actually encourage people to stop looking so much at the scale, look instead at how your clothes fit, how you feel, the improvements in your vitals. There's more to fitness than physical changes, physiologic, mental and overall well being is most important, but this is often overlooked. Finally, measure your progress after months or even a few years, not in days and weeks.
How often do you work out? What is your routine like?
I work out every day. In fact, I work out twice each day. Normally, I start my day with a cardio session of 45 to 60 minutes, depending on the phase of my competition prep. Then I have a second session in the evening that lasts 1.5 to 2.5 hours. This includes my strength/resistance training and another cardio session (again depending on my prep phase). I follow this pattern Monday through Saturday. Sunday is my rest day. I am coached by Dan Eslinger of D4MuscleFit though and get my specific workout each day. Generally, each day is focused on a certain muscle group. One day might be back, the next legs, the next arms and shoulders, etc. In the course of a week, each muscle group will get stressed two to three times.
Are you under any special diet?
As for diet, yes, I follow a nutrition plan also prepared by my coach. What probably would surprise people is the amount of food I consume. I eat a tremendous amount. Most days I will eat six meals and consume 2,500 calories. (I am 5'2" and weigh 113 lbs.) My nutrition comes primarily from whole foods like chicken, fish (lean proteins) and oatmeal, asparagus and broccoli (complex carbohydrates). In short, nutrient-dense, healthy foods.
* * *
The fitness journey of Lola Nez is very uplifting especially to those who believe they are too old to start working out. I have already encountered several amazing transformations of people who never joined a gym until they are over 40 yet with passion and commitment they can overhaul their bodies into their best form ever.
* * *
For the first time, Musclecontest will be held on Sept. 8 at the Subic Bay Exhibition & Convention Center, followed by a Bikini Run the following day.
This is a historical event for the local bodybuilding community as IFBB (International Federation of Bodybuilding and Fitness) Pro Cards will be issued to winners for the first time in the Philippines. The IFBB Bikini Pro contest is the highlight of the event.
* * *
Post me a note at mylene@goldsgym.com.ph or mylenedayrit@gmail.com.