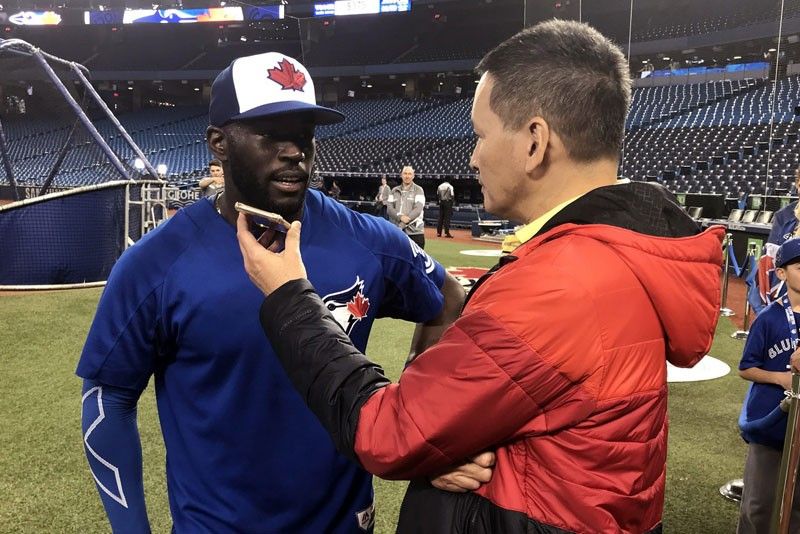 Toronto Blue Jays' Anthony Alford is interviewed by the author Anthony Suntay.
Baseball is America's pastime and one of their major sports draws. The Toronto Blue Jays is one of the top organizations in the league, having won two World Series titles in 1992 and 1993.
So when I traveled to Canada last month, I made it my mission to visit Rogers Center and learn a lot more about the team.
I called my friend, Jim Small, vice president for Asia Pacific of Major League Baseball (MLB), and asked if he could refer me to someone in the Blue Jays front office.
I was asked to contact Jay Stenhouse, the team's PR head, and after a few emails I was all set to cover a game, visit the team dugout, interview the players on the field, and just soak in the baseball experience.
The Rogers Center is a massive stadium, which can hold a little over 49,000 fans.
The game I watched was versus the Seattle Mariners, and being a Thursday night, I wasn't expecting a huge crowd. Quietly I was telling myself this isn't the kind of crowd I expected.
Why weren't there more?
When the barker announced the attendance — 22,300 fans — I was blown away!
On the field before the game, I had the opportunity to interview three players: the veteran Curtis Granderson, up-and-coming Anthony Alford, and Toronto Blue Jays star Kevin Pillar.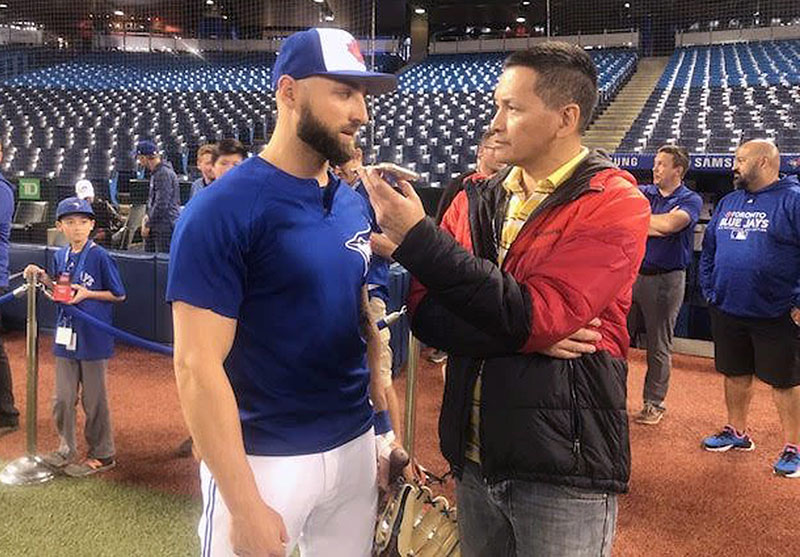 Kevin Pillar
Grandson is the elder statesman having been drafted by the Detroit Tigers in 2002 where he eventually started his pro career in 2004. After stops in New York (Yankees in 2010 to 2013 and the Mets from 2014 to 2017) and the Los Angeles Dodgers, he joined the Blue Jays for this season.
Alford is ranked number three on MLB's top 30 Blue Jays prospects. Toronto drafted him 112th overall, signed him to a contract, which paid him a $750,000 bonus and allowed him to attend university to play football, and then play baseball in the summer. On May 2017, he was called by to the Majors.
The man all the fans want to meet is Pillar, the "Superman!"
It didn't start out too bright for Kevin as he was drafted 979th in 2011, but he worked his way up the depth chart.
In 2015, Pillar was named the Wilson Defensive Player of the Year for center field, and in 2016 he was awarded the Fielding Bible Award for the same position.
"The season's been good, individually it has been good. We're playing good baseball sometimes, sometimes we're not. But we are right, where we want to be," Pillar tells me.
"It wasn't an easy journey for me, but this is something I've always wanted since I was a little boy. And I stayed with it through the ups and down of my career. I sacrificed a lot of things like teenagers want to do. And the rewards pay off. This is something I enjoy everyday," Kevin adds.
"It was very tough to get here. I mean, obviously you have so much talent across the world. Everybody fights to get the spots on each team. I think it takes a lot of consistency and discipline because every day you stop working, someone's passing you up," Alford said.
They play 162 games in the regular season and all that playing sometimes wears down the stars.
"It's a grind, if you play every day, especially for the position players. It takes a lot of mental toughness. You have to keep preparing to compete at the highest level every day," Alford states.
"The great thing about getting the chance to talk to people all over the world about this game of baseball is if you watch and paid attention to it, you find somebody that looks somewhat like you: there are short people, there are tall people, big people, small people, fast people and slow people. And the good thing about that is you don't have to be categorized early and to say 'I can't play, that I'm not tall, I'm not big, I'm not strong enough. Once you have hand-eye coordination, baseball is a possible opportunity for you. For me, I start to play when I was six years old, but some guys played when they got in high school. So you can start playing late and have a lot of fun doing it," Granderson says.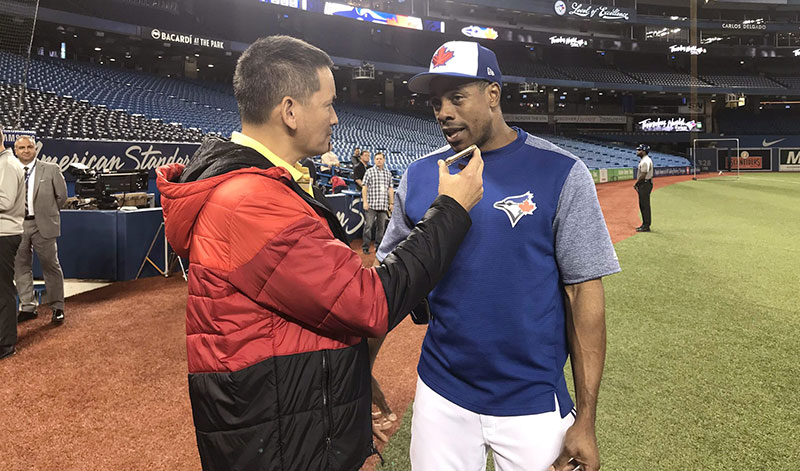 Curtis Granderson
The game has changed so much now that the athletes never stop improving their craft.
"Definitely you have to, it's changed a little bit from when I started playing up to where I am right now. When I grew up watching the game, I heard a lot of stories that guys went home to enjoy the off-season. Now once the season finishes up, they go home, three days to a week later, they're getting back at the gym, working on getting their strength up, working on their mechanics, and getting ready for the next season. But it's changed for the good," Curtis chimes in.
Should baseball be a sport kids try out?
"For kids out there — would you wanna play baseball? Well, you get a chance to incorporate the other sports. You have the speed element, so if you run fast, this game's for you. You have good core and balance so you can do gymnastics or figure skate, or even swimming. There's hand-eye coordination, so for mixed martial artists, you know where you're going to hit your targets. Everything coordinates into this sport and gives you an opportunity to be successful, no matter where you came from. No matter how tall you are, no matter how old you are. I'm 37 years old and I still have the chance to play. I've got teammates that are 23 years old. It's absolutely amazing that I work out in the off-season with high school kids. You never get old in this game! Julio Franco was a guy who played, people say he's 50 years old, no one knew exactly how old he was. But he still had a chance to play and do it a very high level," Granderson concludes.
My day with the Blue Jays was short but very memorable, and I look forward to visiting again and falling in love with the sport of baseball.
* * *
Follow me on Twitter and Instagram @anthonysuntay, and like my Facebook page: Anthony Suntay.