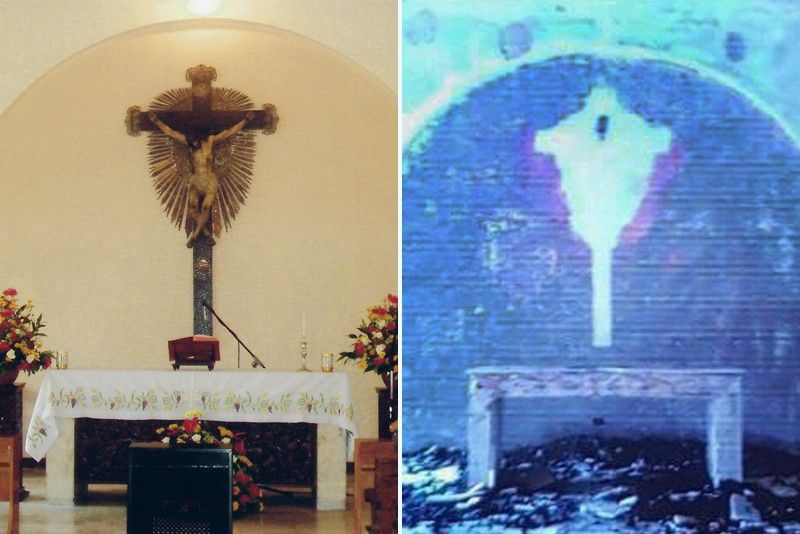 The beloved Capilla de San Lorenzo Ruiz of the then Manila Hilton did not survive the recent fire.
Manila Hilton: The embers of memories
A look back at the country's first-ever five-star hotel.
Manila Pavilion is on fire! Shock and disbelief came over those of us who knew the beleaguered hotel as the former Manila Hilton. It was emotional. It evoked a shiver of excitement because it was here where we cut our managerial teeth so that our perspective and expertise would become invaluable in our quest for excellence.
The Manila Hilton turned golden this month of March (1968-2018). That's fifty years, of the past. The memory stayed close and real. For this reason, we recently gathered twice to reminisce, including celebrating Mass to blow a kiss and a prayer to those who had gone up to Heavenly Hilton (Chiqui Recio, Anton Estrada, Caloy Avecilla, Bobbie Parial, Marilou Mabilangan, Lydia Aunario, André Charriere, Horst Angelkotter, etc.)
At the celebration, every time a familiar face entered the happy assembly, we lost it. We shrieked with full abandon. The walls could not contain the fun, the merriment and good humor that flooded the room. Anecdotes flew and crazy moments re-lived because everyone has had a taste of the hotel hysterics that were too good not to tell and re-tell.
Take Lita Bueno-Potassy, the first executive secretary to Mr. Colgate Holmes, the opening general manager. She was avant-garde in her fashion picks but always chic and stylish at work. When she was not on duty she doned mini skirts, colored stockings, fly-away hairdo, bold a-go-go discotheque watches and played Fifth Dimension's Age of Aquarius until the grooves on the vinyl vanished. Lita flourished and starred in a whirlwind romance capturing the heart of this international artist magician who proved no match to the kind of magic she brewed. Maestro Paul is turning 95 and had written a book on his magic tricks that can still hold his audience spellbound with his smooth sleight of the hand.
Before Mass, I approached the priest/presider to brief him. "Fr. Richard, today we remember the hotel of our era." "Really? Tell me more," he replied.
"My friend Maurita Arce and I were fresh out of college when we joined the pioneer staff who inaugurated the first ever five-star hotel in Manila." I described the various activities, promotions and attractions in the hotel that drew in clients and patrons. "It was the best of times, Father!" I exclaimed. "And the best of roses and romance, too!"
Marla Yotoko-Chorengel, the first PR director who doubled as our mother hen and deportment guru (together with Marilou Mabilangan), handed Fr. Richard a copy of the next best thing to being there — our book entitled Heartbeat. It was filled with stories written by the hotel owners, the top hotel executives, the staff and other personalities who graced its events. There were photos of valued guests, cinema greats, international artists and world leaders, too. They hogged the lifestyle pages and front pages of major broad sheets and news media at that time.
Still in high spirits, we promised to stay in touch and keep the connection alive, from across the seas and covering different time zones:
Betty Nelle: Manila Pavilion on fire!
Winnie Mercader: I don't mean to be pedantic, you mean, it's burning?Lolita Delgado Fansler: I hope, it's only like the Manila Hilton "fire" during the soft opening. Just smoke in a bodega with paint cans near the Front Desk.
Celia Silang-Cruz: There's no further news! This is frustrating.
Cynthia Conine: Fifty years and it is no more. Very sad.
Betty Nelle: Our prayers to all hotel employees and officials. Truly sad that this happened in its 50th year.
Ding Altamarino: I can empathize with everybody's sadness.
Marla Chorengel: From Chicago, GM Colgate Holmes sent a message.
Carmita Francisco: I pray for those who perished and staff who worked there. A tragedy, but memories remain intact
Noemi Dolendo: Are the hotel staff safe?
Norma Azores: Fire being contained.
Lolita: Any news on the chapel on the fifth floor?
(Everyone lifted their hearts in prayer hoping that the capilla, the only one of its kind and named after the first Filipino saint, San Lorenzo Ruiz, would survive the fire.)
Betty Nelle: It was a small, simple but tastefully beautiful chapel where we could visit anytime in prayerful solitude.
Art Lopez: The chapel is totally damaged. Sorry, Lolita, the beautiful cross is gone.
Marla: It was the chapel of significance. God's will is strange to human nostalgia. It meant a lot to us of Manila Hilton loyal folks.
Yes. The embers will fan memories that will remain forever in our hearts.
Thank you, Manila Hilton.