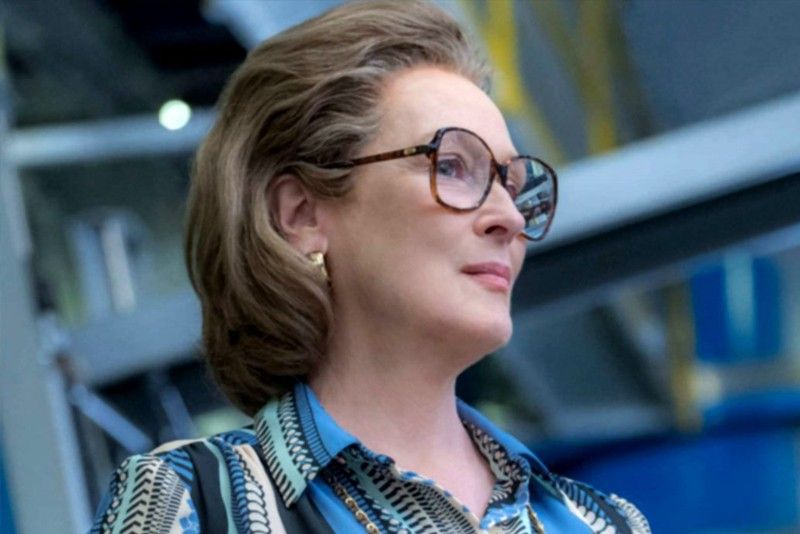 Meryl Streep as Kay Graham in 'The Post'
One weekend, three movies
I don't normally watch a lot of movies, but this weekend was out of the norm because I watched three — and liked all of them immensely.
The first one was Black Panther. I liked the feel of the "power of goodness" and I particularly was enthused that the bidas were sectors that have suffered from unfair judgment: blacks and women.
I had a particular liking for the lady general (with gold neck bands). She had the same feel as Wonder Woman. I even liked her more than Lupita Nyong'o, who was an Oscar nominee. I enjoyed the banter between the king and his sister; also how intelligent she was.
The second movie was The Post. It had me teary-eyed. I thought the acting of Meryl Street and Tom Hanks was beyond amazing. Meryl is in a class all her own; she becomes the par. Tom Hanks was so good, I wonder why he didn't get an Oscar nomination for his role.
Daddy headed The Manila Chronicle during the Marcos era — and he exposed the corruption fearlessly — so when martial law was declared the newspaper was closed and he was jailed.
I became teary-eyed as Katherine Graham stood for principle. Her walking down and all these young girls looking up to her and all the newspapers following suit — wow that was emotional. She was so unassuming and real. I ended up looking at the Internet and searching for things on Katherine Graham. I ended up downloading the book Personal History on my Kindle. It won a well-deserved Pulitzer Prize. She writes truthfully and well. I get a feel of American politics of that era.
The third was Wizard of Lies. I was able to get a downloaded copy. I found it gripping. Again the acting was superb. Robert de Niro and Michelle Pfeiffer were amazing, even the actors who played Bernie's two sons. Wow, they even looked like him.
I reflected on that and saw that the problem was that Bernie didn't see people. He just saw numbers and he calculated. He didn't see lives — he saw maneuverings of money. The writer said what really changed him was when his son committed suicide. Like night and day, he changed. When others committed suicide, he didn't get it, he just kept calculating. It was when his own son committed suicide that he realized the gravity of what he had done.
How hard it must have been for him to keep living...
Life lessons?
After each movie I sat with my sons and discussed what they learned or got from each movie. From The Post, my younger son said "be brave." From Wizard of Lies, my elder son was amazed that he did all of that without even telling his family — and that his family suffered the brunt of what he had done. In Black Panther, I loved that the king stood up to his father and said, "No, father, you are wrong, you should have taken the child. I will no longer do things the way you do." The movie ends with him taking a different slant; instead of secluding Wakanda, he embarked on a journey of helping others.
And so life goes on.
What I note is that when a movie reflects life and touches people, it rates well at the box office. The Panther is the biggest Marvel movie of all time. The Post and Wizard have Oscar nominations.
* * *
I can be reached at hellogina@gworld.ph.