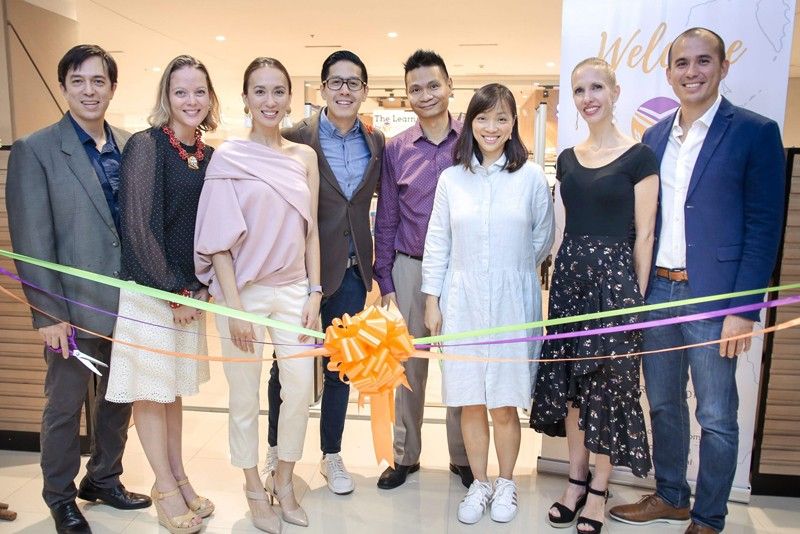 Peter Tan-chi Jr., Homeschool Global board member; Jennifer Tan-chi; Joy Mendoza; Edric Mendoza, Homeschool Global president; Wallace Panlilio (Homeschool Global business partner; Sheryll Panlilio, Homeschool Global business partner; Jenny Tan-chi and Paul Tan-chi, Homeschool Global board member
Who is afraid of homeschooling?
Homeschooling is a way of learning that is a 'parent-led, home-based instruction.'
MANILA, Philippines — It is not a new concept. Homeschooling has been around for quite a while, and yet only around 12,000 kids are presently homeschooling in the country.
"That is not even one percent of the private school population," says Edric Mendoza, president of Homeschool Global (HG), which inaugurated its Learning Hub at Ayala Malls The 30th recently.
It can be pretty daunting especially for parents who feel ill-equipped to act as teachers to their own kids. They worry about the lack of development in their kid's social skills, as well as their ability to adjust to a more structured environment when they move later on to the big school. Many still lack a full understanding of what homeschooling entails, confined as they are to the outdated method of learning by rote and repetition.
Technology has changed all that. Homeschooling is a method of learning that is defined as a "parent-led, home-based instruction."
"Parents don't have to teach everything because they don't know everything. Google does. Your job is to facilitate the learning, to help your kids find the information that they need. The most important question we need to ask is, what is the learning goal of my child. What will they become in the process of learning, so you can see what is the path to take to achieve that. You need to have content, the material that will help your child to learn," Edric remarks. "Each child is different in how they learn, how fast they learn, and what tools are best to help them in the process. We are trying to give the power to parents to choose how they will help their children learn."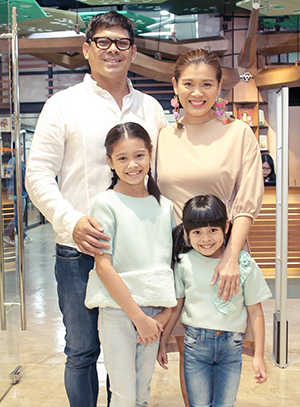 Home schooling parents David Kaufman and Mai Kaufman with daughters Alexa Kaufman and Calista Kaufman
"In homeschooling, you have very motivated teachers who are the parents, who really want the best for their child. Parents would naturally have the time and opportunity to focus on their child," says Wallace Panlilio, founder of Victory Christian International School (VCIS) Homeschool who together with his wife, Sheryl, a pre-school teacher, shares Edric's vision. "But not every parent necessarily has received the same amount of training or even has the inclination or disposition. We recognize that not many parents would know the content, and secondly, would know how to teach the content. That's where Homeschool Global would come in, because we will be able to help the parents."
"We support our homeschooling families by providing materials and programs to help kids learn better," Edric explains "They can choose their learning tract, whether they choose the 'tech' option using videos and online support, or the more personal 'touch' option where they can talk to an adviser. We offer parent training where parents can deepen their teaching skills. They can connect through learning groups and small communities, learning better together."
The hub at The 30th houses learning pods, big and small rooms for parent trainings and consultations as well as music and art classes. There's also an HG
Learning Hub in Baguio, Cebu, and Dubai in the Middle East. Homeschool Global serves over 3,000 students across 30 countries, from pre-school to high-school levels. HG is recognized by DepEd and is also accredited in the US and Dubai.
"We want families to take charge and design their own education," Edric says.
"We are like a DIY home depot of learning, where you can pick and choose your owneducation and learning environment that suits your family, your lifestyle and your end goal. We want parents to have the choice."
Wallace speaks about the 3Ps of homeschooling. First, it is parent-led. The best persons who would know their child would be the parents, so the parents who will be actively involved in educating their child is an advantage. Second, it is personalized.
You can focus on the strengths or interests of your child, whether it's in science, the
arts, or athletics. It's up to you. And third is pacing. Unlike in conventional schoolswhere you have no choice but to follow the flow, with homeschooling, you candictate the pace because you are in-charge. You can let the child dictate the pace with you being the facilitator or the guide.
"Homeschooling is more than academics," says Angel Aldaba, who together with her husband, Aldrin, a medical doctor, homeschool their three sons, Miguel, Rafael and Gabriel. They own a resort in Bulacan where they live, and where their kids are exposed to all sorts of people, to hotel guests as well as the staff. "We are not only teaching them but also training them to be prepared for the real world," Angel says. "They get to explore and discover what they want in life."
Interior designer, Mai Kaufman and her husband, David, travel a lot, together
with their young daughters Alexa and Calista who are homeschooled. "It is about learning through active living," Mai noted. "We are free to travel together anytime. Everything flows spontaneously. The opportunities for learning and for experiencing life are endless when you have your own time."
"It is about flexibility and resourcefulness. It's about teaching your kids how to use their time wisely, to be disciplined," says Joy Tan-chi Mendoza, Edric's wife and mother to five kids. Their eldest son, Elijah, is a gifted child who is a product of homeschooling. "I think our kids are more intelligent than we are, because they have opportunities that we did not have in a conventional school."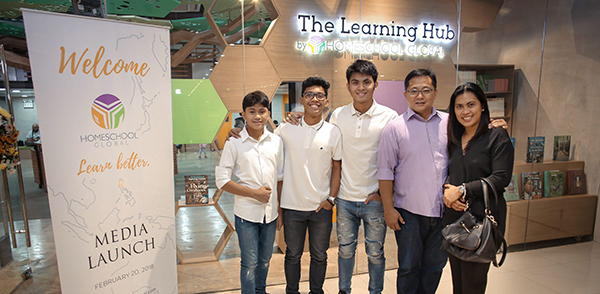 Miguel Aldaba, Rafael Aldaba, Gabriel Aldaba with parents Aldrin Aldabaand Angel Aldaba
"It is a total lifestyle decision and commitment, because if you choose to homeschool,everything you do as a family will revolve around that decision. That will now become your priority in the day to day," Joy remarks. "You have to show up, you have to be there, create structure for your kids so they also learn to adapt and build character."
"One skill that is common to homeschoolers is the ability to learn. They learn how to learn. Put them in any environment and they will be able to adapt and learn," Edric says. "It may not be for everyone. But this is the future of learning."