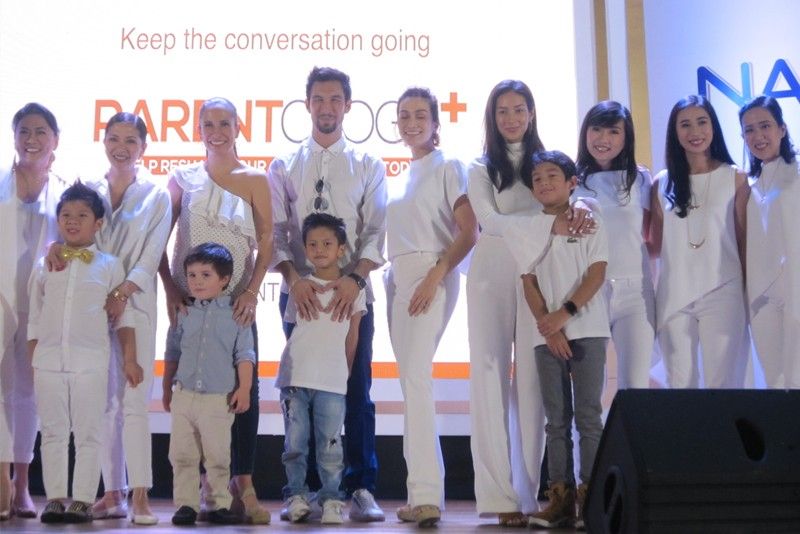 Nestle VP for marketing premium milks, Nestle Infant Nutrition Jean Varella Espino; Cat Arambulo with son Asher; Stephanie Zubiri-Crespi with son Sebastian; Anton del Rosario with son Myles; Steph Kienle-Gonzalez; Mikaela Martinez with son Tyler; and Nestle e-business manager Cyril Silagan, Nestle consumer marketing manager Apple Raperoga, Nestle business executive officer Arlene Tan Bantoto, at the Nestle Nankid Parentology+ event held in TriNoma recently
Raising kids in the digital age
Digital gadgets are taking kids away from the outdoors, giving them less time for social skills and creative thinking. Here's how today's parents face these new challenges.
MANILA, Philippines — Who was it who said, "It takes courage to raise a child?" This certainly could not be more true today than it was before the advent of gadgets and the Internet. Parents today are faced with new challenges that their own parents did not have to confront back in the day.
"Parenting these days is no longer simple. Children are growing up differently," says Nestle vice president Jean Varella Espino. "Not every parent knows everything. Parents can learn from one another. This is our advocacy, to help parents take charge of their future with simple steps that can be taken right at home. These day-to-day measures cover the different phases of life such as diet and nutrition, exercise and activity, socialization and creativity. "
"It's totally different these days from when I was growing up," says Anton del Rosario, a professional football player who used to play for the Azkals. Born and raised in San Francisco to Filipino parents, Anton remembers his childhood. "Every day, we would bike or walk to school with our friends," he recalls. "But now, the active lifestyle for these children is hardly there. I wouldn't say it's due to parenting, but it's due to, I guess, what's available to the kids. Even how they learn, a lot of children these days use screens at their school, whereas in my day, it was all pencils and pens."
Anton's seven-year-old son, Myles, goes to school at Brent, a 45-minute car ride from home. "They have a lot of lessons that are done through applications," the first-time dad remarks. "We can check-up on our kids through an app that we can go to.The teachers post photos of what the children do in school on these applications to keep parents updated."
"I don't like the screen so much, because I'm an outdoorsy guy. But I'm not going to say it's a bad thing. Innovation is very good, but there are ways that you can limit it," Anton says. "There are little things you could do to get your kids outside, to play in the park for 20 or 30 minutes, and let him work out his social skills, playing with other kids. These little things help so much when a kid grows up. Being on the iPad takes so much away from being that social. I allow Myles to watch his favorite shows on his iPad, but I don't want him to have a phone at his age."
"I feel like a lot has to do with balance. You need them to be active. You need them to be social," Anton adds. He definitely wants to raise Myles the same way he was raised. "My mom was quite strict when we were growing up. When it comes down to the main things – manners, respect, discipline — those were things instilled in me, which I want Myles to grow up with as well."
Cat Arambulo, a blogger, entrepreneur and mother of three (Danielle 15, Asher 6, and Alana 2) says that kids these days need to experience the world out there, "outside of their gadgets."
Growing up in Los Angeles, Cat remembers biking and falling in the bushes. "My mom would be gardening and I'd play with the worms. These are things I think kids of this generation have lost touch with. It's important to create that environment and expose them to the real world, not just the tablet."
"I think travel is one of the most important things you can expose your child to,"Cat says. "Through travel, the bonding with us as parents is greater. They also learn independence because we don't always bring along a yaya to help them."
"Mothers of this generation, millennial moms, organize 'play dates,'" Cat shares. "They organize activities for them to do with their kids and friends of their kids. There's a theme. They have games. They create an environment for them to play with other kids their age, to get off the computer and experience life."
"It's about balance. It's about being mindful," Cat says. "I think once you are aware of the powers of technology, you should also be cautious about its harmful effects, which is why we go out of our way to do things outside of technology."
At home, Asher has to earn his iPad time. "If he eats his vegetables or if he remembers to brush his teeth, he earns tokens which he can use to buy 15 minutes of iPad time, for example," Cat shares. "I think people should be aware that all these little things help shape their future."
Thirty-one-year-old Steph Kienle-Gonzalez is a millennial mom who is fully aware of the joys and perils of being a parent in this day and age of digital technology. The mother of two (Andrea, 4 1/2 years old and Arielle, 10 months) is also VP and COO of the family-owned furniture manufacturing company Philux.
"I feel you definitely have to be a little bit more careful with your children now because there is overwhelming information and distractions around. I feel that gadgets cause a lot of distractions, but I think they can also be a source of learning, don't get me wrong," Steph says.
"I still want my children to know what it's like to step outside and just not have a plan and enjoy the adventure, discovering all the little things in life such as nature, walking in a park, and not necessarily having to have toys or technology around to keep them entertained," Steph remarks. "I think it's very important to develop that interest in discovery."
Andrea enjoys her time on her iPad and certain educational games, but no phone. "I think that regulating screen time is important, so not every day is screen day," Steph shares. "I tell her, three times a week you can have screen time, and the other days, you can have sweets also. I am not too strict. It's just being mindful that not everything is free-flowing." From her own Swiss dad, Steph learned the importance of being on time, and from her Filipino mom, the value of putting the family first.
"I've been told that a lot of parents now are overwhelmed by information. You're told how to parent. You get a lot of pressure," Steph says. "My two cents would be to go with your gut. Keep your ears open and hear other opinions, but in the end, you have to be confident with the decisions you make for your children. I still believe, a mother knows what's best for her child." "Let's face it, we live in the 21st century so it's really hard to avoid gadgets," says Stephanie Zubiri-Crespi, lifestyle-food writer and book author. A young mom, she has two sons, Sebastian and Maximillian, with husband, Jonathan. "They do have gadgets, but it's all their favorite cartoons and movies. I don't let them play games because I don't want them to see it as a toy. The iPad or cell phone for them is like a small portable TV.
"It's not a toy," Stephanie says. "So we choose only what they can watch, and definitely
at a limited time, not every day."
"They can go out and play. I love it when my kids would pick up stuff that are not even toys and they'd invent games," Stephanie shares. "If you give them these things that are pre-set games, where is their creative thinking?
"I like to teach them values such as patience, understanding, kindness. Also, let
them explore their own individuality and affirm their own choices themselves. I feel that
it makes them very confident individuals," Stephanie remarks. "I realize that when you become a parent, you have all of these pre-conceived notions of how you want to be as a parent, how you want your child to be," Stephanie says. "But I realize now that, with two kids and a little bit of experience, sometimes you need to let them take the lead. You don't want them to be the better version of yourself. They have to be the best versions of themselves."