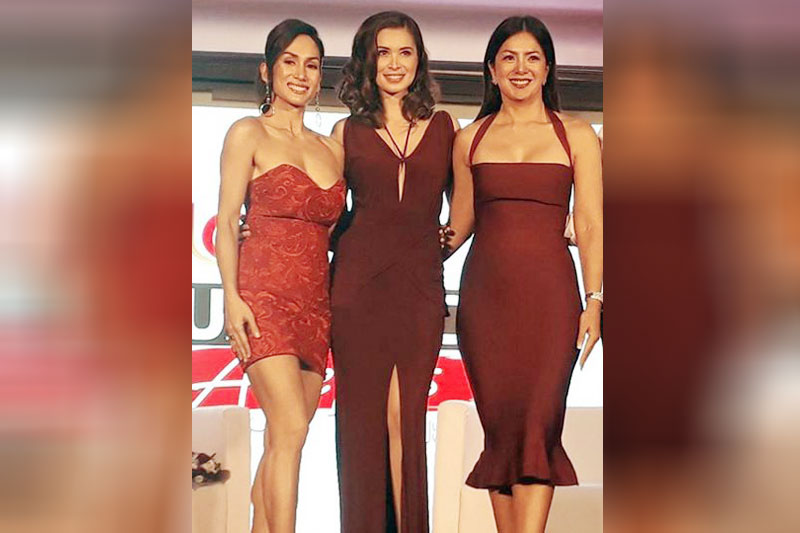 This is 40-plus: Ina Raymundo, 42, Sunshine Cruz, 40 and Alice Dixson, 48, are on Team Ageless, representing Century Tuna Superbods Ageless 2018's new category for participants 38 to 50 years old.

How to be ageless beyond 40
'Whether you're at your fittest at 20 or still at your peak at 40, we want to prove that age is just a number.'
Many women and men, most of them of significant age of course, have shared thoughts on agelessness, some of them in relation to beauty, some to wisdom, some to time. But this one from Charles M. Schulz is most apt for this story's theme: "Just remember, when you're over the hill, you begin to pick up speed." It doesn't coddle with flattery or put down youth. It's neither literal nor necessarily true. But it does inspire that part of us that operates on sheer will — the part that never gets brittle even as the body does and it's the part that pushes us, at what ever age, to keep going and succeed.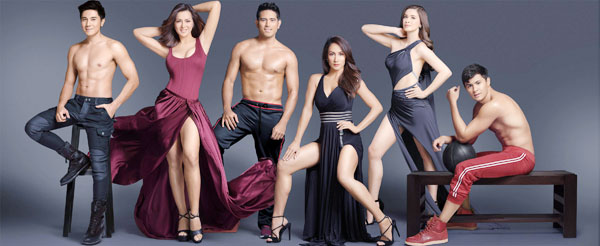 Century Tuna's roster of ambassadors — Paulo Avelino, Alice Dixson, Gerald Anderson, Ina Raymundo, Sunshine Cruz and Matteo Guidicelli — are proof that one can be strong and sexy at any age.
Now I wouldn't call any of the women featured in last Wednesday's event "over the hill," but they are picking up speed. I remember gawking at Ina Raymundo in that commercial from the '90s… you know which one I mean. At that time, a service like Netflix was sci-fi fantasy, and we watched actresses like Sunshine Cruz Bubble Gang and Alice Dixson in Okay Ka Fairy Ko! on CRT TVs. That was the '90s and I was a child — now I am an actual adult and these three, considered as beauty icons in local showbiz, somehow managed to look the same, even better. What sort of time-trickery is this? I thought as they went up the stage at the launch of this year's Century Tuna Superbods event as the faces of the annual campaign's latest evolution: Century Tuna Superbods Ageless 2018.
Sunshine Cruz, 40, Ina Raymundo, 42 and Alice Dixson, 48 shared their own thoughts on agelessness during the launch. "What makes a woman ageless is when she embraces her age. She knows how to take care of herself and doesn't believe in taking shortcuts," Ina said. And judging by their Instagrams, no shortcuts were taken during their respective journeys towards becoming Ageless Superbods. Ina does SYNRGY 360, vertical running, and dancing. Sunshine hardly posts any gym photos but she's into spinning and boxing. Alice is big on meal planning and healthy eating, and stays fit through boxing, spinning and lots of outdoor activities. They got into "Superbod" condition in time for their big reveal as faces of this year's search, proving that, with discipline and will, even those who are beyond their 30s can be Superbods.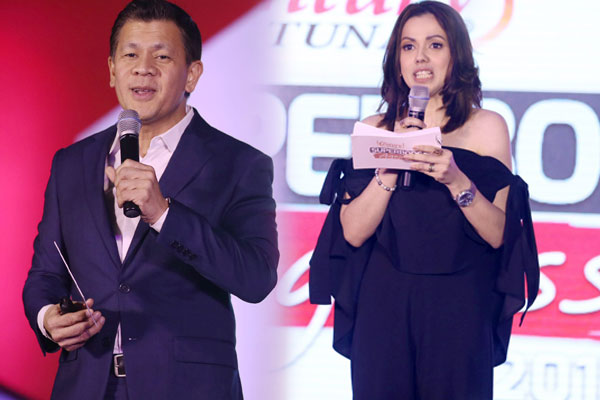 Greg Banzon, general manager of Century Pacific Food, Inc. and Gela Pecson, Century Tuna marketing sales manager (Photos by Joey Mendoza)
For the first time ever, the Century Tuna Superbods Ageless 2018 search features two exciting categories with 36 finalists: 20 finalists in the 18-37 years old category and 16 finalists in the 38-50 years old category. That's right — 50! Because it's no secret that there are a lot of Ageless Superbods who work hard to stay fit and healthy. "This year's Superbods search revolves around the theme of 'ageless,'" says Greg Banzon, general manager of Century Pacific Food, Inc. "This time around, we want to put forth the message that age should not be a hindrance to staying fit and healthy, and that we should never stop in our pursuit of physical fitness and wellness. That's why we added a new category for 38-to-50-year-olds." While Alice, Ina and Sunshine are ageless fitspirations, Gerald Anderson, Matteo Guidicelli and Paulo Avelino represent the superbods.
The Century Tuna Superbods Ageless 2018 kicks off with nationwide go-sees on Feb. 11, 18, 24 and 25 in Davao City, Cebu and Manila, respectively. Upcoming activities include the VIP Night, to be hosted by Mond Gutierrez and Gelli Victor, the Ultimate Challenge at Inflatable Island in Subic, the Superbods Weekend including the Underpants Run in Filinvest, the Zalora Fashion Show, and the Finals Night on April 12 at The Cove in Okada Manila.
Prizes include P500,000 each for four winners, a training contract with Star Magic, and a chance to win a Chevrolet Trax. Also at stake are special awards including Stylish Superbod of the Night, People's Choicec, Best in Congeniality, Superbods Photogenic, Runway Superbod, Superbod Beach Bod and Superbods Challenge Winner.
"Whether you're at your fittest at 20 or still at your peak at 40, we want to prove that age is just a number," says Gela Pecson, Century Tuna marketing sales manager. "We're encouraging and motivating everyone, especially those who fall under the 'Ageless' bracket, to take part and prove to others that nothing is impossible if you set your mind and heart to it." The abs of Alice Dixson, Sunshine Cruz and Ina Raymundo — all in their 40s — are motivation enough. Now everyone wants to be on Team Ageless, but even more important is how more people now believe it can be done.
* * *
For details, updates and registration, visit Century Tuna Superbods on Facebook.