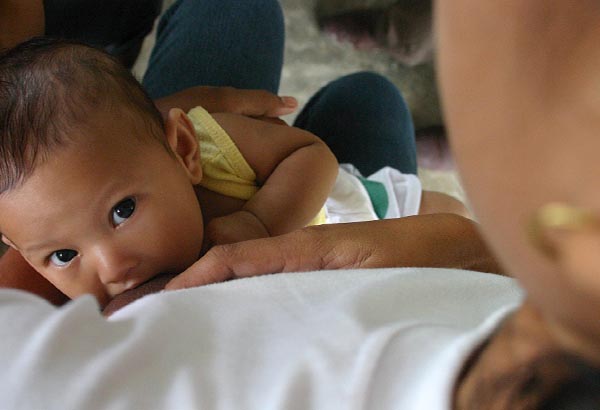 UNICEF Philippines and Nutrition International, working with the Department of Health, start a three-year programme across 45 municipalities nationwide to provide iron folic acid supplement to pregnant and post-partum mothers, promote optimum infant and young child feeding practices, and provide micronutrient powder for 91,000 pregnant women and 142,000 children 6-23 months old. UNICEF Philippines/Released
UNICEF, Nutrition International work to protect pregnant women, newborns
(philstar.com) - December 13, 2017 - 1:50am
MANILA, Philippines — United Nations Children's Fund (UNICEF) Philippines and the global movement Nutrition International recently began a nationwide three-year initiative to reduce risks of maternal deaths for pregnant women and protect newborn babies from life-threatening diseases.
Also a program in partnership with the Department of Health, the "Right Start Initiative" will provide iron folic acid supplement to pregnant and post-partum mothers, promote optimum infant and young child feeding practices, and provide micronutrient powder for 91,000 pregnant women and 142,000 children 6 to 23 months old.
"UNICEF Philippines congratulates Nutrition International for the launch of this very important initiative. We welcome and recognize the Right Start Initiative as a significant milestone that contributes to improving the nutritional status of Filipinos – especially the women and vulnerable children," says Lotta Sylwander, UNICEF Philippines Representative.
The initiative will cover 45 cities and municipalities nationwide. Of these, Unicef will roll-out the program in five municipalities: Basud, Mercedes and Capalonga in Camarines Sur; Leon Postigo in Zamboanga del Norte; and Monreal in Masbate. UNICEF and NI also work with the Department of Health in developing policies and guidelines to further improve the nutrition of women and children.
Pregnant women require additional nutrients such as iron and folic acid (IFA) to meet their nutritional needs and those of their babies. Deficiencies in IFA during pregnancy can negatively impact the health of the mother and the development of the fetus. Thus, the use of IFA supplements is associated with reduced risks of iron deficiency and maternal anemia in pregnant women.
In 2013, national prevalence of Vitamin A deficiency among children under five was at 20.4 percent; while anemia was found to be higher than 15 percent. Key nutrients including Vitamin A, Iron, Zinc and Iodine given in the right amounts on a daily basis has been a challenge for the most vulnerable Filipino children. Micronutrient deficiencies, along with low exclusive breastfeeding rates and diets that do not meet minimum standards, thus warrant actions to enhance proper infant and young child feeding practices, and improve the quality of the diet through Micronutrient Powders (MNP).
The "Right Start Initiative" has been implemented in several countries, including breastfeeding promotion and Vitamin A supplement to reduce mortality, anemia, birth defects, low birth weight and stunting through high-impact programs, resource mobilization, strategic partnerships, technical leadership and advocacy. Globally, the Initiative aims to reach 100 million women and girls with improved nutrition by accelerated interventions for adolescent girls and women of reproductive age, pregnant women and their newborns and infants and young children.