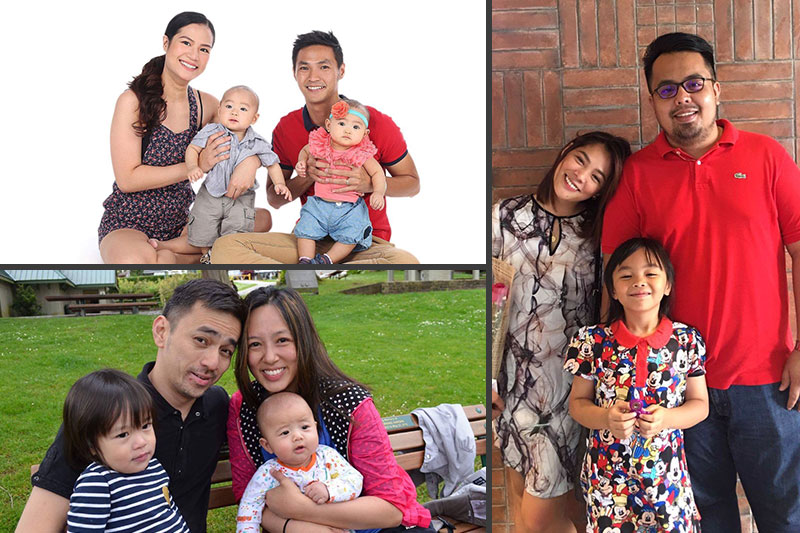 Moms (clockwise, from top left) Arria Tan, Doll Ricaplaza, and Diana Ong are put on an impromptu cooking challenge for their loved ones.
3 young moms talk about overcoming fear of cooking for loved ones
MANILA, Philippines — It's true. Not all moms are experts in the kitchen.
Although they can cook, they still worry that their dishes won't meet expectations. Because of this, they fear that they will disappoint their families, be it their husbands, parents, in-laws, or kids, with their cooking.
So when three moms are put on an impromptu cooking challenge, they have no choice but face their doubts. Can trying something new help them overcome their fear of cooking for loved ones?
Let Airra Tan, Doll Ricaplaza, and Diana Ong take us to the unforgettable experience.
Diana, the working mom
Diana Ong, 36, has been balancing family life and work for four years already. She is a marketing executive while her husband Arch is an architect. They have two children, Archer, 10 months, and Zara, 3.
Because she is a working mom, Diana doesn't cook too often but tries hard whenever she finds time.
"I don't want to see my husband's reaction after," said Diana as she picked up the spatula and began sautéing the ingredients of spaghetti. "I know sometimes he would say, 'Oh, it's good' pero it's just to please me."
What she didn't know was that Arch would taste her spaghetti. "It's really good," said the husband, not knowing it was actually cooked by his wife.
This immediately put Diana to tears as she watched the taste test on TV.
Airra and her greatest food critic
Airra Tan, 29, has only been married for one and a half years. Recently, she and husband Michael have been blessed by twinsAlonzo Miguel and Athena Maxine.
With a very young family, the all-around mom is hands-on at home. Cooking is one way of showing her love and care. She said, "Afraid ako na ma-disappoint 'yong family 'pag hindi masarap 'yong luto ko."
This is also true with her mom, who is her greatest food critic. "Baka laitin ni Mommy!" said Airra while watching the taste test. "Si Mommy kasi very honest 'yan. Kapag sinabi niyang 'di masarap, 'di masarap talaga."
The foodie mom is also joined by Airra's husband Michael, brother, and nephew. Together, they sit and savor the spaghetti — unaware that Airra cook it.
"Parang kalasa ng luto ko," approved Airra's mom, who actually flew all the way from Cebu.
Doll discovers something better
Property consultant Doll Ricaplaza, 28, has been married for 11 years already and has an eight-year-old daughter.
"Kinakabahan ako," she said before removing her blindfold. Although she studied HRM in college and cooks well, she was giddy at the challenge. It would be her first time to use Royal Spaghetti and Royal Spaghetti Sauce.
"Ngayon ko lang nalaman na may sauce, 'yong Royal," she admitted. "In fairness, malapot 'tong sauce niya. Ayan oh, super lapot niya."
Pleased with the result of her spaghetti, she enthused, "Wala akong na-contribute kundi maggisa. Wala akong ginawa, 'yong sauce lahat ang gumawa. Swak na swak sa timpla. Hindi mo na kailangan ng madami pang ingredients."
But when watching husband Francis and daughter Franchesca eat her dish, she suddenly said, "Naku, sabihin niya matabang!"
The father and daughter proved her wrong as they exclaimed how delicious the spaghetti was.
Moment of truth
The moment of truth finally arrived as Diana, Airra and Doll each came out to meet their families. Everyone was surprised yet delighted to know who their secret cooks were.
As for the moms, facing their fears was all worth it after seeing their loved ones' happy faces.
By offering premium ingredients, Royal supports moms in becoming the best versions of themselves in the kitchen — most especially this Christmas.
The Royal Sweet Celebration pack is the perfect example. It has spaghetti that is made with semolina so it stays firm even when overcooked. To complement the pasta is the Royal Sweet Style Spaghetti Sauce,which is not just sweet but also richer and thicker in texture.
So moms, choose Royal and cook the tastiest, sauciest and most festive spaghetti for the family this holidays!