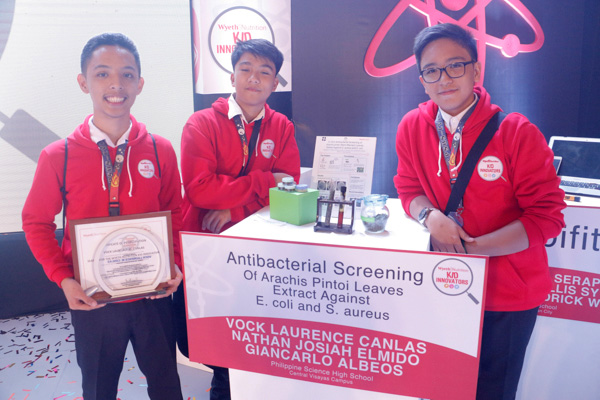 In front of the judges, their teachers and parents, and other guests, the winning team of (from left) Vock Laurence Canlas, Giancarlo Albeos and Nathan Josiah Elmido presented how they discovered the antibacterial properties of mani-manian leaves.
Philstar.com/EC Toledo
Awe-inspiring kid innovators dream of building a better society through science
"We know that children are the future of our world. We know that curiosity is the fuel of our intelligence."
Coming from Vock Laurence Canlas, an eighth grade student at the Philippine Science High School-Central Visayas Campus, the statement gives us hope for our nation. After all, Canlas, 13, along with Nathan Josiah Elmido, 13, and Giancarlo Albeos, 14, won first place at the Grand Finals of the Search for the Wyeth Nutrition Kid Innovators held last October 10 at the Sofitel Philippine Plaza in Pasay City.
Their winning innovation discovered and showed the antibacterial property of mani-manian (arachispintoi) in combating E. coli and S. aureus, types of bacteria that can cause diarrhea and skin infection, respectively.
In front of the board of judges, their teachers and parents, and other guests, the trio presented how they conducted antibacterial screenings to see the potential of mani-manian leaves. At one such screening, mani-manian proved more potent than amoxicillin.
And because mani-manian is abundant in their natural surroundings, they deduced that it can serve as more affordable—and even better—alternative to available antibiotics against E. coli and S. aureus. Moreover, they cited that mani-manian can be included in Republic Act 8423 or the Traditional and Alternative Medicine Act, which administers rules on production of herbal medicines.
Philstar.com sat down with Canlas, Elmido and Albeos and listened to their dreams not only for themselves but also for a better society.
What is it like to join the Search for the Wyeth Nutrition Kid Innovators?
Canlas: It's been so much fun. We learned more concepts about our innovations and even the other groups' innovations.
Elmido: We got to see the innovations of the other groups, to see what their passions are and their solutions (to problems). We also got inspiration and found new ways to even help each other.
Albeos: We learned how to work as a team and how to work under pressure.
You are one of the two regional schools who made it to the Grand Finals this year. How proud are you?
Elmido: We are proud, yes, but it's important that we still stay humble. If we become boastful of ourselves, it may affect our performance.
Canlas: It's all worth it. Everything that we have worked hard for paid off. But even if we didn't get the top prize, we'd still consider ourselves winners because we'd be able to serve other people through our ideas and innovations.
What do you plan on doing with the P100,000 cash prize?
Albeos: We will use it to modify our innovation and improve it.
Canlas: And also to work on other innovations that can improve our society. In terms of family, I'll give some for financial support.
Elmido: For something personal. I will use it to help my family and fund my schooling.
What do you dream to be?
Canlas: My first dream is to be a farmer, knowing that our country is abundant in plant resources. Making use of these plant's capabilities, I could help feed more hungry people.
My second dream is to be a biologist, and then last is to be a theoretical physicist to make theories. I have a lot of dreams but I will try to fulfill them one by one!
Elmido: I want to be an Aerospace engineer. It's not that I dream of going to space; I want to be a part of the process that brings people to space.
Albeos: I'm still evaluating myself, on how I can contribute to society. I'm not decided yet. I'm going to take it slow to see which area I excel in the most.
How important is it for adults to hear young people like you?
Elmido: For me, younger people have a different way of thinking than adults. So they have a different way of solving a problem. The young ones and the adults can collaborate and help each other to come up with solutions to society's problems.
Canlas: Adults must help children realize the great potential of turning curiosity into reality. This gives parents an important role too.
Albeos: Adults should take into consideration the ideas of young people like us. Because everyone has a say in what they want to do and also in contributing to society.
Little spark of an idea
Launched in 2015, the Search for the Wyeth Nutrition Kid Innovators aims to give children a platform where they can nurture their little spark of an idea.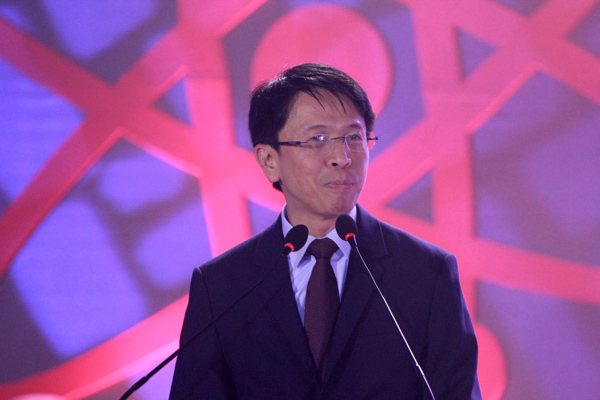 Eugene David, Wyeth Nutrition Philippines president and general manager, delivers welcome remarks at the grand finals of Wyeth Nutrition Kid Innovators. Philstar.com/EC Toledo
"You know everything starts from a little spark of an idea. . . until someone makes it happen," enthused Eugene David, Wyeth Nutrition Philippines president and general manager.
"If even one of these kids would get to the level of achievement close to getting man on the moon or even leading a breakthrough solution to a long-standing societal problem, then we at Wyeth Nutrition would be happy and proud to have been part of the little spark that started it all," he added.
Five finalists were chosen to present their innovations at this year's Grand Finals. Finishing at second place were Adrian Dar Serapio, Zander Ellis Sy and Philmon Sedrick Wee of Xavier School in San Juan, and at third place, John Ronan Reyes of Tabaco National High School of Albay. They took home P50,000 and P25,000 cash prizes, respectively.
The other two finalists were students from Makati Science High School and Tinajeros National High School of Manila.
For the first time ever, the Search for the Wyeth Nutrition Kid Innovators opened an "Upcoming Kid Innovators" category for students as young as 5 to 8. Eight-year-old Matthew Ryan Chong of MGC New Life Christian Academy won first place for his project called "How to Get Rid of Mosquitoes Using Technology." Keysha Vince Quirit, 7, of Baguio City Science Foundation finished second, while Thadea Tamanio, 6, of Inocencio School Montessori Playskul-Inocencio Integrated School (ISMP-IIS), placed third. Their cash prizes were P25,000, P15,000 and P10,000, respectively.
"Our kid Einsteins of today—who hopefully because of their curiosity, creativity and innovative spirit, together blessed with the nurturing love and support of their parents—have clearly enormous potential to change the world," David concluded.