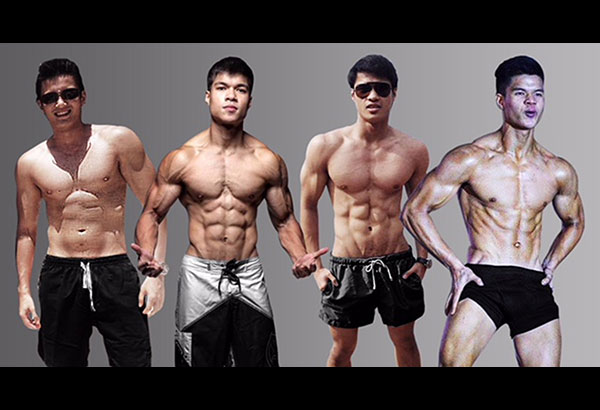 Romans' holiday: It's easy to confuse one Roman brother for the other because all of them (Carlo, Sandro, Leandro and Toni) are buffed. Everyone generally eats healthy.
The Roman brothers' Iron League: A shared passion for fitness
(The Philippine Star) - November 13, 2017 - 4:00pm
It is easy to confuse one Roman brother for the other, because in this family of four boys and one girl, everyone is buffed. The DNA they share admiringly blessed them with a shared passion for fitness!
Carlo, the eldest, works out five to six times a week. Sandro, the second in the family, never misses out on a workout any day of the week. Leandro, who is younger, goes four times on the average. The youngest boy Toni, who is still in college, goes to the gym around five to seven times a week.
"Carlo and I make it a point to be in the gym at 6 a.m. every day. It's a priceless activity that I wouldn't trade for anything else. The only way for me to manage and balance the stresses of life is to have some critical alone time with the dumbbells and the treadmill. Aside from sickness or busyness, only an elephant gun can stop me from running to the gym," Sandro told us.
Philippine Star: Who was the first to get into fitness? What inspired you to get into it?
Carlo Roman: Being the eldest, I was necessarily the first to get into fitness among us when our dad started bringing me to the gym. This was right around high school when going to the gym was not yet such a big thing here in Manila. What's interesting, though, was how getting introduced to fitness slowly became a rite of passage for all of us. It came to the point where all my brothers literally looked forward to the day that our dad would bring them to the gym for the first time. Toni obviously had to wait the longest.
Sandro Roman: One afternoon in 2007, Leandro asked me to do some push-ups with him in the house after playing basketball at the park. He laughed at me after seeing my lanky muscles fail after two pushups. To this day, I still think of that afternoon.
Leandro Roman: I would say that inspiration came from different directions for each of us. We were all avid basketball players. Naturally, the court was the stage that brought out each one's competitive nature. When I saw Carlo's progress in the gym manifest in his game, I quickly followed suit, though I was underage for a gym membership. I started strengthening my body through bodyweight workouts at home every day when I was 14.
Toni Roman: My three brothers were the first ones to get into fitness, but Sandro was really the first one who achieved a physique that would do well on the competitive level. Sandro used to be very skinny and he really wanted to change that image of his so he decided to begin his fitness journey. I was personally inspired by my brothers, especially when I started seeing results from them and how they really put their dedication into living a fit and healthy lifestyle.
What inspires you to continue such a lifestyle?
Carlo: To be honest, I've come to realize that days without fitness are always the days when I feel and perform the worst. An intense, demanding workout in the morning jumpstarts my day, helps me focus on my tasks, and keeps me in shape to deal with the stresses of everyday life.
Sandro: Initially, my motivation for working out came from the WWE wrestlers that I watched every single day as a kid. Today, working out is both fun, pain, and a form of therapy that I can no longer live without. The gym is the only place in the world where I can tune out all my worries and distractions.
Leandro: Fitness to me is a passion. It's beyond simple hygiene or responsibility at this point. Aside from lowering risks of illness and keeping stress levels down, I do this because I want to reveal my body's potential, much like anyone honing his craft. I can't deny the competitive aspect of fitness. It's always there.
Toni: Results would always keep me going and when I see an improvement with my body, it makes me want to go further with my fitness journey while at the same time inspiring other people to begin theirs.
Is there a specific diet that your house follows?
Carlo: As a general rule, we try to keep our protein lean and our carbs low. We rarely eat together on weekdays because of our schedules, but our packed lunches are generally the same.
Sandro: Yes. Everyone generally eats healthy, but we never neglect our love for house food. We use only lean cuts of beef for beef stews such as sinigang and kaldereta. Our katsu is made from either chicken breast or pork tenderloin. My yaya also makes the best bowl of chili con carne, which is made from fat-free ground sirloin. Fried chicken is air-fried.
Leandro: There is no hard and fast diet instilled at home, but the regular menu has come to revolve around lean protein prepared with low-fat cooking. There's a lot of chicken breast, tenderloin of pork, and top sirloin of beef. These could be grilled, roasted, braised, you name it. On the side, we'll have varying forms of starch, vegetables and fruits, also prepared in different ways. I keep the variety and flavor high in the home kitchen; that's been key to sustainable healthy eating for my family.
Toni: Basically, we just eat whatever's on the table and they come in big batches. Most of our meals are clean. Eating healthy together really motivates us to continue living this kind of lifestyle.
You travel a lot as a family. Do you indulge in cheat days? If you do, what is your favorite cheat meal?
Carlo: Yes. Burgers.
Sandro: I believe that cheat days are essential for both body and mind. When we're abroad, we eat whatever we want, but we never forget to run in the mornings and portion our food throughout the day. I love Turkish cuisine, particularly lamb doner kebabs that come with lots of spicy yogurt sauce and generous servings of basmati rice.
Leandro: Oh, yes. When traveling, I'll always go for the local delicacy, like roast goose in Hong Kong, paella in Madrid or empanada in Ilocos. When I'm indulging in town, I'll have a cheeseburger, fries, and some tequila.
Toni: I think cheat days are inevitable especially when you are surrounded by really good food abroad. I really make it a point to savor and enjoy my cheat meals, especially when a big burger is right in front of me.
What's the best tip you can give to a person who wants to get into fitness?
Carlo: Make sure your gym is near home, school, or the office. Work out early in the morning while the gym is empty and before all the emails come in. Work out with friends (or your three brothers) and compete and make each other better, and do it every single day.
Sandro: If you want to get the job done, you have to love the job. Don't do it for something as fleeting as vanity or ego. Do it for passion. Do it for yourself, the principles you believe in, and the people you love. Do it because you genuinely want to do it.
Leandro: Make the decision and be in it for the long term. The shortcuts are exhausting, fleeting, and you'll end up dreading fitness. Spend time learning the proper training technique and the logic behind different diets. Find out what works for you and stick to it.
Toni: Learn to appreciate fitness not only because of your potential to look good physically, but also how it could make your life better by making you stronger emotionally. Pour everything in the gym and one day, stand proud.
* * *
Post me a note at mylene@goldsgym.com.ph or mylenedayrit@gmail.com.