#WhyWeFight breast cancer
October 23, 2017 | 4:00pm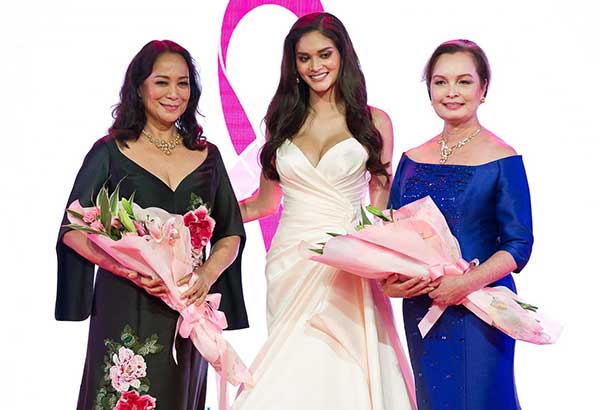 With the Philippines having the highest incidence of breast cancer in Asia, it is heartwarming to know that the sisterhood of the ICanServe Foundation is around to help those in need with a clear reminder that early detection is vital to being cured."There is life during and after cancer. The mere fact you have breast cancer survivors walking down the ramp is showcasing hope and life in motion!" stresses Kara Alikpala, founder, ICanServe Foundation. "Some of the organizers and women in the audience are also cancer survivors brimming with hope and rallying for fellow survivors.
With this year's theme "WhyWeFight," ICS chairwoman Libet Virata explains, "We need to remind everyone that breast cancer does not equate to a death sentence — it is curable, most especially if caught at an early stage. Our muses include mothers and their young children, or grandmothers and their grandchildren. We have some supporters who walk in honor of a family member or a dear friend who passed away."
The annual fundraising event at the Raffles Ballroom is always filled with supporters and friends who make sure not only to donate funds or buy auctioned items, but to also attend the fashion show headed by celebrities, models and survivors as they join ranks to show a united front against the disease.
Designers Ito Curata, JC Buendia, Cary Santiago, Vania Romoff, Mia Arcenas, and Rosenthal Tee presented their holiday collection led by three Miss Universe title holders, Gloria Diaz, Margie Moran and Pia Wurtzbach. Together with Asia's Next Top Model winner Maureen Wroblewitz (who walked in memory of her mother who was an active ICS member), Solenn Heussaff, Jasmine Curtis-Smith, Katarina Rodriguez, Tootsy Angara, WynnWynn Ong, Techie Velasquez, Mila Camus, Sandy Moran, Sabrina Panlilio, Mitzi Borromeo, ICS co-founder Crisann Celdran, and many others were applauded and loudly cheered as they walked on the ramp.
* * *
Generous donors for the evening were Philip Stein, Jewelmer, Security Bank, Raffles Hotel, Del Monte, Manulife, Mundo Design+Build, Ideal Vision, Pagcor, and Mercedes Benz.
For information on how you can support ICanServe projects and programs, visit www.icanservefoundation.org/ or www.facebook.com/FashionCanServe.