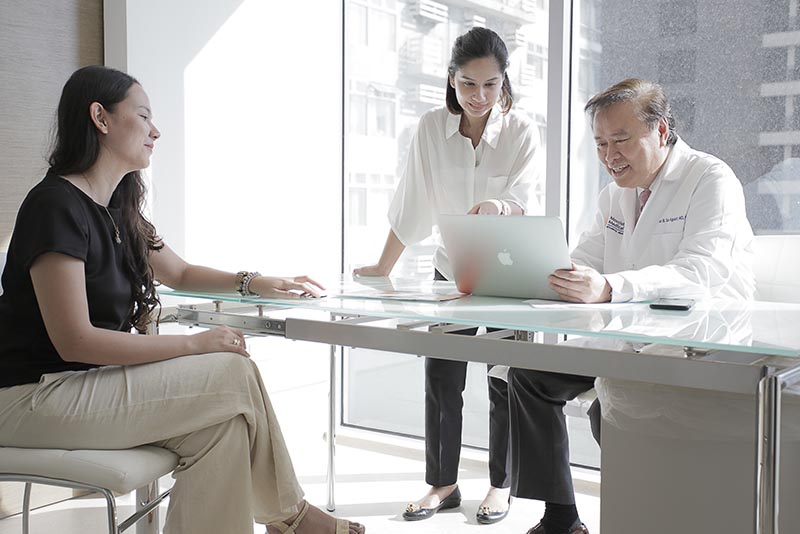 Dr. Norman San Agustin at the soon-to-open Asia Breast Center.
World's first profit-for-charity breast care center opens in Makati City
MANILA, Philippines — According to the Department of Health, one out of four Filipino women is at risk of getting breast cancer in her lifetime.
Alarmed by this statistic, Dr. Norman San Agustin, a fellow of the American College of Surgeons and Founder and President of Morristown Surgical Associates at the Morristown Medical Center in New Jersey, made it his mission to return to the Philippines to offer a more accurate diagnosis and a multi-disciplinary approach to breast cancer management.
Thus, in time for Breast Cancer Awareness Month this October, Dr. San Agustin is opening the Asia Breast Center in Makati City. The center is said to be the world's first and only profit-for-charity ambulatory breast cancer care facility dedicated solely to the management of breast diseases.
Located at the eighth floor of medical mall Centuria Medical, the Asian Breast Center is believed to be the world's first fully comprehensive center dedicated to providing holistic care for the prevention and treatment of breast cancer and other breast-related issues.
Besides standard consultations, digital mammography and breast ultrasound, the center offers outpatient breast cancer surgery, oncoplastic surgery, radiation therapy and treatments like Intraoperative Radiation Therapy (IORT) and Molecular Breast Imaging (MBI), which are said to be the first of their kind in the country.
Instead of undergoing six and half weeks or 33 treatments of chemotherapy, breast cancer patients can now just have a single dose of IORT radiation therapy for 25 to 30 minutes immediately after lumpectomy or extraction of breast lump. According to the center, this does not only save the patient travel and treatment time and expenses; it also saves the breast because instead of total mastectomy or taking out the entire breast, only the affected lump will be removed.
MBI is another non-invasive treatment that has been likened to a "super X-ray vision" that can reportedly provide 100 percent accurate breast cancer detection. The one-hour procedure is said to be 400 times better than mammogram because according to the center, Asians have dense breasts, which means their bosoms are mostly composed of connective tissues like milk ducts, milk glands and supporting tissues, than fatty tissues.
Having dense breasts can be challenging in detecting breast cancer since both dense tissues and malignant masses appear white on mammogram. MBI makes tumor cells highly visible with a special camera.
MBI is said to be not only better than mammography in accuracy but in reducing pain commonly associated with mammogram. Doctors assured that the MBI only puts pressure on the breasts, but without any pain.
The Asian Breast Center is one of the more than 160 clinics and centers — from internal medicine to pediatrics, rehabilitation and private nursing — that will open in Centuria Medical, said to be the country's first medical mall.
"While it may look extravagant, we are 40 to 60 percent cheaper than hospitals," managing director Dr. Chelsea Samson said of Centuria Medical, an outpatient medical facility that fulfills Century Properties Group Executive Chairman Jose EB Antonio's vision to elevate the country's medical tourism, a growing industry with a great potential in the Philippines.
Given the country's rich natural resources, Samson is confident that Filipino doctors can provide high-quality healthcare that can compete with the rest of the world.