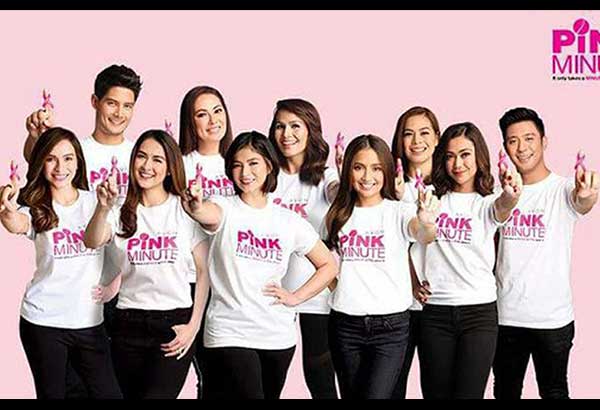 Pink about it: Avon Philippines' Pink Minute campaign features brand ambassadors Jennylyn Mercado, Marian Rivera, Angel Locsin, Kathryn Bernardo, Jodi Sta. Maria, Rocco Nacino, Daniel Matsunaga, Ruffa Gutierrez, Iza Calzado, and Bettina Carlos who encourage everyone to make breast self-exam a daily habit.
A pink minute can save lives
Did you know that it only takes a minute to help save millions from breast cancer?
In observance of Breast Cancer Month this October, Avon Philippines reiterates the importance of making breast self-exam (BSE) a habit to finally be able to kiss breast cancer goodbye.
This year though, there won't be fun runs or various activities to mark the occasion. Instead, the company for women launched the "Pink Minute Campaign," which features Avon Philippines' brand ambassadors encouraging the public to "pink about it" and do BSE.
"This year's campaign is different because we're going to utilize the power of social media to reach as many people as we can. In that way, we would be able to convey the importance of early detection in defeating the killer disease," explained Faith Fernandez-Mondejar, director for communications, Avon Asia Pacific and Philippines.
The Pink Minute campaign kicked off a series of videos featuring celebrity ambassadors Marian Rivera, Angel Locsin, Kathryn Bernardo, Jennylyn Mercado, Ruffa Gutierrez, Bettina Carlos, Jodi Sta. Maria, and Iza Calzado.
"Bettina Carlos is so happy to be part of the campaign because she had quite a scare before. Thank goodness it didn't turn out to be breast cancer. The experience made her more aware, more conscious. And for Bettina, being part of the Pink Minute campaign is an opportunity to educate everyone about the disease," shared Mondejar.
In the video, each celebrity is given just one minute to complete a chore.
Can Angel Locsin pull off a makeup look under 60 seconds? Can Marian Rivera paint all her nails in one minute? Or can Jennylyn Mercado put icing on her cupcakes in just one minute? The answers are no.
"A minute is just really so short and there's really not much you can do with it. But not if it is what Avon Philippines calls a Pink Minute," added Mondejar.
A Pink Minute is a minute spent doing a simple breast self-exam or BSE. And it is a minute that definitely can save your life.
That's what Avon's Pink Minute campaign is all about — making it a habit to spend one minute of your time to do BSE because early detection is still our best defense against breast cancer.
"The best time to do the breast self-exam is seven days after your period; or if you're already on menopause, you can do it every first day of the month," advised Dr. Karin Garcia, a family and palliative doctor.
BSE can be done while lying down or in front of the mirror after a shower or before getting dressed. Feel your breasts by pressing your fingers firmly to feel any lumps. If there is any, see your doctor immediately.
"Eighty to 90 percent of the time, lumps are telltale signs of breast cancer. Other symptoms to watch out for are skin dimpling in the breast area, discoloration, weight loss, fatigue, loss of appetite and pain," Dr. Karin said.
According to Karin, don't delay consultations because stage 3 breast cancer is still treatable.?"If there's pain, that's quite advanced already," she warned.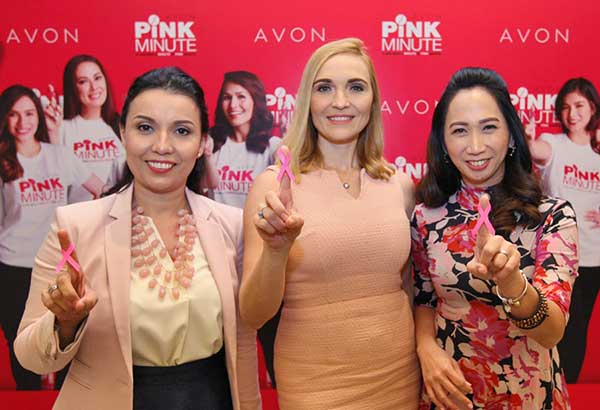 In the pink of health: Dr. Karin Garcia with Avon Asia Pacific-Philippines director for communications Faith Mondejar and executive director for marketing Agnieszka Isa.
Photo by JESSE BUSTOS
Breast cancer spares no one
The Pink Minute campaign videos also feature actors Daniel Matsunaga and Rocco Nacino because breast cancer also affects men.
"Breast cancer spares no one. Men can have it, too. It actually affects everyone in the family because when you lose someone to breast cancer, that's pretty devastating," said Mondejar.
Rocco is a consistent supporter of the cause and Avon's advocacy, along with his mom Linda who is a breast cancer survivor herself.
Beauty for a cause?
KGBC and Pink Minute are in partnership with the Philippine Cancer Society Inc. (PCSI), with the Philippine General Hospital (PGH) Breast Cancer Center and the BCC support group as the beneficiaries. To date, a total of P24M has been raised through product sales, donations, and walk/run events in support of the crusade.
This year, Avon's Sweet Honesty Promise Eau de Toilette Spray and pedometer watch are earmarked as fundraising products.
The Pink Minute campaign supports Avon's global Breast Cancer Promise, a renewed multi-year commitment to educate women about breast health that builds on its legacy of supporting the breast cancer cause. Avon globally will work with a host of educators, partners, health organizations, and experts to deliver greater public awareness of breast cancer and make sure every woman knows how to take action.
"We believe that no woman should succumb to the disease because she didn't know about it or didn't have access to information about it," said Agnieszka Isa, executive director for marketing.
Indeed, it only takes a minute to do it (BSE), it only takes a minute to pink about it.
* * *
Those who wish to know more about how to properly execute BSE, get free consultation, and know more about breast cancer may call the Pink Minute hotlines at 0917-155PINK and 0928-524PINK.