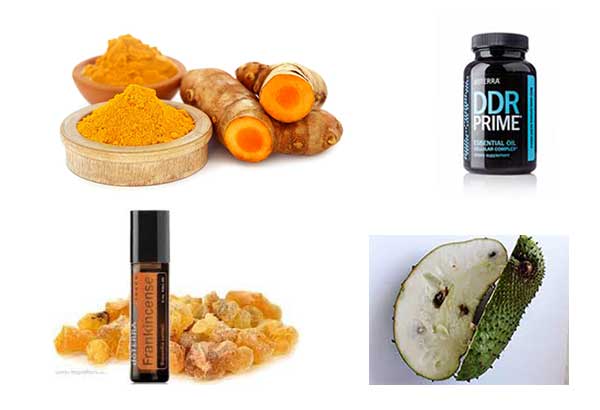 Food as medicine: "I had malignant invasive cancer, but I refused any kind of chemical or invasive treatment because I had seen the effect these had on people I knew," says author Gina Lopez. Instead, she resorted to natural healing.
How I Conquered The Big C, The Natural Way
Health is so important in life. My path to health is to be very careful about what I eat, to exercise, to sleep — and, most importantly, to stay positive. I am not keen on anything chemical because this puts a strain on the kidney and liver. Living in a clean environment is equally healthy — the air we breathe, the water we drink, and the company we keep. In today's day and age, we need to be careful about the radiation coming from our computers, our cell phones, etc., so controlled use of gadgets is important for health.
Sometime back, I noticed a lump in my breast. I was not worried at all because it was shrinking through the use of a laser I had gotten from a friend. However, I had a doctor friend who insisted on a biopsy so I gave in. Going back, if I had the chance to make a choice again, I would not do the biopsy because people in the alternative field have told me that cutting up the lump actually spreads the cancer cells and this to me makes sense. Anyway, the result was that I had malignant invasive cancer — and this was validated by tests in Singapore. I was totally unperturbed because I felt fine. I refused any kind of chemical or invasive treatment because I had seen the effect these had on people I knew. I didn't tell anyone at all because I didn't want to be hassled into doing things. I told my family only when the tests conclusively indicated I was okay. It took eight months — and my sense is I was probably okay way before then — and I just didn't want to take the tests until I had at least a month's use of a machine called the Beam Ray.
I did consult a naturopath — Dr. Albert Jo — who has a healing spa in Negros. This is his email: zoelyf_ja@yahoo.coman. His approach is nutritional. He himself had been sick and overweight and he cured himself. Now, he is healthy, sprightly, and full of energy. I also had an alternative doctor who had stayed in my home for a few days but lives in Tennessee. His name is Dr. Brent Davis. His email is docbdavis@comcast.net. He was key because he would give me programs on the Beam Ray specific to me.
My regimen: I did so many I am not even really sure what did it — because each modality I used had a track record. I wanted to play safe. Here is what I did:
• Turmeric. Every morning, on an empty stomach, I would take turmeric. The turmeric root is soaked overnight, and then in the morning squeezed without any water at all. Pure sap. One ounce will do. This kicks ass the immune system and I am still doing it now. I know of people who have been able to heal themselves just by turmeric alone. One lady from Romblon said the doctors had given up on her, she was even in a coma-like state for a period — and now she is well. Her name is Miriam and this is her number: 0906-4308240. Now, she makes turmeric tea for me which helps the farmers and which I sell in my store G Stuff located in Rockwell.
• Guyabano. This is equivalent to the most potent chemotherapy around. I take a cup of the pulp — about 10 minutes after the turmeric. It's ideal to give some space so each treatment can work its magic. Now, for maintenance, I just take half a cup.
• Frankincense. This is the Doterra brand. I took this five times a day. Two drops in the mouth, three drops put in the cancer area, three drops to rub on the palms, and then placed on the soles of my feet. I then inhale it at least nine times deeply and slowly. It's very relaxing. Now, I just do it morning and evening. I have read of many with stage 4 cancer who have been able to heal themselves just with frankincense and the Doterra Lifelong Vitality pack — this also has a track record.
• DDR. This is also a product of Doterra — I doubled the dosage. This is for cellular renewal.
In the evening to detox, I took lemongrass juice fresh from my garden. I added fresh pineapple juice because I didn't like the bitter taste of the lemongrass. It has a good detoxifying effect. This also has a track record.
I stayed away from sugar. Cancer cells love sugar.
• Beam Ray. Look it up on the Internet. There are many testimonials. What I was told is that it has a hundred percent rate of success with cancer. It was so successful — the FDA in the States banned it. I ordered the machine. The cost is $6,800. I did this for a month for an hour and a half in the morning and an hour and a half in the evening. This is their email address: beamray@lycos.com.
I am still doing it albeit different programs.
I also took lots of juices to make my blood alkaline and that must have helped.
Regular ultrasound tests at St. Luke's have been consistent. I am clear. I also do the urine test by Dr. Efren Navarro regularly. This is his email: efnavmed@gmail.com. People from all over send him their urine. The test results come the next day and the cost is only P600. The basic principle behind the tests are: There are three situations wherein cells multiply: pregnancy, wounds, and cancer. If you have none of the first two and your cells are multiplying, one probably has cancer. It's a cancer indicator that detects cancer even before the normal tests. I heard about it from my doctor in Tennessee. The threshold for cell multiplication is 50. I got 48. I also sent my blood and urine samples to another group that detects imbalance and suggests diet and supplements to correct any imbalance that may exist. I also came out with flying colors here.
I feel healthier and happier now. I suffered no drawback at all. There was a time when I lost weight — about 10 pounds. I gained the weight back. Then, after taking the supplement program for three months, I lost weight again. My perception is because my metabolism is so high — no matter what I eat — I just don't gain weight. I have NEVER been in a situation in my life where I don't gain weight. If you are interested in this, contact Pinky Bacliig. This is her email: pvbaclig@gmail.com.
One doesn't have to spend so much money or suffer to get healed. I continue to have the stand that lifestyle, diet, and staying positive are the best paths to wellness.
Even if my tests indicate I am "well," I am still doing everything I was doing to get my cancer indicators down. I am just more flexible now with the sweet component. I take Organic B maple syrup, sometimes honey, sometimes coco sap. But I absolutely don't take white sugar. It's so chemical.
Other alternative cancer cures that I know to have worked:
• Oxygen food. If you haven't been to Van Gogh Is Bipolar, go. It's a restaurant in Quezon City. The owner and founder is Jetro — and the man is amazing. When he was young, he was diagnosed to be bipolar and was put on heavy medication. Then he discovered that most medicines had their sources in food. So he made himself a diet. If it works, it works. Well, he is off all medication, has his own restaurant, which came out on CNN and BBC. He has come out on Ted Talks. And he travels around the world regularly to sell his artwork. He continues to help people with some mental imbalance. A few months ago, he told me his partner was diagnosed with stage 4 cancer, so he put him on an oxygen diet. In five days, his partner excreted the tumor — and in 10 days, the man was cancer-free. It's pretty amazing! Then he showed me other pictures of people who had been healed. So I had his cook come to my house to teach my cook, Ming, to do oxygen food. The principle behind it is to give minimal heat so as to keep the nutrients and energy force of the food intact. It can be done so it's still very tasty. There is no stir-frying. One blanches in hot water very briefly, and then putting the sauces and pouring the oil after. You will be surprised to experience the tastefulness of the food. I have even invited friends over and they love the food. I have been eating like this for several months now — and I can really feel the difference between overcooked food and food with lots of energy. Food can really be "medicine." It just has to be prepared well.
Ching Camara, daughter of Ting Roxas, who was formerly the chair of Bancom, also had cancer and she cured herself doing the Gerson Diet — that's 24 glasses of organic juice.
My very good friend Agnes Prieto went on the same Gerson Diet. She also is now cancer-free. I interviewed them on my show G Diaries. You can get the show on iWant TV. I once directed our long-time help Gloria to an alternative doctor when I heard she had breast cancer. I am not really sure of the process, but the gist of it is supplements to "cook" the tumor and then she has a machine that "sucks" it out.
I hear of so many people suffering and dying after chemo, but what leaves me wary is the quality of life that results from the intake of chemicals. When Daddy was sick of lung cancer and he was told he had to take a second round of chemo, he said, "I would rather have the cancer." It's great that now there is targeted chemo and it doesn't have the adverse effects it used to.
My advice would be to go the natural way as a first option. But you have to take on modalities with a track record because this can go awry if you choose the wrong modality.
If the modality is right, you shouldn't have to wait long to get results. The sister of my cook couldn't breathe, her face was inflamed, so since my new designation is QD (quack doctor), I put her on a regimen. After a few days, she is so much better now. She just eats what I eat, oil pulls twice a day, keeps away from anything acidic: white rice, white sugar etc. It doesn't take long to have results.
We all have to go one day. You have to read Dying To Be Me by Anita Moorjani. It hit the bestseller lists in New York. I heard her speak on Karen Davila's show. It's on YouTube. She talks of how she felt when she left her body. Heaven is so nice. She didn't want to come back. So, there is life after "death." But while we are in this body, let's be healthy, and contribute in whatever way we can to a world that runs on love. I have no doubt that that's the way to go.
You can bring a piece of heaven into your life. Heaven is love.
Much love to all of you.
* * *
I can be reached at hellogina@gworld.ph.