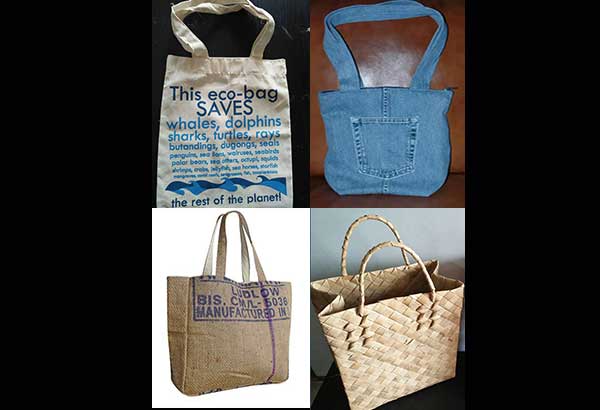 Bagging it: There's a bagful of ways you can ditch plastic, like using bayong or bags made out of recycled cloth, flour sack or tattered denim jeans.
Saving mother earth, one reusable bag at a time
Did you know that September is National Cleanup Month? No, we don't really mean cleaning up the country of all corrupt government officials/employees, politicians, policemen (although we wish we could!). Or wiping out criminality and violence from the face of the earth. Or sweeping the streets clean of monstrous traffic jams.
Because every third Saturday of September is observed as International Coastal Cleanup Day, local governments and civic organizations are conducting cleanup activities all over the country to remove humongous tons of trash that have washed up on our shores.
For instance, there are the informal recyclers and environmental advocates of the Break Free from Plastic Movement who are conducting a Manila Bay coastal cleanup and brand audit from Sept. 11 to 20 at Freedom Islands in Las Piñas-Parañaque cities (to free themselves of plastic that's polluting our seas).
Declared a protected area in 2007, Freedom Islands are blessed by nature with mangroves, ponds, mudflats, and salt marshes. It's an idyllic, critical habitat for wild birds, including a number of migratory species. But alas, this green haven that shelters its precious feathered residents is no longer free as it is now threatened on all fronts by land reclamation, industrial pollution, garbage, particularly plastic trash.
Just how much plastic wastes (more or less) find their way to Freedom Islands and the marine environment was unearthed during a cleanup drive held in July 2016. A total of 259 sacks of garbage weighing 1,482 kilos were collected by the tireless volunteers led by the Earth Island Institute, EcoWaste Coalition, Global Alliance for Incinerator Alternatives, Greenpeace, Mother Earth Foundation, Nilad and others. Of these, seventy-nine percent were plastic wastes, of which 20 percent was composed of junk food wrappers and sachets; 17 percent, plastic bags; 12 percent, composite packaging; nine percent, food packaging; seven percent, polystyrene containers; seven percent, diaper liners; four percent, hard plastics; one percent, drinking straws; one percent, plastic twines.
However, the foregoing figures are merely a tip of the iceberg. Take double note: Researchers estimate that 4.8 to 12.7 million metric tons of plastics flowed into the oceans in 2010 from 192 coastal countries, including the Philippines.
Plastic wastes at Freedom Islands, Manila Bay and the world's oceans are truly a cause for grave concern as plastics pose a great threat to marine biodiversity. Birds, fish, turtles, and other sea creatures suffer as they mistakingly eat plastic or get drowned, trapped or entangled in it.
More, plastics disintegrate over time into microplastics, providing a medium for the transport of highly toxic substances that can contaminate the food chain and poison animals and humans.
The urgent take-home message is loud and clear: Stop plastic pollution — NOW! How to do that? A report on "Everything You (Don't) Want to Know about Plastics," published by the Swedish Society for Nature Conservation together with NGO partners from Bangladesh, India, the Philippines, and South Africa, lists several recommendations, including reducing the consumption of plastic, particularly the disposable ones; developing waste management systems that focus on reuse and recycling rather than landfilling and incineration; reducing the number of mixed materials in plastics to increase the volume of recyclable plastics; regulating hazardous substances and phasing out dangerous additives and components in plastics; and introducing mandatory contents lists on plastic products.
The adoption of new laws or the enforcement of existing ones like Republic Act 9003, or the Ecological Solid Waste Management Act, can provide some solutions. But individually, we can all do our part by cutting plastic out of our lives (yes, we can!) and saving our oceans from death by choking with plastics and chemicals.
Take a few down-to-earth ideas from zero waste advocates of the EcoWaste Coalition:
• Create your own reusable cloth bags. It's simple and easy as ABC: Cut out the fabric, sew the sides, attach the handles, add buttons and pockets if desired. No need to buy new materials, scrounge around and you're bound to find something lying around the house, like tattered denim pants, jackets, old pillow cases, faded shower curtains, used flour bags, and textile scraps (even those past election campaign tarpaulins that were an eyesore can be repurposed — which is more than we can say for our useless politicians). You can also make a no-sew T-shirt tote bag. Or fashion bags out of rice sacks, animal feeds sacks, and even canopies of broken umbrellas.
• Keep a supply of reusable bags handy to avoid using either plastic or paper bags when you shop. Reusable bags can be used countless times to carry almost all types of goods, from groceries to vegetables and fruits. Cloth-based bags are the most ideal as these are not bulky and can be easily folded and washed so they're always fresh and clean.
• BYOB (Bring Your Own Bayong) or other native bags made from natural fiber such as abaca, bamboo, buri, nipa, pandan, water hyacinth, etc. These are often made by rural cottage industries, so patronizing these products will benefit enterprising individuals and families and the environment, of course.
• Bring a bucket, casserole or a used container to load wet goods such as meat, poultry, and fish. Used biscuit or ice cream containers or any vessels with wide openings and covers are perfect for these goods.
• If you are buying cooked food from your favorite carinderia or restaurant, don't forget to bring small pots or containers with lids for your order to avoid the use of plastic bags or Styrofoam bowls, cups, plates, and containers.
• For school or work baon, opt for stainless steel lunch boxes and tiffin carriers that are sturdy and will last a long time. Plastic lunch boxes are fine, but choose products that are acceptable for keeping foodstuff. Refrain from using polycarbonate plastic (marked as plastic number 7), which contains bisphenol A (BPA), an endocrine-disrupting chemical.
• For storing food items in the cupboard or the refrigerator, many non-plastic options are available. Empty glass jars (garapon) for jams, preserves, cheese, and sandwich spreads are perfect for storing dry and liquid condiments. Garapon, glass storage with stainless lids, used biscuit or ice cream containers with covers, and food-grade plastic containers are great for keeping food leftovers in the fridge.
• Go for upcycled bags and containers. Well-meaning organizations have come up with beautifully crafted functional carry bags. For example, Buklod Tao, Inc., based out of San Mateo, Rizal, creates and sells assorted bags made from recycled doy packs or juice boxes (http://www.buklodtaoinc.org/product-list).
• You can also do away with plastic bags for your trash. To reduce the amount of trash that you create and dispose of, please segregate your discards at source. Using available containers such as broken pails, old drums, corrugated boxes, used sacks, etc., set up a system for sorting your discards into different categories. Remember: garbage is made by mixing. Sorted discards can be reused, recycled or composted. And you don't even need to line your segregated bins with plastic bags.
Finally, if we may add, don't be plastic — be true to yourself and your environment!