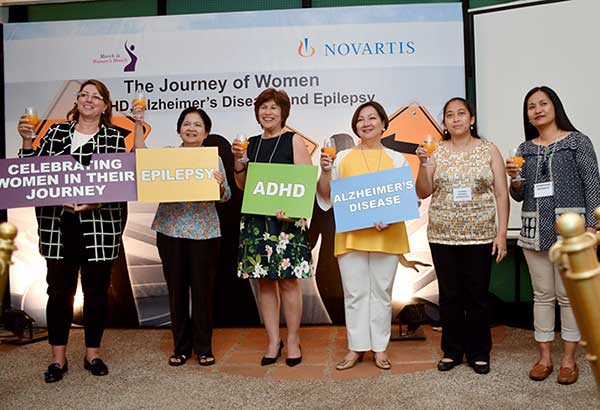 An all-woman affair: Filipino doctors and mothers gather to celebrate the journey of women in ADHD, Alzheimer's disease and epilepsy. In photo are Cheryl Maley of Novartis Healthcare Philippines, Dr. Leonor Cabral-Lim, Dr. Elizabeth Palines, Dr. Socorro Martinez, Jeanne Desiree Khonghun, and Josephine Esteban.
Caring for our caregivers
The hand that rocks the cradle not only rules the world. That nurturing hand also makes sure there's hot nourishing food on the family table every day, there are warm blankets to tuck the kids into on a cold, rainy night, and there's plenty of love and laughter to go around.
But what if that hand starts to waver? What if the Light of the home suddenly flickers in the dark night? And what if that laughter is stilled forever?
Day after day, mothers wrestle with the challenges of living — perhaps caring for a child with attention deficit hyperactivity disorder (ADHD) or a parent with Alzheimer's disease. Or she may herself be suffering from epilepsy.
These were the mind-boggling, heart-tugging issues — and more — raised at a recent media briefing on "The Journey of Women in ADHD, Alzheimer's disease and Epilepsy" organized by Novartis.
ADHD is described as "a chronic condition that includes a combination of persistent problems, such as difficulty sustaining attention, hyperactivity, and impulsive behavior." Children with ADHD often suffer from low self-esteem, troubled relationships, and poor performance in school. In a study, mothers with ADHD kids expressed that a constant source of frustration and exhaustion for them was their relationship with their children's schools as well as societal judgment and the recognition of ADHD as a real condition.
Dementia is defined as "a group of symptoms affecting memory, thinking, and social abilities (as well as personality) severely enough to interfere with daily functioning." It's often referred to as Alzheimer's disease, which is the most common type of dementia that occurs not just in the elderly — there is such a thing as early-onset Alzheimer's (before 60).
Epilepsy is a group of neurological disorders where the nerve cell activity in the brain goes haywire, causing seizures or periods of unusual behavior, sensations, and sometimes loss of consciousness.
Cheryl Maley, president and managing director, Novartis Healthcare Philippines, delves deeper into these issues, "ADHD, Alzheimer's disease, and epilepsy have a huge impact on the quality of life of patients and their families. As mothers and care providers, women have to bear the burden of coping with the challenges posed by these serious neurological conditions .... Novartis is committed to work with government, local doctors, patient groups, and other stakeholders in helping Filipino women face the challenges posed by ADHD, Alzheimer's disease, and epilepsy."
Dr. Leonor Cabral-Lim, chair, Department of Neurosciences, University of the Philippines-Philippine General Hospital, asserts, "Compared to their peers, women who have epilepsy and are within childbearing age face unique challenges relating to pregnancy and breastfeeding. They must work closely with their obstetrician and pediatrician to address these challenges and enjoy the fulfillment of motherhood."
Dr. Elizabeth Palines, chairperson, Department of Pediatrics, Batangas Medical Center, focuses on ADHD, "Raising a child with ADHD is not an easy task, and mothers often struggle to cope. In one American study, mothers of children with ADHD reported little family support, high perception of child-related demands, and less confidence in their success in mothering their children."
Dr. Socorro Martinez, chairperson, Dementia Council of the Philippine Neurological Association, gives this forecast, "The current number of Filipinos, age 60 and older, is about seven million, accounting for approximately seven percent of the country's total population. The National Statistics Office projects that by 2030, senior citizens will make up almost 12 percent of the country's total population. To address the challenges of an aging population, dementia care services, including public education on the condition, should be integrated in our healthcare system."
Health Secretary Paulyn Ubial gives some words of thanks, "The DOH lauds Novartis for promoting awareness and education on common neurological disorders such as ADHD, dementia, and epilepsy. We hope that this event will facilitate increased cooperation among stakeholders and inspire commitment to provide the best possible care for people who suffer from ADHD, Alzheimer's disease and epilepsy, as well as support for their caregivers, particularly women."
The hand that rocks the cradle can certainly use a helping hand.