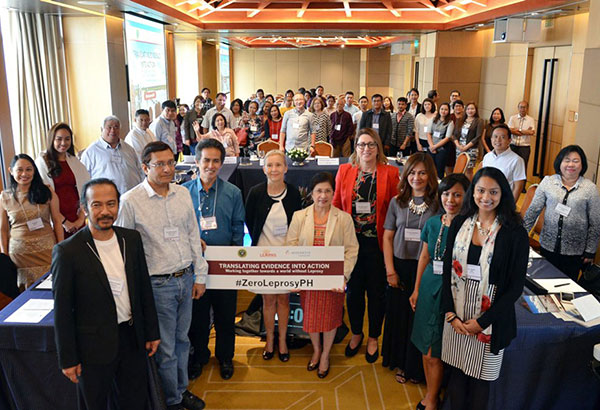 We're all in this together: Leprosy experts, policy makers, public health stakeholders, and researchers attend the Department of Health stakeholders meeting on leprosy in collaboration with Novartis Foundation and Novartis Healthcare Philippines.
Living in a leprosy-free world
The brochure (part of the meeting participant pack) handed out to each of us at the registration desk has a postcard-pretty image on the cover that combines the sea, the countryside, the mountains, and blue skies painted with fluffy white clouds. Where was this pretty photograph taken?
"That's Myanmar," says Christine Fajardo, country corporate responsibility head of Novartis Healthcare Philippines. In the next breath, Christine adds, "The Union of Myanmar is one of several countries where the Novartis Foundation is implementing the Leprosy Post-Exposure Prophylaxis (LPEP) program, demonstrating the feasibility of integrating contact tracing and preventive therapy in national control programs."
But isn't leprosy (or Hansen's disease caused by the slow-growing Mycobacterium leprae bacteria and manifesting as severe, disfiguring skin sores) a thing of the past? Wasn't it eradicated a long time ago? Fact is, there are currently 200,000 to 250,000 new leprosy patients diagnosed each year, thus posing a global health challenge today. Leprosy, a neglected, much socially stigmatized disease, remains endemic in pockets of African, Latin American, and Asian countries including the Philippines where some 2,000 new cases are detected each year.
The two-day meet at Manila Diamond Hotel, themed "Translating Evidence into Action, Working Together Towards a World Without Leprosy," gathered leprosy experts, policy makers, researchers, and public health stakeholders who buckled down to the ultimate task of bringing us closer to a zero transmission of leprosy in the Philippines.
The distinguished roster of speakers included Health Secretary Paulyn Jean B. Rosell-Ubial, Swiss Ambassador to the Philippines Andrea Reichlin, World Health Organization country medical officer Dr. Rajendra Prasad Hubraj Yadav, DOH Assistant Secretary Dr. Maria Francia M. Laxamana, Novartis Foundation head of research Dr. Fareed Mirza, Novartis Healthcare Philippines president/managing director Cheryl Maley, Philippine Dermatological Society president Dr. Maria Angela Lavadia, DOH National Leprosy Control Program manager Dr. Ernesto Villalon III, Culion Sanitarium and General Hospital chief sanitarium II Dr. Arturo Cunanan, Jr., Coalition of Leprosy Advocates of the Philippines chair Francisco Onde, Novartis Foundation project manager Zaahira Gani, Ateneo School of Medicine professor Dr. John Wong, and Metahelix managing director Dr. Ayedee Domingo.
The challenge of the "last mile" in the battle vs. leprosy is to interrupt transmission (locally and globally), says Dr. Fareed Mirza, head of research, Novartis Foundation.
"We are grateful that leprosy elimination is among the priorities in the national health agenda," remarks, Francisco Onde, chair, Coalition of Leprosy Advocates of the Philippines, representing Filipinos suffering from leprosy.
You've probably heard of the Culion Leper Colony, a former leprosarium established by the US government in Culion, Palawan to rid the islands of leprosy by isolating cases (or hiding the lepers so they don't infect other people) and eventually stamping out the disease. At the stakeholders' meeting, I'm glad to be seated next to Eugene Caccam, Jr., the friendly and outspoken executive director of the Culion Foundation, Inc. He confirms the fact that leprosy is still very much around and shares some info on his foundation, which aims, among others, "to enhance people's participation in healthcare by raising their consciousness on the existing preventive healthcare practices and the available curative health services on prevalent communicable and infectious diseases in their locality."
At this meeting, I learn about LEARNS (Leprosy Alert and Response Network System, part of the DOH-Novartis Foundation Task Force for Leprosy), the Philippines' first mobile phone-based leprosy detection system, which allows frontline healthcare providers to send images of suspect leprosy lesions and symptoms via SMS to a specialist. Designed to reduce delays in diagnosis and treatment, all the information shared will be held in strict confidence.
Indeed, digital health holds a lot of promise in expanding health coverage, particularly for underserved populations, enhancing healthcare system efficiency, facilitating communication between providers and patients/communities, and empowering patients as well.
While a multidrug therapy can treat leprosy and prevent permanent disability, it can take up to 20 years before a patient shows symptoms; thus, it's important to diagnose the disease earlier and stop its transmission.
In conclusion, e-Health initiatives have a vital role to play in controlling leprosy, especially where there's a need to monitor, track, and register patients and the services they receive.
Who knows, by working zealously together, we just might realize that beautiful dream of a leprosy-free world!