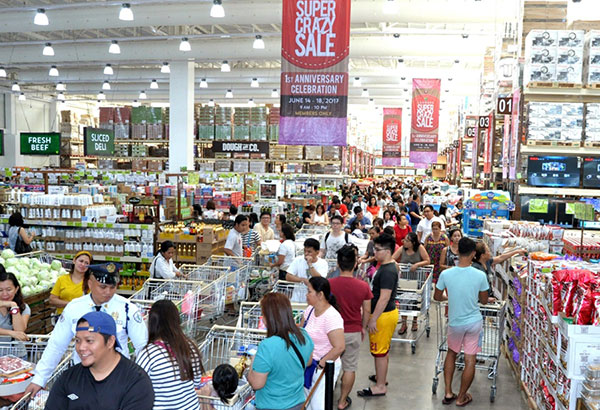 Hordes of people rush to Landers Superstore as it celebrates its first anniversary with a Super Crazy Sale, which is extended until July 16.
Landers Super Crazy Sale is extended until July 16
Crazy best describes the first anniversary sale happening at Landers Superstore, the country's fastest-growing membership shopping superstore, which is extended until July 16.
Shoppers from all over the metro flocked to Landers branches in Otis and Balintawak as early as 7 a.m. on June 14 to grab the unbelievably crazy deals: 50- percent off on membership renewal, buy-one get-one free on new memberships, super fuel sale, and huge discounts on food, apparel, home and lifestyle items.
"Landers Superstore opens at 9 a.m., but we had to open at 7 a.m. to accommodate close to 100 shoppers lining up outside the store as early as 5 a.m. on the first day," says Pinky Angodung, marketing director, Landers Superstore.
But for the shoppers, the long wait was totally worth it as they got first dibs on the "sur-price" of the day: Woolite Extra Dark Care laundry detergent for only P1!
"I don't normally go to mall sales because of the long queue and traffic. But my co-teachers told me to check out Landers Super Crazy Sale because of the good deals. Well, I'm glad I joined them," relates Marissa Rodriguez, school principal of Ismael Mathay Senior High School in Quezon City, who lined up for almost an hour to pay for her purchases: DuraFlex large trash and lawn bags, Bebelle Baby Wipes, and notebooks — all at 50-percent off.
Fr. Philip Aquino Yu Jr., rector of the Congregation of the Immaculate Heart of Mary Asia International Formation Community, and his friend Ronnie Barretto shopped for towels, mattresses, pillows, sandwich keepers, and plastic organizers, which they need in the seminary.
"Landers Super Crazy Sale is the perfect opportunity for us to finally get the items we don't normally splurge on at discounted prices," says Fr. Philip.
From hand soaps to rugs, to wines and kitchen utensils, Landers Superstore offers up to 50-percent discount on all home and lifestyle needs.
Grab a bottle of Palmolive Classic Dishwashing Liquid (P199) and get an extra one for free. From an original price of P1,799.75, you can have the Gibson Duraliving Dinnerware set for only P899.75.
Save P15 when you buy a small bottle of Badia rosemary, anise seeds, and chili powder, originally priced at P69.75.
Landers Superstore also carries a wide assortment of imported goods from the US, Canada, and Australia, and high-quality local and exclusive brands.
"It's been a great year for us. Our membership count has actually quadrupled. We are really striving to offer a good mix of imported and local products so there's always something new for our members every time they visit Landers," enthuses Pinky.
At Landers Superstore, you can find brands and products not found in any other retail outlets or groceries such as unique Oreo flavors, Nutella tubs, energy chews, Badia Spices, Himalayan Pink Salt, Mercer's Wine Ice Cream, Double Rainbow Gourmet Ice Cream, even dry shampoos.
Gas up at landers
Exclusive for members, Landers Superstore offers discounts whenever you fill up your tank at its very own gas station. Get P2 off per liter of gasoline and P1.50 per liter of diesel from Caltex all-year-round.
Just last week, I got a text from LandersPh reminding me to avail of the P10/liter discount of gasoline, which I did!
The superstore also provides free haircut for members at Federal Barbers in Landers Otis.
"All these deals are Landers' way of saying thank you to all our members who trust us with their everyday needs. Because of them, we are able to celebrate a very fruitful year," says Gwen Lim, president, Landers Superstore.
* * *
Not a Landers' member yet? Sign up now. Visit Landers Superstore branches at EDSA Balintawak, Apolonio Samson, QC; Otis, 1890 Paz Guazon St., Paco, Manila; and in Cebu, 23 Minore Park, Cardinal Rosales Ave. corner Pope John Paul II Ave., Cebu.
For inquiries, visit http://landers.ph/.